Child Rescue Nepal: Social Media
Transforming online presence through a new, personalised social media campaign
We're passionate about helping organisations like Child Rescue Nepal grow their brand and online presence
Education 2 You is a wonderful business, providing qualified teachers for private tutoring. This helps the students reach their full academic potential and perform better in school! They also offer a range of other services, including workshops, group sessions, and support with special educational needs. We worked with them to build a brand new website, but they also needed an enhanced social media presence.
Social media is a vital tool for expanding your reach and building brand awareness, even more so for a charity such as Child Rescue Nepal to spread the amazing work they do and gain further support. Find out more about the campaign we built for them below.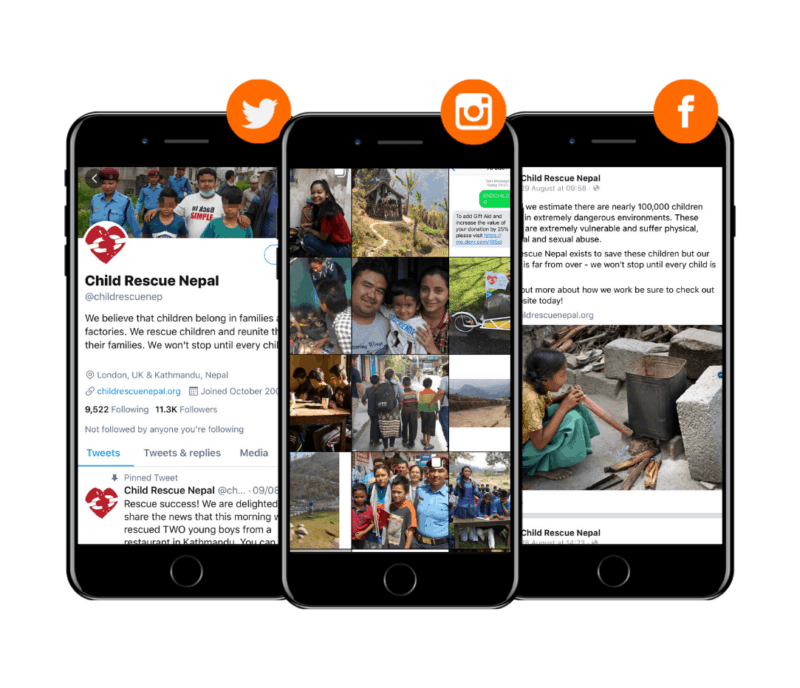 Child Rescue Nepal: The Results
Nepal was hit with a devastating earthquake back in 2015 that took more than 9,000 lives and destroyed 500,000 homes. It was important to us that we helped in the rebuilding of Nepal for these people. To do this, we created detailed social points showcasing the charity's message. We focussed on what they do for the children they rescue, and why people should support them. The posts can be found on their Twitter, Instagram and Facebook. From the work the charity does to their amazing achievements, working with them has been an honour.
We also took part in blogger outreach for the charity. This involved finding a large number of bloggers to send merchandise to, for them to promote the charity on their own blogs and social media as part of Anti-Slavery Day. This campaign for Child Rescue Nepal was a great success. We managed to attract a large number of blogger participants. Some of the bloggers that took part in the event were showcased on our Instagram. This can be found here under our 'charity' highlight.
Check out their social links above to see what we've done.
If you are looking for help with your website or social media marketing, email us on hello@deliveredsocial.com or give us a ring on 01483 608303 – we're always happy to help!