HR Department: Social Media
Transforming online presence through a new, personalised social media campaign
We're passionate about helping businesses like HR Department grow their brand and online presence
Martine from the HR Department Woking and Guildford is a close friend of ours here at Delivered Social! But what does this business do? They support a wide variety of businesses in the local area with their HR activities. This includes everything from support with employment contracts, managing disciplinaries or anything else on your journey as an employer. Furthermore, they work on a flexible basis, with some businesses turning to them to completely outsource their HR needs, and others using them for one-off projects.
Social media is a vital tool for expanding your reach and building brand awareness. Education 2 You wanted to highlight the work they do with students, but their audience was parents rather than the pupils themselves. Find out more about the campaign we built for them below.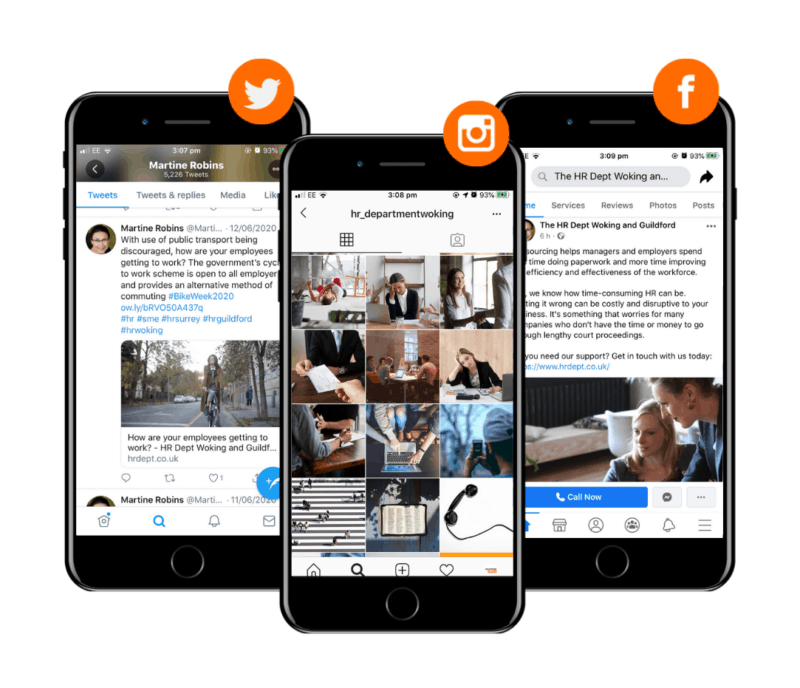 HR Department: The Results
It is always a pleasure to work with the HR Department on their social media. We have created campaigns for Martine's Facebook, Instagram, and Twitter profiles. It is important that her social media presence gives off a professional and authoritative air. So, we used lots of professional stock imagery to give off this vibe. As for the posts themselves, we created a variety of different types! Many of the link back to articles on the HR Department website, helping to drive more traffic that way and also help keep followers engaged and informed.
We enjoyed working on these campaigns for the HR Department social media! Having a presence like this on social media can help businesses such as this one gain new professional clients and earn a reputation for providing quality information and content to their social media followers!
Check out their social links above to see what we've done.
If you are looking for help with your website or social media marketing, email us on hello@deliveredsocial.com or give us a ring on 01483 608303 – we're always happy to help!