See how we transformed their online presence through a brand new website.
Narelle Summers: What Did We Do?
Narelle Summers is the place where you can find out how simple mindset changes can make a big difference to your life! Specialising in Havening Techniques, Goal Mapping, and NLP, Narelle is an emotional wellbeing coach and speaker. She came to us to design a brand new website that better reflected what she does and the goals she wants to achieve. This was an exciting project for the Delivered Social web team to work on. Read on to find out more about it and the results of the project…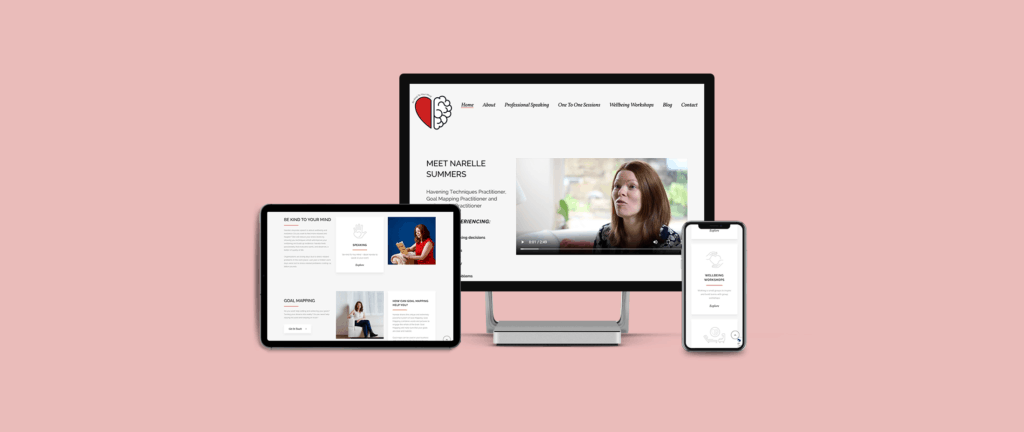 Narelle Summers: The Results
The aim of Narelle Summers's new site was to create a clean, clear site that sets out what techniques she is qualified in and what she can do. From this, she hoped to gain a better online presence and more business as a result! Narelle especially wanted to do more speaking. So, we made sure to bring this to a focus in the new site. We created a site with a clean colour palette that is not overwhelming or too busy. This reflects the calm techniques that she offers to her clients. We also made sure to include plenty of reviews to showcase Narelle's talents. Finally, we included plenty of imagery and even a custom-made video, so the site visitor feels as though they can get to know Narelle.
This was a great site to work on and we are very pleased with the results that it has achieved!
If you are looking for help with your website or social media marketing, email us on hello@deliveredsocial.com or give us a ring on 01483 608303 – we're always happy to help!
Book your FREE social clinic today.
We've held over 750 social clinics at our Guildford offices. If you are a business looking to grow, change your strategy or simply learn why not book in your free session today! We've got popcorn!