Transforming online presence through a new, personalised social media campaign
We're passionate about helping businesses like Royvon grow their brand and online presence
Royvon offers a range of dog training and boarding options across their three locations in Esher, Rugby, and Merthyr Tydfil. They've been in business for over 60 years, so they definitely know a thing or two about pet care! They're dedicated to offering high-quality training and boarding options that work for each family, so they can enjoy their pets to their full potential. This includes 1-2-1s, group sessions, puppy training, and a whole lot more!
Social media is a vital tool for expanding your reach and building brand awareness. Royvon initially approached us to work on their social media accounts and help populate them with fun and relevant content. A lot of the team are definitely dog lovers, so this was always going to be a great project for us to work on! Find out more about the campaign we built for them below.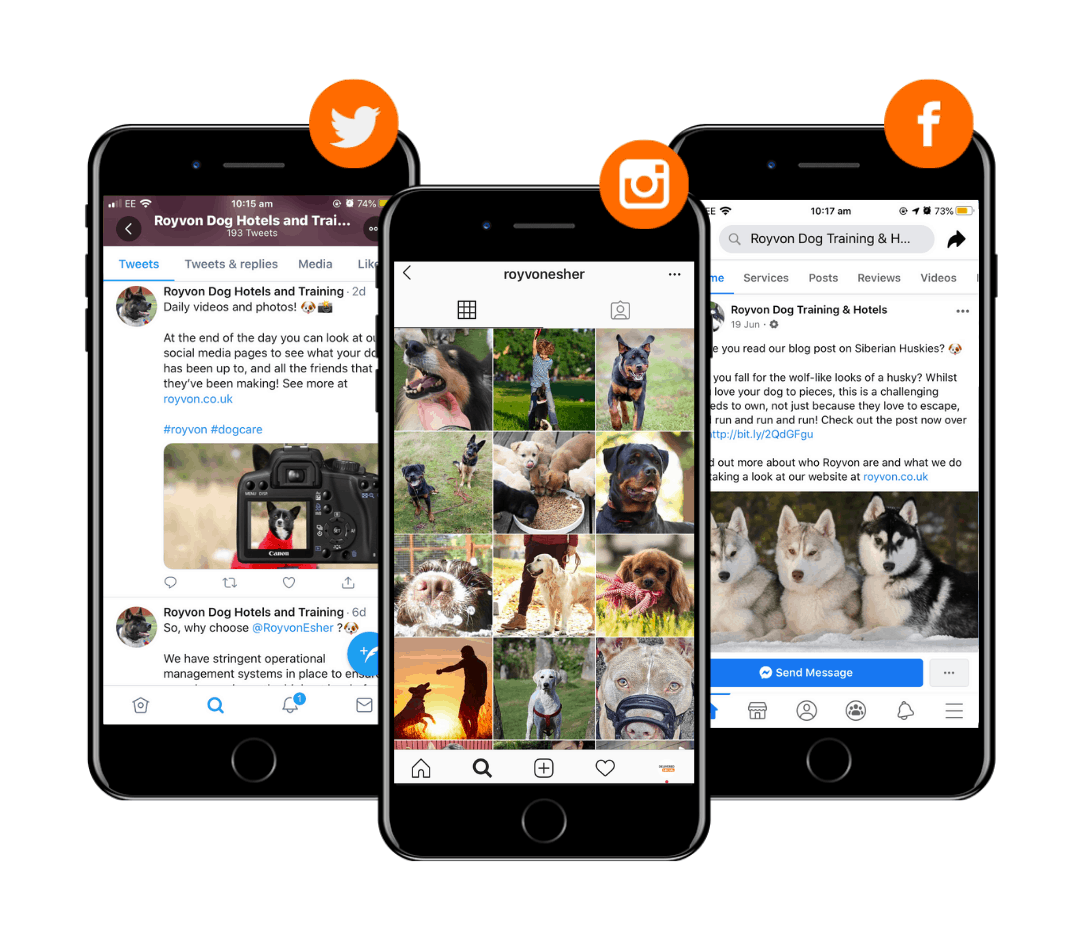 Royvon: The Results
We worked with Royvon to help build campaigns for their Instagram, Facebook, and Twitter accounts. They needed plenty of Evergreen content that shows off what they offer, that they can then build upon with their daily photo and video updates of the dogs in their care! Clearly, the focus needed to be on the dogs. As a result, we used plenty of images of pups that have been in their care, the staff's dogs, and some stock imagery where it was needed. The posts cover a range of topics, including the services Royvon offers, blogs and other interesting bits of information, and more! They have several accounts across the platforms for their different locations, so it was fun being able to work on multiple accounts at once!
The Royvon social media campaigns have provided plenty of Calls To Action encouraging people to have a look into them as the best dog boarding and training option. They have also meant that the accounts are constantly being updated with fresh content, to keep the followers engaged and, of course, looking at cute dog pictures!
Check out their social links above to see what we've done.
If you are looking for help with your website or social media marketing, email us on hello@deliveredsocial.com or give us a ring on 01483 608303 – we're always happy to help!