This Is Us Conference: Social Media
Transforming online presence through a new, personalised social media campaign
We're passionate about helping businesses like This Is Us Conference grow their brand and online presence
This Is Us Conference is a unique two-day long event held yearly in Milton Keyes. It's now in its third year! The event is dedicated to discussing the issue of diversity and inclusion in the workplace for women, BAME, and LGBTQ+ people. There is always a range of speakers from various organisations and workshops on offer to give the conference attendees a wide-ranging insight into the issue.
Social media is a vital tool for expanding your reach and building brand awareness. This client was a little different from any we've worked on before, so presented a fun challenge for our social team to work on. Find out more about the campaign we built for them below.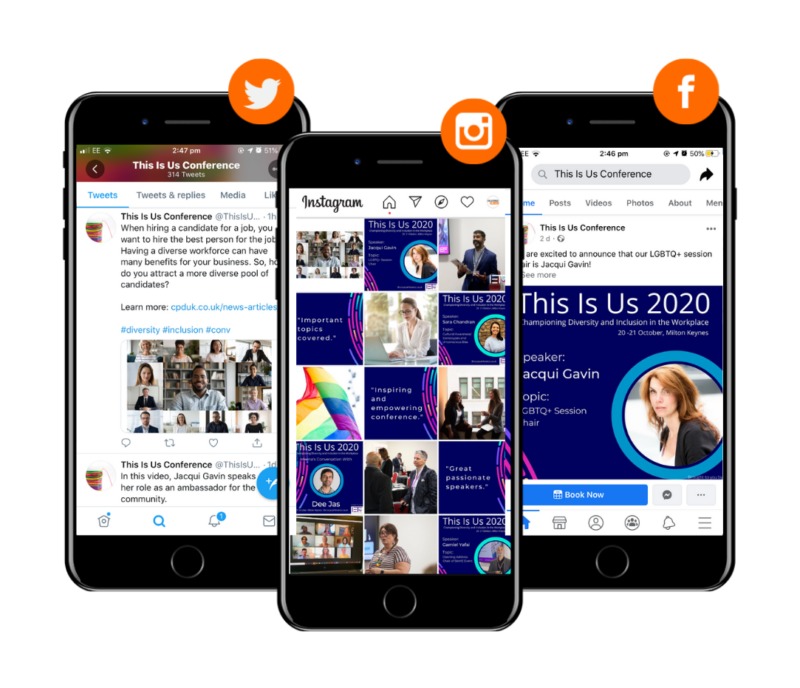 This Is Us Conference: The Results
We worked with This Is Us Conference to develop campaigns for their Instagram, Twitter, Facebook, and LinkedIn profiles. This includes plenty of Evergreen content about the conference, and separate posts about their speakers, and feedback from attendees of previous conferences. We have made sure to keep it very on-brand, using the main colours from their logo and other branding. But, it's also very visual and colourful to draw in the eye! Other posts talk about blogs we've written for the conference's site and other related sites, and we also created a LinkedIn Event to further spread the message.
The results of the campaign include plenty of touchpoints directing people to sign up to the 2020 conference, alongside providing plenty of information about it to entice people and businesses to book their tickets!
Check out their social links above to see what we've done.
If you are looking for help with your website or social media marketing, email us on hello@deliveredsocial.com or give us a ring on 01483 608303 – we're always happy to help!