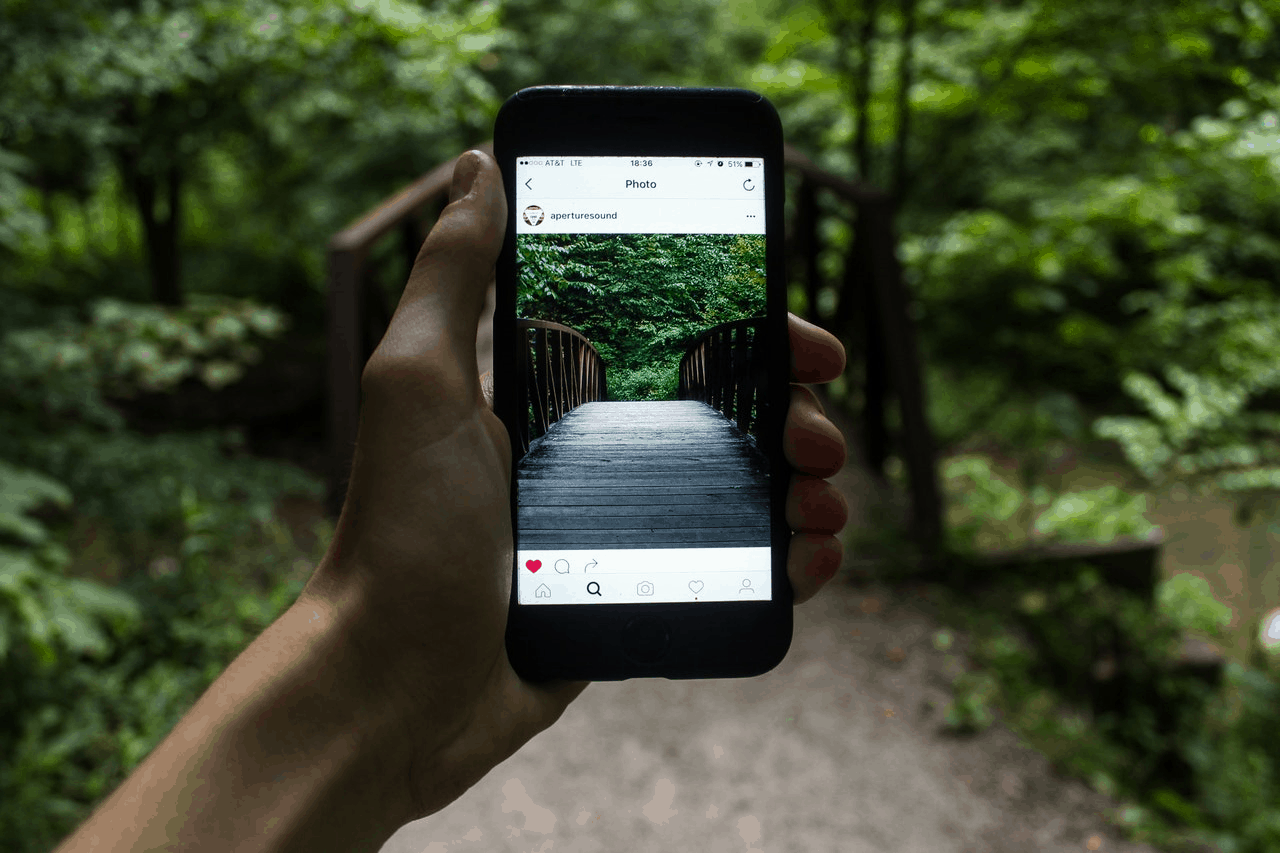 06 Sep

How To Create The Perfect Branded Instagram Post

Instagram is one of the fastest growing social media platforms of 2018, with the number of monthly active users jumping by 200 million since last year. With a diverse and growing audience, it's a social platform that continues to add value for brands. But how do you really nail your brand presence on the photo-sharing app? If you're looking for the secret formula for the perfect branded post that keeps your audience hooked, look no further.
Use your hashtags wisely
Part of building your brand on Instagram is getting your posts seen by the right audience, and that means perfecting your hashtag game. Hashtags are ideal for increasing your brand's discoverability on the photo-sharing app and are crucial to creating a branded Insta post.
Part of this is down to choosing not just the most popular hashtags that are trending, but the most relevant ones. For example, some of the most common hashtags include things like #love, #cute, and #beautiful. While these might be popular, they might not necessarily have anything to do with a post about the best ways to boost your site's SEO!
To help you with this, use a hashtag research tool to dive into your industry and find relevant, trending hashtags with ease. For example, a search for the phrase "graphic design" on Hashtagify returned the following: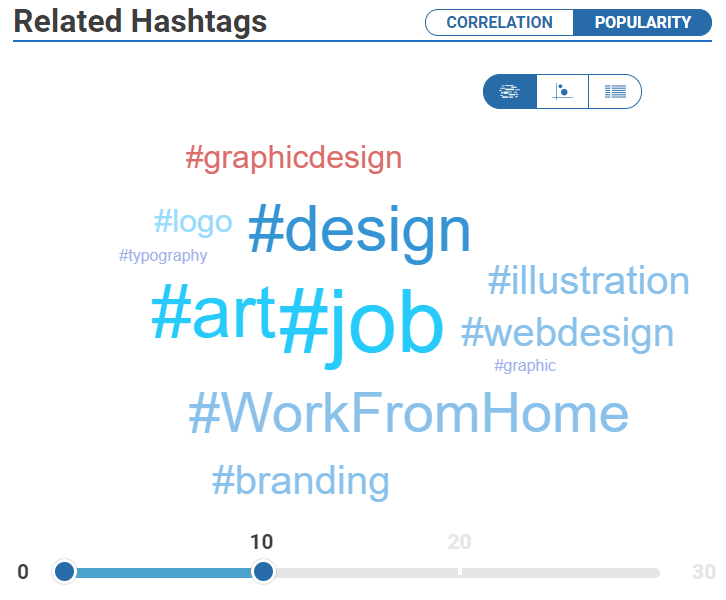 These tools provide applicable hashtags that people are using in real-time that relate to your chosen search terms, and can be filtered according to popularity, correlation, country of use, and more.
It's also worth developing a branded hashtag that can be used that can be used throughout your Insta posts. These are customised and memorable hashtags that include all or part of your brand name. As well as branding your posts further, they can also be used by your fans to engage them with your business. On top of that, they can also promote brand campaigns (Oreo's #OreoHorrorStories is one such example) for product launches or special events.
But remember, just because Instagram allows up to 30 hashtags on a photo doesn't mean you need to use them all! In fact, studies show that nine hashtags is the perfect amount for engagement. And finally, don't put them in your caption either. For neatness, put your hashtags in the first comment on your post — it just looks better.
Hashtags form the foundation of a branded Instagram post, so do your research and craft relevant hashtags that will bolster your brand online.
Consistency is key
Imagine if one day your best friend started speaking and acting in a way that was completely out of character. It would be jarring, and you would naturally feel confused and even a little wary. In the same way, if a brand presents itself in a new, different manner, their customers would feel the same way.
The true key to building a brand is consistency. Have you ever started watched a TV advert and instantly known who it was for? By using the same elements that they use throughout their marketing, brands ensure they are instantly recognised by their audience. By creating a consistent and coherent style, spanning colour, visuals, music, and more, you can develop a recognisable brand that customers will come to remember and trust.
To that end, your Instagram posts need to have a visual and stylistic thread that connects them all. A great example of this at work can be seen with the Instagram feed for Skittles: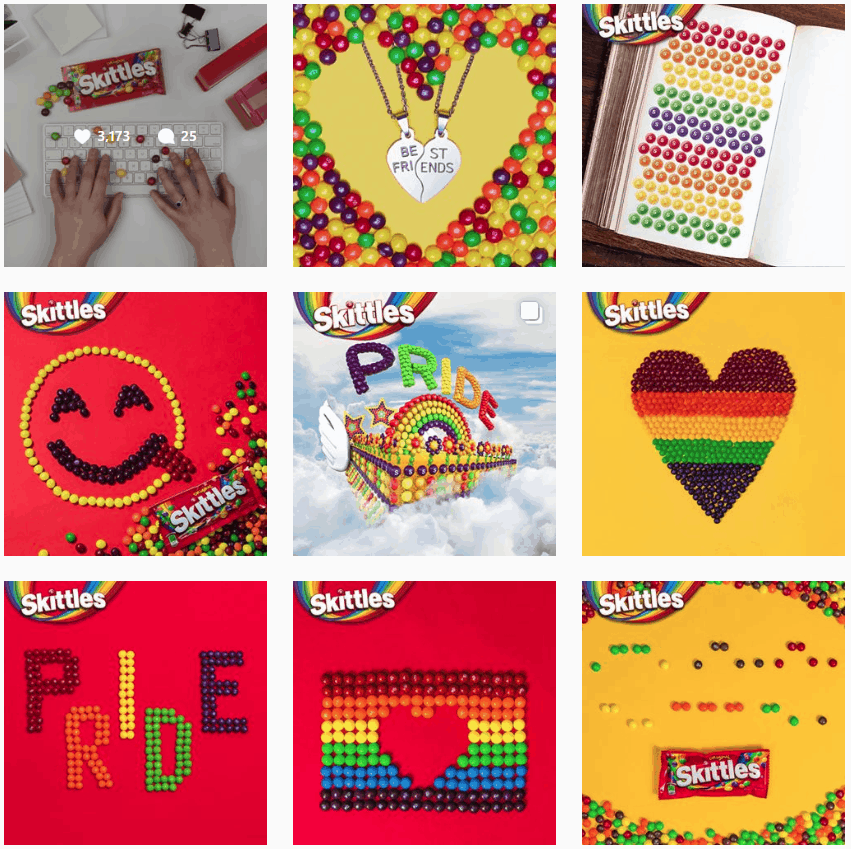 Each post features the bright, vibrant colours of the Skittles brand, iconic and instantly recognisable to anyone in the UK. The images themselves also consist of a similar visual structure, with the sweets used to create flatlays of hearts, smiley faces, rainbows (of course), and even Morse code. A person could look at any one of Skittles' Insta posts and recognise the brand instantly, even without the logo.
This level of consistency is a trademark of many established stores: it gives their customers a sense of familiarity with their brand that breeds loyalty and creates consumers that will return time and again. By ensuring consistency in every post, you will be well on your way to creating the perfect branded Instagram post (and feed) for your business.
Brand guidelines for brand cohesion
While consistency is important, it's equally crucial to ensure you are cohesive as well. Indeed, when it comes to creating the perfect branded post on Instagram, you can't have one without the other. Look at any of the top grossing websites for sale online and you'll find successful businesses that adopt a solid, coherent brand strategy that genuinely resonates with their audience.
To achieve the same level of business success, you should develop a set of coherent brand guidelines that clearly states who you are and what you embody. Take the example of recipe subscription box brand HelloFresh: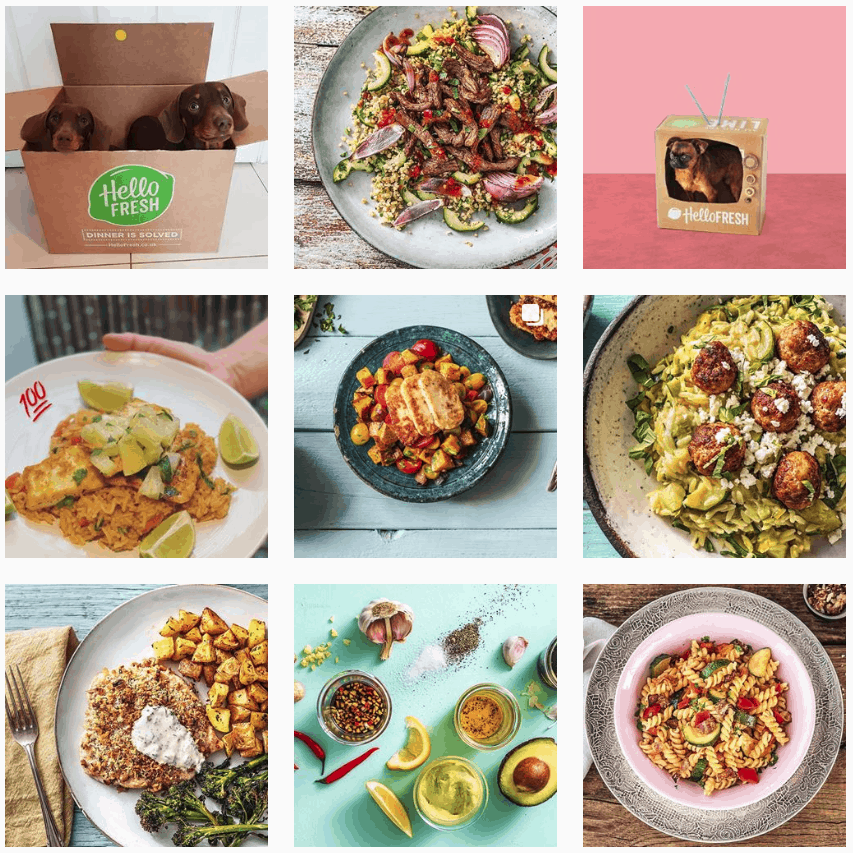 HelloFresh are all about making delicious meals easy and convenient to prepare for their customers, and their Instagram reflects that throughout their posts. Tantalising images of tasty dishes are presented alongside flatlays of ingredients, their simplicity emphasised by the negative space between them.
In the same way, your posts need to stick to a set of guidelines that embodies your brand and its values. When you're developing these, it's worth going back to your customer value proposition again to remind yourself about where you've come from — and where you're going. Each and every member of your team needs to be aware of and familiar with your brand's guidelines to ensure that your posts aren't just consistent, but coherent too.
Make the most of direct sales
With visually-driven content delivered in eye-catching flatlays and a stunning grid view, Instagram is the ideal platform for driving sales as well. This is especially (but not exclusively) true for products that are pleasing to the eye, such as fashion and food.
And while previously sales were only available through clickable bio links, Instagram's Shoppable Posts now let customers make purchases in-app for a seamless shopping experience. This makes Instagram the perfect place to direct sell to your customers, by approaching them in a 'natural' environment when their guard is down.
To really nail this, take professional photos that showcase your product. Instagram is a visual platform, so you need dazzling visual content to stand out in your customers' feeds. And respond to your followers regularly to keep them engaged with your post — a chatbot is great for generating auto-responses if you're strapped for time.
Instagram is the social platform that continues to give and give for both brands and customers. And it's not just your posts where you can show off your brand: Instagram Stories are also a great way to reach your audience in a dynamic, engaging way. Ensure that you are coherent and consistent, and take advantage of all that the platform has open to you.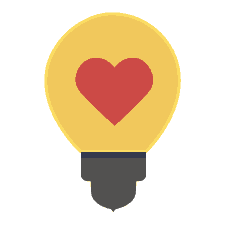 Kayleigh Alexandra is a content writer for Micro Startups — a site dedicated to giving through growth hacking. Visit the blog for your latest dose of startup, entrepreneur, and charity insights from top experts around the globe. Follow us on Twitter @getmicrostarted.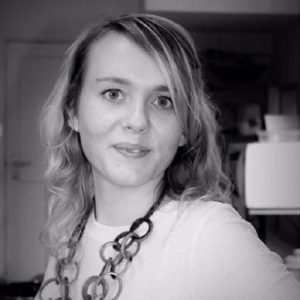 Latest posts by Kayleigh Alexandra (see all)