D's Hair Creations: Social Media
Transforming online presence through a new, personalised social media campaign
We're passionate about helping businesses like D's Hair Creation grow their brand and online presence
D's Hair Creations is a salon based in the quaint village of Onslow, Guildford. Established 11 years ago, D's Hair provides a relaxed and friendly service for cuts, colours and blow-dry services. Delivered Social work with the salon to post once a week across their social media accounts. Currently, we are managing both their Instagram and Facebook for D's Hair Creations social media.
Social media is a vital tool for expanding your reach and building brand awareness. D's Hair Creation needed to showcase their talent whilst standing out from the competition with a professional profile full of imagery. Find out more about the campaign we built for them below.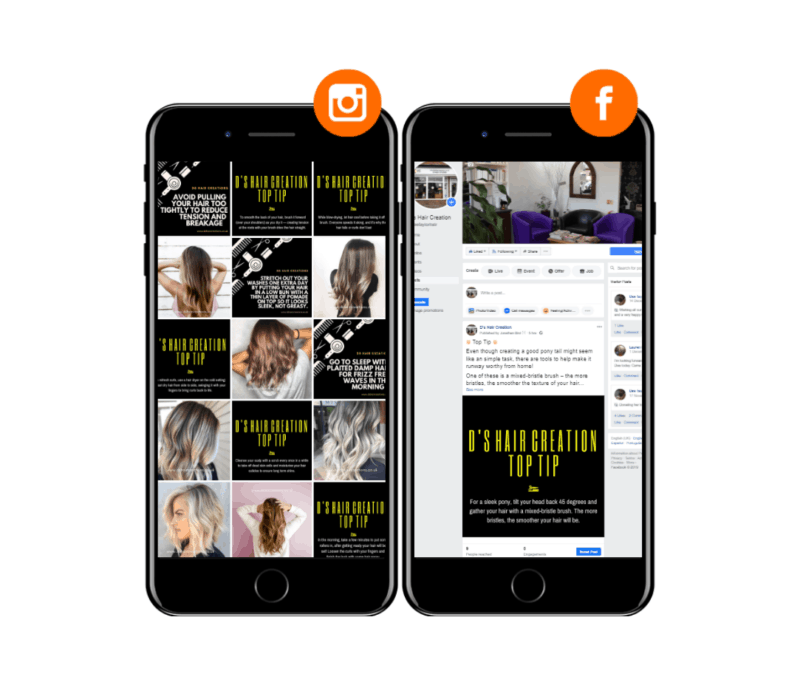 D's Hair Creation: The Results
Firstly, the aim of the social media campaign was to increase the online presence of the salon. We were really excited to work on the D's Hair Creations social media because we love supporting local businesses and the work the salon does. Plus, they have a super cute salon pet called Stanley! He recently joined the team, but is famous for keeping the customers (and us) happy. We recommend popping in to say hi!
On D's Hair Creations social media, we have been posting a mixture of examples of their work. This largely consists of photographs from stunning haircuts and top tips from their years in the industry. The results of our campaign have been amazing to see. Mainly, we have increased their online presence dramatically by displaying their work fo existing and potential clients alike to see. Besides, working with the salon has been a pleasure for Delivered Social. We have enjoyed every minute of the work we have done for them. Seeing the amazing hairstyles they create, and how far the D's Hair Creations social media has grown, fills us with pride.
Check out their social links above to see what we've done.
If you are looking for help with your website or social media marketing, email us on hello@deliveredsocial.com or give us a ring on 01483 608303 – we're always happy to help!