10 Tips for Scaling Your Small Pool Hall Business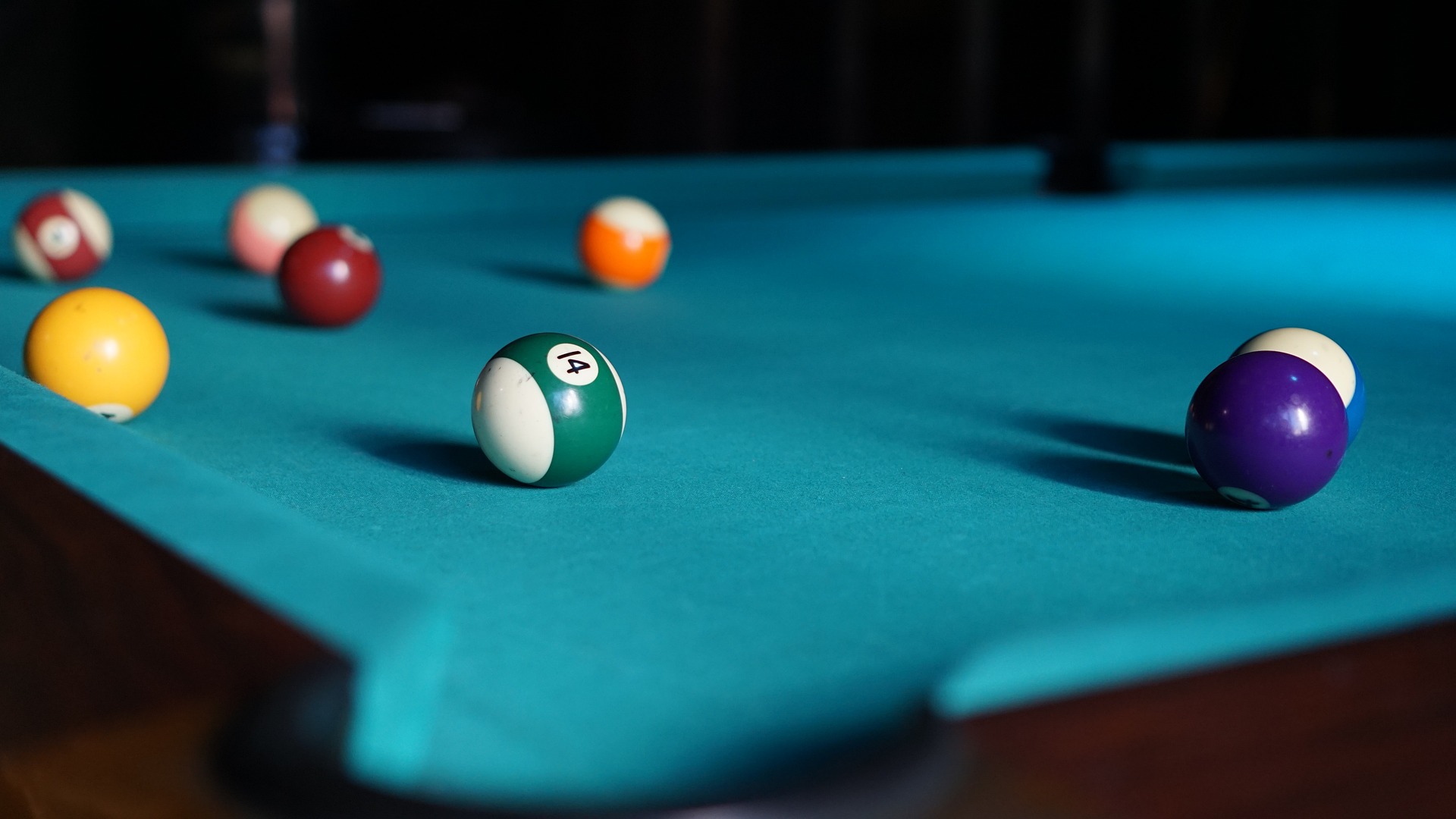 This 16th-century game of royalty and nobility later evolved into the famous American game of riches and gentlemen over beers and drinks—pop culture made it a really elite game.
Its image association with the game of social gathering in the twentieth century was a great selling point and unique selling proposition that worked in the game's favor; however, that is no longer the case. In the 21st century, it has some sort of identity crisis, even though it is a very lucrative business.
Number of pool hall business from 2014 to2024- Source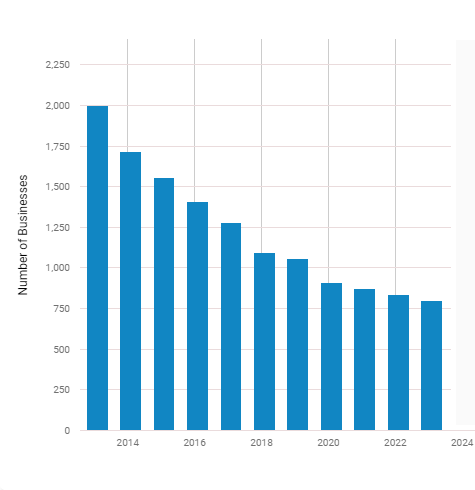 Here are some 10 tips and strategies to help you take your small pool hall business to the next level. 
Make a Business Plan and Do a Swot Analysis
First things first, before you think about scaling up, it is important to get your basics right: define your long-term vision, business plan, and analysis of strengths and weaknesses—that will give you perfect insight into your business blind spots and room for growth. Making a business plan becomes imperative for small businesses as, with limited resources, a lot needs to be achieved.
Make a business plan for acquiring a liquor licence to generate sales through alcoholic beverages, competitor analysis in the market, industry research, a detailed demographic analysis, location analysis, etc.
Also, a SWOT analysis is a must for expansion and scale. Finding out what are the strengths and opportunities in the industry, as well as in your business, on which you can play and what are the threats and weaknesses that need to be eliminated in order to be prepared for and avoid any type of adversary,
Refer to this detailed business plan guide. 
No matter how small your business is, if you do not already have an online presence, your business is missing out on a big time opportunity to grow and scale. Social media marketing is a game changer for every industry and business.
Create a business page on popular social media platforms such as Facebook, Instagram, and Twitter. Use these pages to post updates about your business, including new pool designs, special promotions, and customer testimonials.
Social media tips to follow: 
Optimize all your social media posts with the "location" option to get discovered in your area.

Use sports and location hashtags for searching.

Join local Facebook and Reddit groups and pages to promote your hall business and let people know you exist.

Use paid advertising on social media platforms like Facebook and Instagram ads, as well as Twitter-promoted tweets.
Make a Website for Your Billiards Hall business
Take your billiards hall business Google with a website; no social media account or online following can replace a website. All legitimate businesses have their website on all search engines. If a customer is looking to book a pool hall game for tomorrow, they need your website on search engines.
A website builder such as WIX or GoDaddy can create a decent website, you don't necessarily need a web developer.
Having a website for your pool hall business can greatly benefit the scaling of your business by increasing visibility, allowing for online reservations and purchases, improving customer communication, and promoting through online marketing campaigns. It also enables social media integration, tracking analytics, and metrics to improve strategies and ultimately increase revenue.
Nano Influencer Marketing
Influencer marketing is a highly relevant and high-performing stream of marketing to scale up business and reach the right TG. Nano-influencer marketing is an underused marketing strategy that can help you stand out from your competitors.
These influencers have a reach of 1,000 to 10,000 followers. They are relatively cheaper, and even the barter system works as payment; for online promotion, you can offer a few free games or a limited period membership.
You may not find many sports influencers, but you can reach out to travel and fitness category influencers in your city or area. And do video campaigns like "3 cool places to visit in this city" or "5 fun activities in this area" and get featured—such video series are quite famous on Instagram.
Working with nano-influencers is typically more cost-effective; they also help you get local reach in your area and increase foot traffic to your business in locality.
Partner with Other Local Businesses
Partnering with other local businesses is a great way to help scale a pool hall business. By working together with other businesses in the area, you can increase the visibility of your pool hall and attract new customers.
One way to do this is by cross-promoting each other's businesses. For example, if you partner with a local restaurant, you can promote the restaurant to your customers, and they can promote your pool hall to theirs. This way, you can reach a larger audience and attract new customers who may not have known about your business otherwise.
In addition to this, partnering with other local businesses can help reduce the costs associated with marketing and advertising, create a sense of community among local businesses, and increase customer loyalty. Overall, partnering with other local businesses can be a win-win situation for all parties involved and can help you achieve your goal of scaling your pool hall business. 
Make Ambience appealing to the Millennial and Younger Crowd
We have all seen work-friendly cafes where people go to work or read; their reason for going to those cafes is not necessarily because they like the food—it is because of the ambience they get there.
Increase or upgrade the utility of pool hall business by revamping it according to the needs of millennials and youngsters and creating a lively environment for die-hard pool players. Understand who your customers are and cater to their needs in order to truly scale your business.
Offer a variety of games and activities: One of the key ways to attract more customers to your pool hall is to offer a variety of games and activities. This will make your pool hall a destination spot for people looking for different types of entertainment.

Offering food and drinks is another way to increase revenue and create a more inviting atmosphere. You can offer a limited menu of simple foods such as popcorn, soft drinks, and beer. This will attract more customers who are looking for a place to relax and enjoy a drink or a snack while playing pool. In addition to pool tables, consider adding darts, arcade games, and other activities.
Incorporate Customer Relationship Management
In modern marketing, it is also called retention marketing. It is a strategy that focuses on retaining current customers by creating positive experiences and encouraging repeat purchases. It's a cost-effective way to build long-term customer relationships and drive business growth.
"Almost 65% of a company's business comes from repeat customers– SmallBizGenius."
So your existing customer drives more sales for your pool business than the new one. Retaining and focusing on existing customers is the secret route to scaling and increasing profits.
Create a membership programme for regular players: Regular players are the backbone of your business, so it makes sense to create a membership programme for them. Additionally, you can also offer memberships for pool cue rental, which can generate additional revenue.

Develop a loyalty programme: Another way to attract repeat customers is by developing a loyalty programme. This can be as simple as offering a free game or discounted rates for frequent customers.
Operational Automation
Automating your pool hall management is also a key aspect of scaling up your operations. Running a pool hall can be a complex and time-consuming task, involving many different tasks such as table management, league tracking, customer tracking, and inventory management. Without an effective system in place to manage these tasks, it can be difficult to keep track of all the information and stay organised.
A pool hall POS (point of sale) system is a type of software that is specifically designed for businesses that operate pool halls. The automation technology that enables you to manage billiard tables, leagues, customers, inventory, streamline operations, generate reports, and digitise entire businesses and operations from a single platform.
POS systems can also integrate with other software, such as accounting programs, to streamline various business processes.
Also you can refer to this blog by wise small business about three best pool hall systems https://wisesmallbusiness.com/pool-hall-pos-systems/.
Promotions 
Hosting regular tournaments and events is a great way to generate buzz and attract new customers. You can offer prizes for the winners, such as gift cards or free games, to incentivise participation. Additionally, you can also host themed events, such as a pool tournament for charity, which can generate positive PR for your business and attract new customers.
Commit to Great Customer Services
Finally, providing excellent customer service is essential for creating a positive experience for customers and encouraging them to return. Make sure that your staff is friendly, knowledgeable, and always willing to help. Additionally, the quality of the equipment you offer is crucial to the customer experience. Invest in high-quality pool tables, cues, and accessories to ensure that your customers have a positive experience when they visit your pool hall; make sure to maintain your equipment well so that it lasts longer and looks better.
Offering lessons and coaching is also another way to attract players of all skill levels is to offer lessons and coaching. You can hire experienced players to teach beginners the basics of pool and help them improve their game. This will attract new customers and help you build a strong community of pool players.
Conclusion
Scaling a small pool hall business maybe isn't that big of a challenge, but with the right strategies in place, it can be achieved. Rebrand the entire pool hall business as well as the utility of certain aspects of it. That will bring wonderful results, sales, and scaling to the pool hall business.
Give your customer the best atmosphere possible—that's what it takes to get them to play pool at your house rather than on their phone.
Keep Reading
Learn how our award-winning PPC Agency Surrey services can help propel your business leads
In Hampshire and looking to use PPC to grow your business – check this out!
Looking for a PPC Agency in Portsmouth – Delivered Social's expansion is taking on new clients
Our Website Design Service in Surrey is Award Winning – We think it's because we take the time to talk to our clients!
Looking for a new website for your Hampshire-based business? No problem – click here.
Killer questions to ask when looking for a mobile app designing services company
Share this Post