Here at Delivered Social, we are big believers in the benefits that PR can have for any business, big or small. As a result, we work with our clients to secure partnerships with magazines, websites, and the like. This gives them an opportunity to showcase their business online and offline. But why bother? Well, it raises your profile on both a local and national scale (depending on the publication) . This is great for building up brand awareness and helping your business to become more established in the eyes of your target customers. And, it can be a good source of new leads, if you're placing articles in the right places that your customers are reading!
The latest piece of PR that we secured was for our client Gareth Johnson, who heads up Chrysalis Growth. Through his business, he provides support to other business owners, helping them to grow their business, work fewer hours, and generally achieve their business goals. As a result of this, it's highly likely that his target audience is reading publications like Platinum Business Magazine, where we placed Gareth's article. Platinum Business is the regional business magazine with the highest circulation in the UK, although they are currently online-only due to Covid. Their audience stretches across the South East, with a focus on Sussex. So, this presented an exciting opportunity for Gareth and Chrysalis Growth!
What was the article about?
We placed an article all about tips for becoming an expert in your field, based off of one of Gareth's existing blog posts. This targets the business-focusd readership, and also offers something a bit different from the usual business topics. We were really pleased with how the article turned out, and happy to secure yet another piece of valuable PR for one of our amazing clients! You can see the article below, or click here to read the whole thing.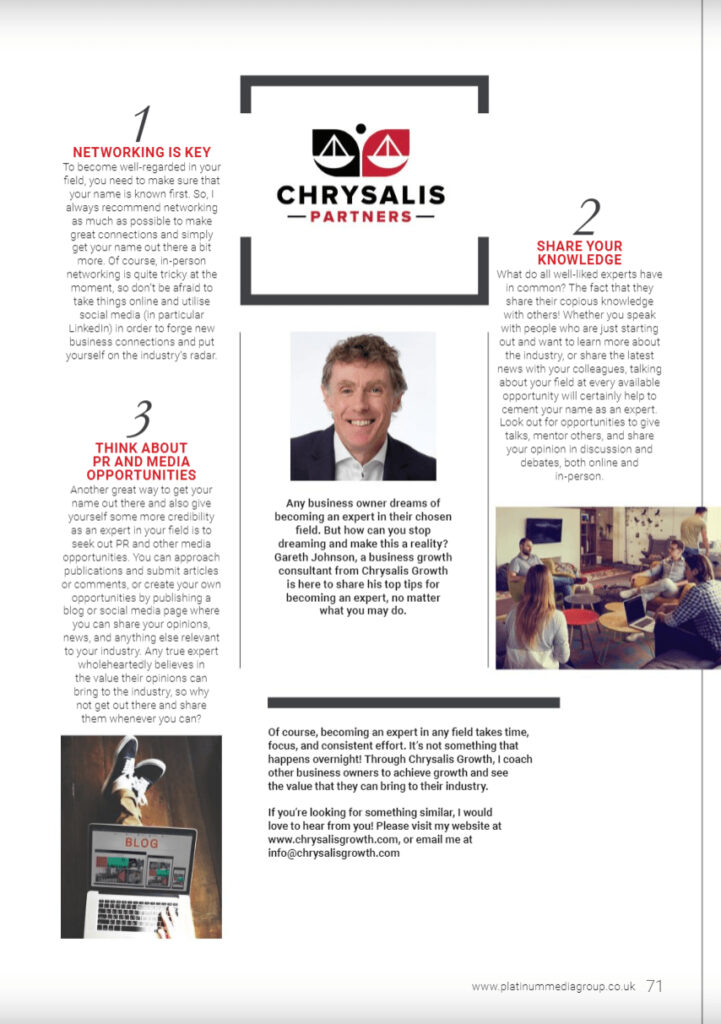 Need help securing PR opportunities for your own business? Delivered Social would be delighted to help! Just click here to find out more about us, or here to get in touch to discuss more about your specific circumstances, needs, and how we can support you with all things digital marketing.
Get your
Free

Social Media Plan