Google My Business Categories: How To Choose Them and Why They Matter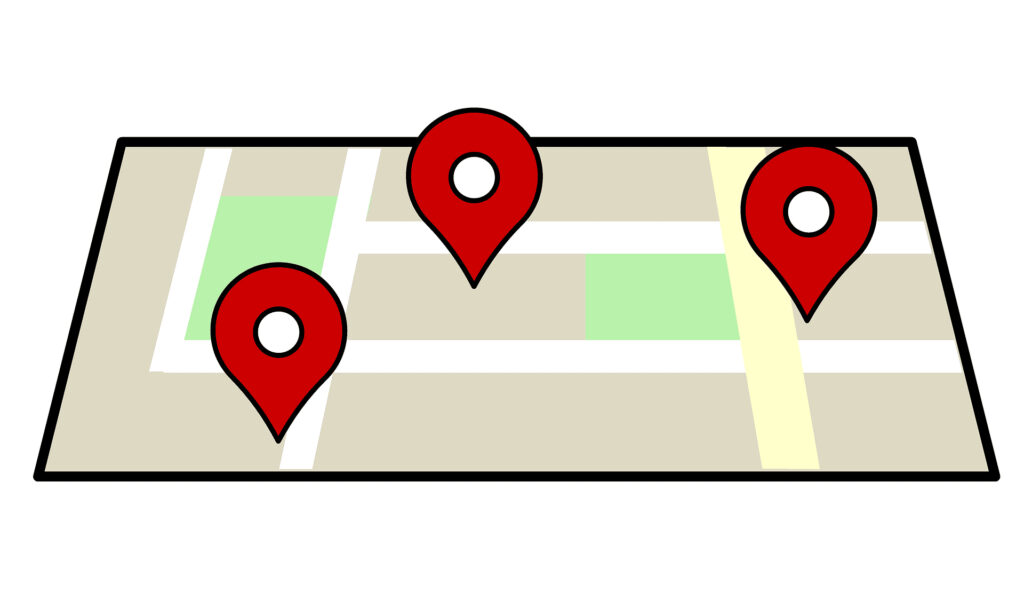 Have you got a Google My Business account? If not, then you are really missing out.  In today's article, we'll go through what a Google My Business (GMB) account is, with a focus on one thing: categories. So, what are the Google My Business categories, and how do you choose them in order to maximise your businesses' visibility online? We'll cover all of that and more in this post, so carry on reading to find out all about it…
What is GMB and what are the benefits?
Firstly, let's talk about GMB in general terms. Even if you're not 100% sure on what it is, you probably will have seen it in action before. You know when you search for a business on Google, and a little tab pops up on the right-hand side of the search results? It will include various bits of information about the business such as their location, opening hours, contact number, and maybe even some photos. This is their Google My Business listing. They have signed up for a GMB account and, as a result, can have this little slice of the webpage when somebody searches for them, that's completely dedicated to them. Let's take a look at what our GMB profile looks like: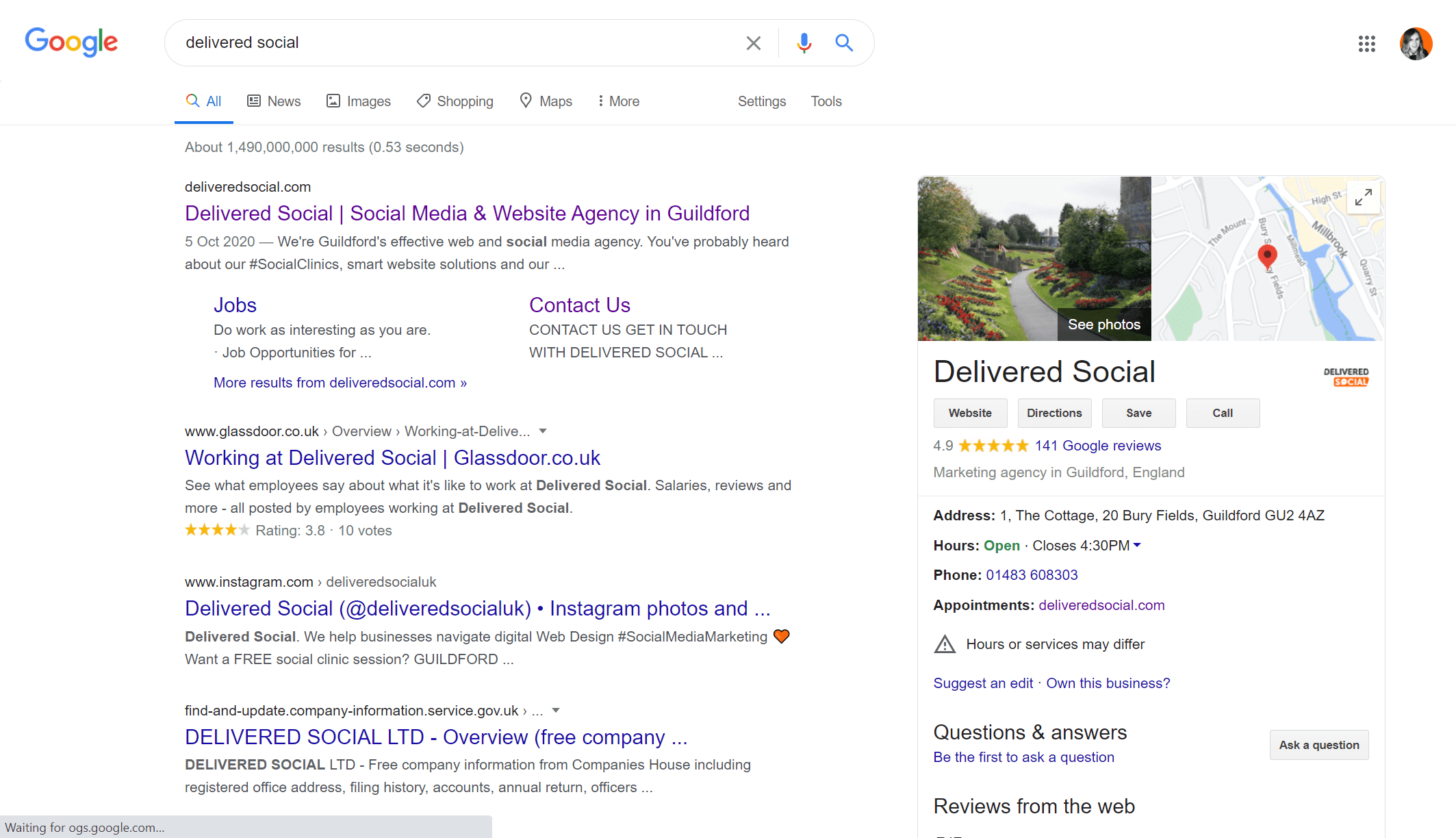 So, as you can see, when you search for our business, alongside the results there is our GMB profile! It details everything anyone might need to know about the business. But, a GMB profile done right and optimised will be too long to fit into a single screenshot- there's also space for our Google Reviews, and a GMB post, which is a space to highlight your latest offers and news to those who are searching for your business.
Now you know what a GMB profile looks like, what are the benefits, and why should your business definitely have one? Here are just a few of the benefits we have found:
A space to showcase your reviews. You know that your business is great, but if you really want to shout about it, collecting Google Reviews that will show up on your GMB profile is always a winner! It also offers you the functionality to reply to reviews, thanking them or, in the case of a bad review, addressing it and what you're going to do about it so potential future customers can see that you are proactive.
A GMB profile takes up a lot of space on the webpage. So, it's more likely to draw the eye in and interest your potential customers! Even if a competitor's results show up in the search, it's your business that will grab the most attention. Why would you not want to make use of this otherwise empty space?
Posts give you the potential to call to action. There are a variety of post types that you can do, including offers, so why not entice people in with an exclusive offer that they can only get by visiting your GMB page?
It's FREE! That's right, there is absolutely no charge to have one of these attention-grabbing listings. But, they have so many benefits that it genuinely does add value to your businesses' online presence. If you weren't tempted before, surely you are now?
GMB offers further visibility. It's true that your full profile will only automatically show up if someone searches for your business, but simply having the page set up will increase your visibility in other searches, too. You know when you search for something, for example 'digital marketing agency in Guildford', and the first few results are usually ads, but the next few show a map with a few listings below that? Well, those are all businesses that have a GMB profile that Google has decided are relevant to this search! So, if your GMB profile is cleverly optimised, there may be no need to spend hundreds on ads to show up in these searches- you can do it for free!
Get your
Free

Social Media Plan
What are Google My Business Categories?
So, we've already mentioned that GMB categories are super important to your business. But what exactly are they and what do they impact? Essentially, they are the keywords that you use to categories your business and the services that you provide. They are important because they can also make certain GMB services available, or not available, to you. For example, if you're a school, you won't be able to receive Google reviews like other for-profit businesses will be able to. Or, if you're a restaurant, there will be an option for you to add in your menu. They help Google to understand your business and what they offer. It will then use this knowledge to decide what searches to show your business in, and the sort of customers that it thinks will be relevant.
How To Choose Google My Business Categories
As you can see, there are plenty of benefits to having a GMB account. In fact, the ones that we have mentioned are just the beginning. We think that it is the number one free online marketing tool that your business needs to take advantage of! And, a very important part of making sure your GMB account is the best it can be is the categories. Next, we'll take you through how to select the right categories to maximise your businesses' visibility when setting up a new GMB account: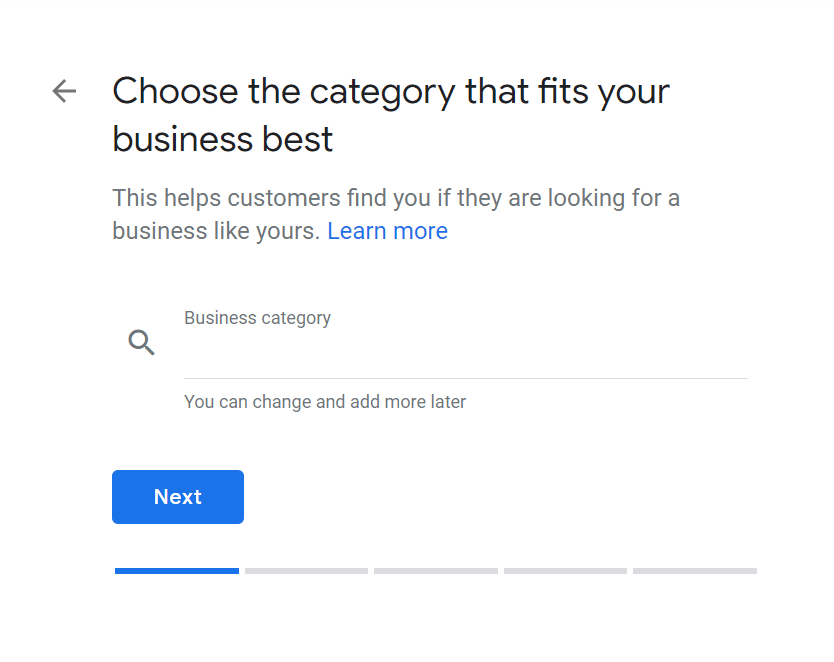 After you add in your business name, the very next step is to choose your Google My Business categories! So, it's clearly an important step. You can add all of your categories now, or go in later and add more as Google says, by using the 'Info' tab in your GMB dashboard. GMB generously lets you select up to ten categories, so you can be very specific. However, your primary category is the most important, and has the biggest impact on the search listings where your business will show up. So make sure to choose wisely! Don't forget that you can alter these categories at any time, but this may have a big impact on what your business shows up in the rankings for. So, it's the best idea to try and get it right first time.
But how do I choose the right GMB categories?
The key to choosing the best Google My Business categories comes down to research! Don't just go into it blindly by describing what you think your ideal customers are searching for to find you. While this may be somewhat accurate, it's best to do your research first as you may be surprised! There are a few ways in which you can carry out this research:
Firstly, make a long list off the top of your head about what your business does. Don't forget to add in any variants. For example, at Delivered Social, we are a 'digital marketing agency' but some variants could be 'marketing company,' 'online marketing agency,' 'social media marketing agency' and so on. Something like a supermarket could be a 'grocery store', 'food shop', 'organic food shop' and so on, depending on the sort of food that they sell. Then, also make a list of all of the services that you offer. Our list would look something like this, but yours will look very different depending on the services that you offer:
social media
web design
SEO
copywriting
design services
logo design
charity services
and so on…
This list will be your list of keywords! The next step is to put them into your keyword ranking tool of choice to see which are the most popular. Our favourite is UberSuggest. Here you can see that the keyword 'digital marketing agency' has a search volume of around 6600 per month in the UK, which means that it is searched for about 6600 times! This makes it a fairly high volume keyword. You'll then want to complete this search for all of the terms on your list and compare them.  Condense your list down to a few keywords that strike up a good balance between having a high search volume, but also being particularly relevant to your business. You may want to use some lower search volume keywords if they are exact descriptors of your business and what you do.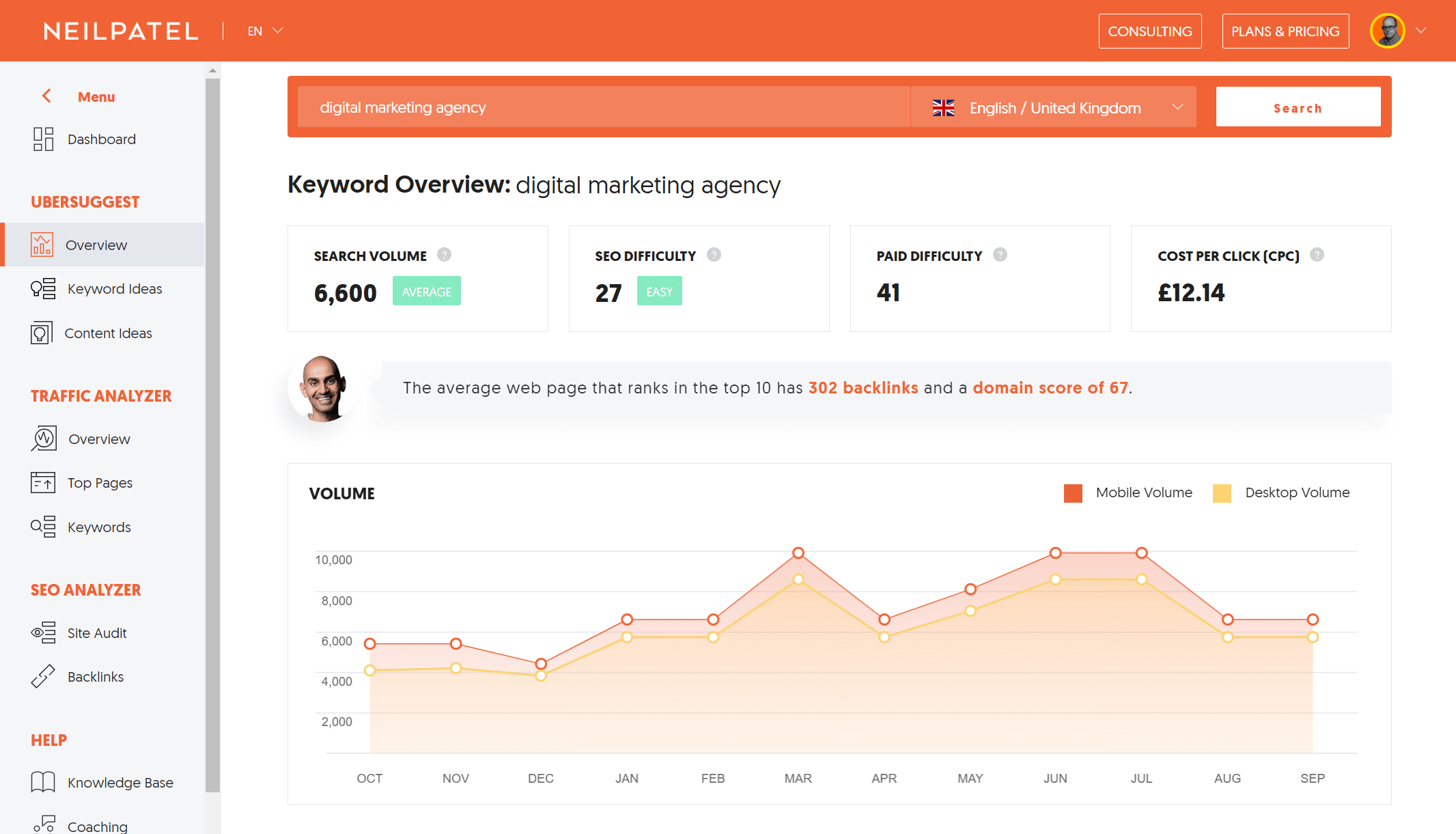 Now you have your list of search terms, it's time to start searching for them yourself in the local area that your business operates in! Only you will know how big your target area is- essentially your location in relation to your customers. It could be just your immediate area, in the example of a local coffee shop, or it could be the wider town, city, or surrounding towns for something like a museum or tourist attraction. Google itself will also use its 'knowledge' to determine how far it thinks people will travel to visit you. As such, it knows that people will travel from much further away to visit a tourist attraction than they would a local coffee shop.
Up next, make a list of all the competitors that you have found by searching your list of terms in your local area. You then want to know what Google My Business categories they are using. But how do you do this when Google doesn't make this information immediately and widely available? There's a way to do this that may look a little confusing at first, but is actually really simple! Here's how:
Open Google Maps (this won't work on a regular Google search)
Then, find your competitor's Google Maps listing
Google will show you their primary category only. So, to see everything else, place your mouse on this and right-click, then select 'View Page Source'
It will bring up a page that looks like loads of code- but you can use CTRL + F or CMD + F to open the search box and search out what you want
Search for their primary listing category in this box
It will highlight this in the text and next to it, you should find the other categories that they use. It should look something like this:

How do I make sure that I've not missed any Google My Business Categories?
There are so many categories out there to choose from (in fact, there's over 3000!), so it can be hard to leave no stone unturned. So, it makes sense to use a tool that has a list of all of the categories that you can choose from, such as this one from PlePer. It's regularly updated, which is great because Google also regularly updates the categories that it has available! And, it's especially useful if you want to check that Google offers a niche category before you get your heart set on it.
Furthermore, within the GMB dashboard itself, Google will make some handy suggestions on the sort of categories that you might want to select, based on the categories that you type in. For example, if you type in 'marketing,' you get all of these suggestions. Some are relevant, and some are not, but it's a good feature to have for peace of mind that you're utilising everything that you can: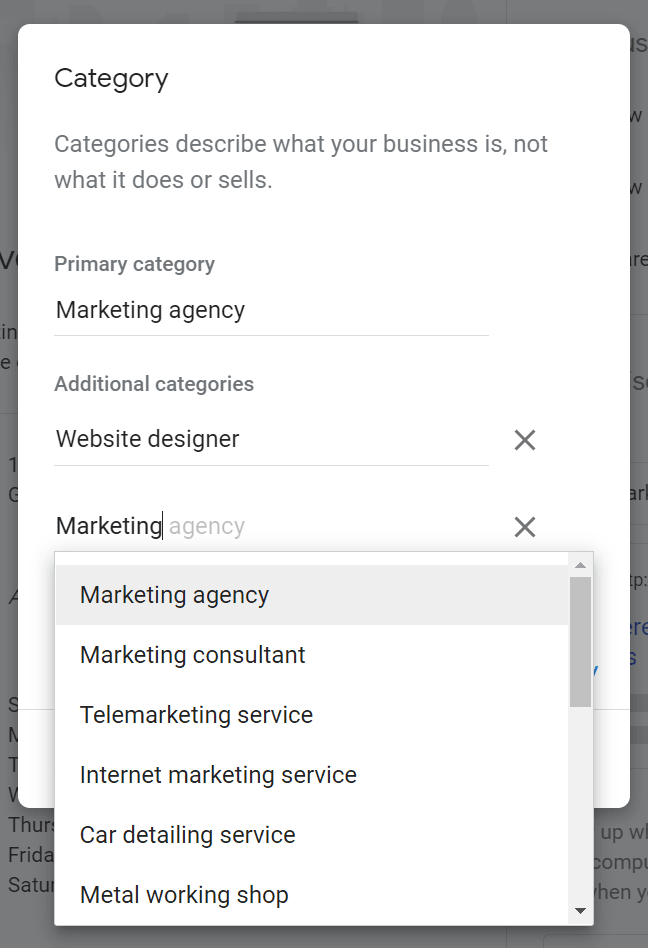 Now that you've taken all of these steps, you hopefully have enough information to make your selection of up to 10 categories! We recommend that you use all ten categories if you can, to make the most of GMB and all of the search engine ranking benefits that it can bring you. Just make sure that they are all actually relevant to your business! For example, don't categories yourself as a supermarket if you're a cafe. This will have the opposite effect to what you want, and reduce your position in search rankings because it's just plain confusing!
How do I know that I've chosen the right categories?
When it comes to choosing the right Google My Business categories, truly there is no right or wrong answer. After all, every business is really different and will require different things out of their categories. However, if you feel that you may have chosen sub-optimal categories, and your GMB profile isn't having the results you want, there is no harm in a bit of trial and error. You can change your categories at any time, so why not switch them around a bit? Then, you can have a look at the effect this has on your profile and how it ranks in search results. Eventually, you should land on a winning formula that works for you, but this will be different for every business!
Choosing less popular Google My Business categories
While we have advocated in this article for choosing categories that are also popular keywords for your type of business, it's all about finding the right balance. Using categories that are less popular can be a good option if these categories are an exact, accurate description of your business or the services that you offer. You want your categories to be an accurate reflection of what you do, as it helps Google point people in your direction if they are looking for your specific niche.
Another reason why you might want to use them is if you find that very few of your competitors are using them. While there may be fewer searches for this category, if fewer people are using them, your business will be more likely to show up higher in the search rankings when people do search it. And, any chance to enhance your visibility should be taken, so why not just go for it and see what happens?
Conclusion
So, as you can see, having a GMB profile is a really smart move for any business to make. It will enhance your visibility online, especially if you choose the right categories as we have discussed in this article. When choosing the right categories for your GMB account, research is key so that you can find the best balance between what people are searching for, and what categories will boost your business in terms of visibility. Make sure that you're always checking back to see if Google has added any new categories that would suit your business, and can give you better local visibility and more customers!
If you still need assistance with optimising your GMB profile, we at Delivered Social can help you with that at one of our FREE Social Clinics! Find out more and book your time slot here. 
Share this Post