How often do you blog? If the answer is, not much, then you should definitely consider doing it more often. There are plenty of benefits that make the time you take writing a post worthwhile. It boosts your SEO, gives you something to talk about on social media, and helps to place you as an expert in your field. Having said this, writing the perfect blog post takes time and effort. There are a few things to consider, including using the right images and targeting the right people. But possibly the most important thing to consider is your title, or headline! We've put together some handy headline hacks to help you write a winning title every time, so keep on reading to find out more about them.
Why are headlines so important?
he headline is the first thing that grabs a reader's attention, and if it's a bit rubbish, way fewer people are going to want to read what you have to say. So, we've put together some great attention-grabbing headline ideas to help you reach wider audiences and make your blogs sparkle! Putting just a little more effort into writing your title can really transform your results. Suddenly, a dreary post is turned into something head-turning and exciting that people actually want to read! Now, onto the headline hacks that will help you do it! The vast majority of these hacks will work for a post about basically anything. But, to give you a bit of context, we'll give you a 'Delivered Social' example for each, showcasing the sort of title we would have on our blog. 
Get your
Free

Social Media Plan
Hack One: Lists
Who else here is a self-confessed list addict? They're the perfect way to organise your life and make you feel all shiny and productive. But did you know that list articles are some of the most popular blogs on the internet?
You know the sort of thing we're talking about. '15 Things All 90s Kids Will Remember,' '5 Cute Cats That Will Make Your Day!' and so on. This type of content is super fun and really easy to read. Lists are also a great way to organise information into bite-sized chunks that are likely to appeal to your audience. Plus, if you use a list headline, it makes it clear to the reader exactly what they're getting before they start reading- they can look at those 5 cute cats, then move on to the next article…
And, if a reader knows exactly what they're getting into, they're more likely to click the article. They know they won't be endlessly scrolling to find out the information they want, which is a really appealing quality for your blog posts to have!
List articles and headlines are also universally appealing, in that pretty much any kind of information can be listed! So, there's a list post out there for everyone. No matter what your niche interest may be, we can guarantee that there is a list post out there that. So, this style of headline is fun, versatile, and popular. What are you waiting for? Here are some great ideas that you can use to make your list posts stand out from the crowd and help your blog post get those all-important views…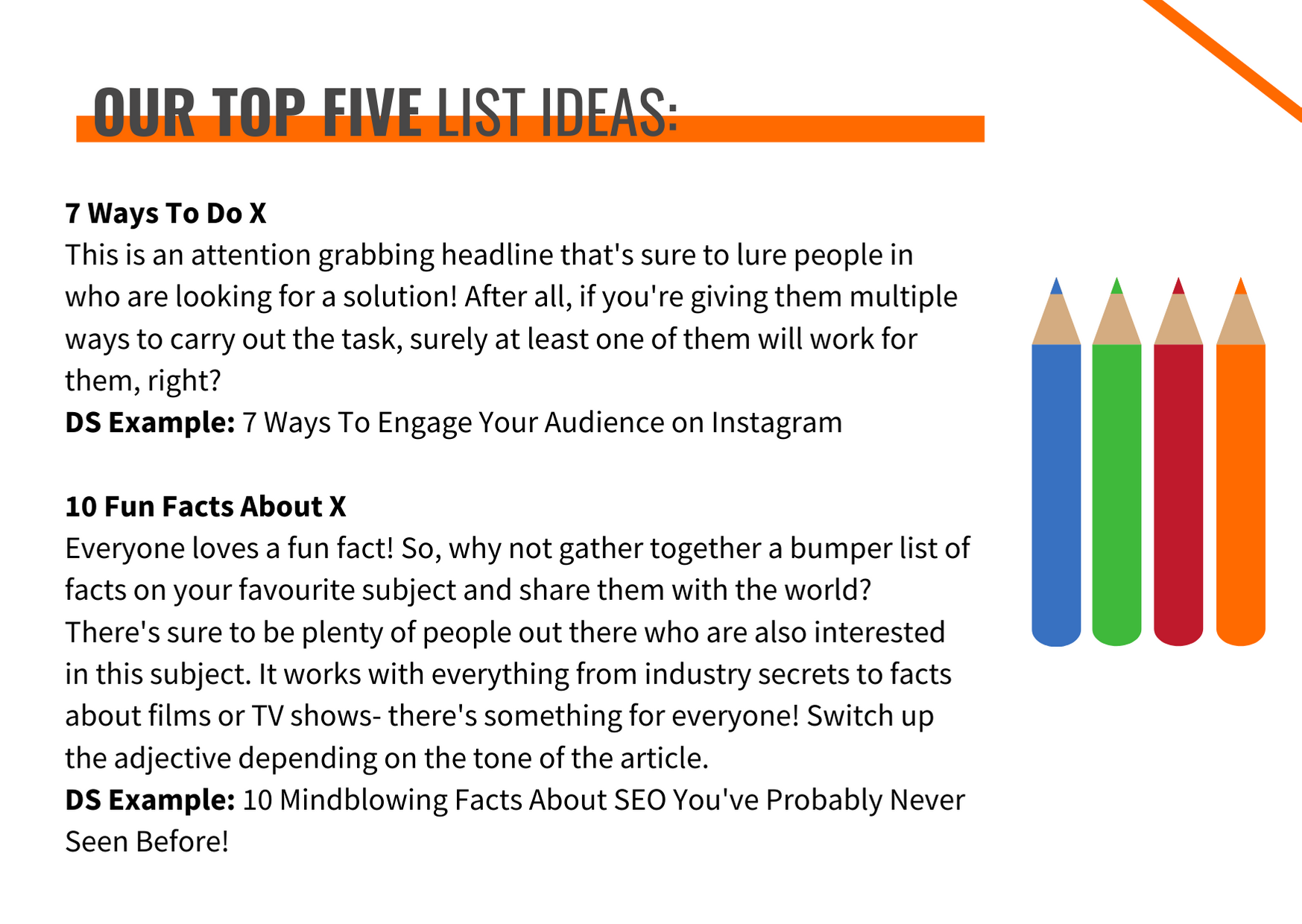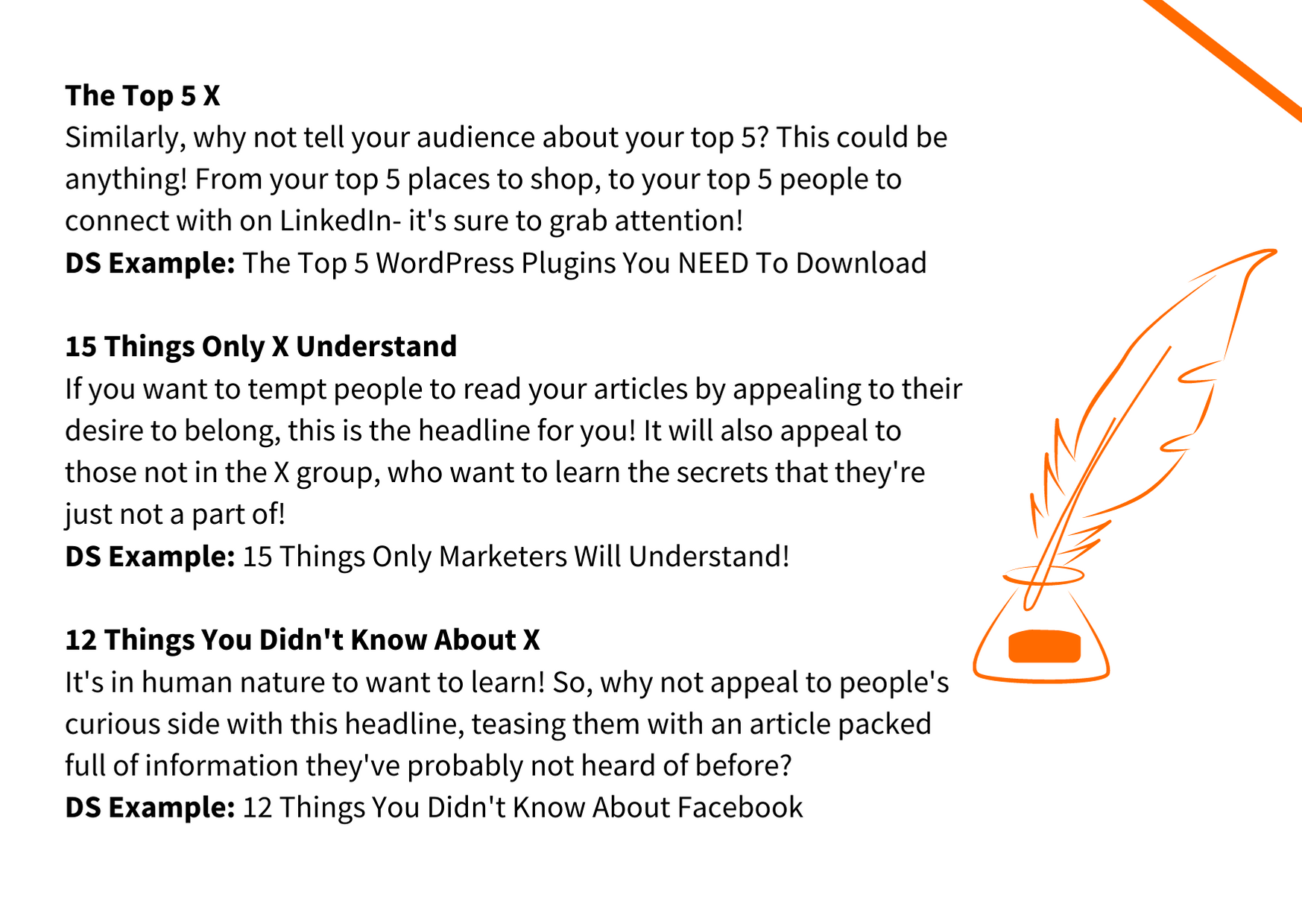 Hack Two: Tell them how!
The 'How To' headline is probably one of the most popular types of headlines out there, for a good number of reasons! Many people turn to the internet to show them how to do something they're stuck on. If you have the skills and knowledge to show off, why not tell them how with your blog posts?
This type of headline tantalises readers by promising them that by clicking on your article, they will learn something! Even if it's not what they originally set out to learn, as we mentioned before, humans are naturally curious. We want to know things! So, an article that promises to teach us something is automatically appealing.
While list headlines are fun and interesting, ultimately the knowledge gained from them probably isn't going to be that useful. But, if you actually learn how to do something practical, it grabs attention and gives readers true value. There is truly no cap on what you can teach someone over the internet! Whatever skills or experience you have, there will be someone out there who wants to learn how to do just that. From fixing a car to a clever website hack, it can be as straightforward or as exciting as you want to make it!
These types of headlines and articles also position you as a writer well. It gives you authority and makes you seem like something of an expert about a topic, no matter how big or small. And who doesn't want that? The more authority you start to gain online, the more people will start to trust your articles, which should help your blog gain traction.
So, want to know the best variations of the 'How To' Headline to help you draw in more and more readers? Keep on reading, because we've got a few clever hacks to show you!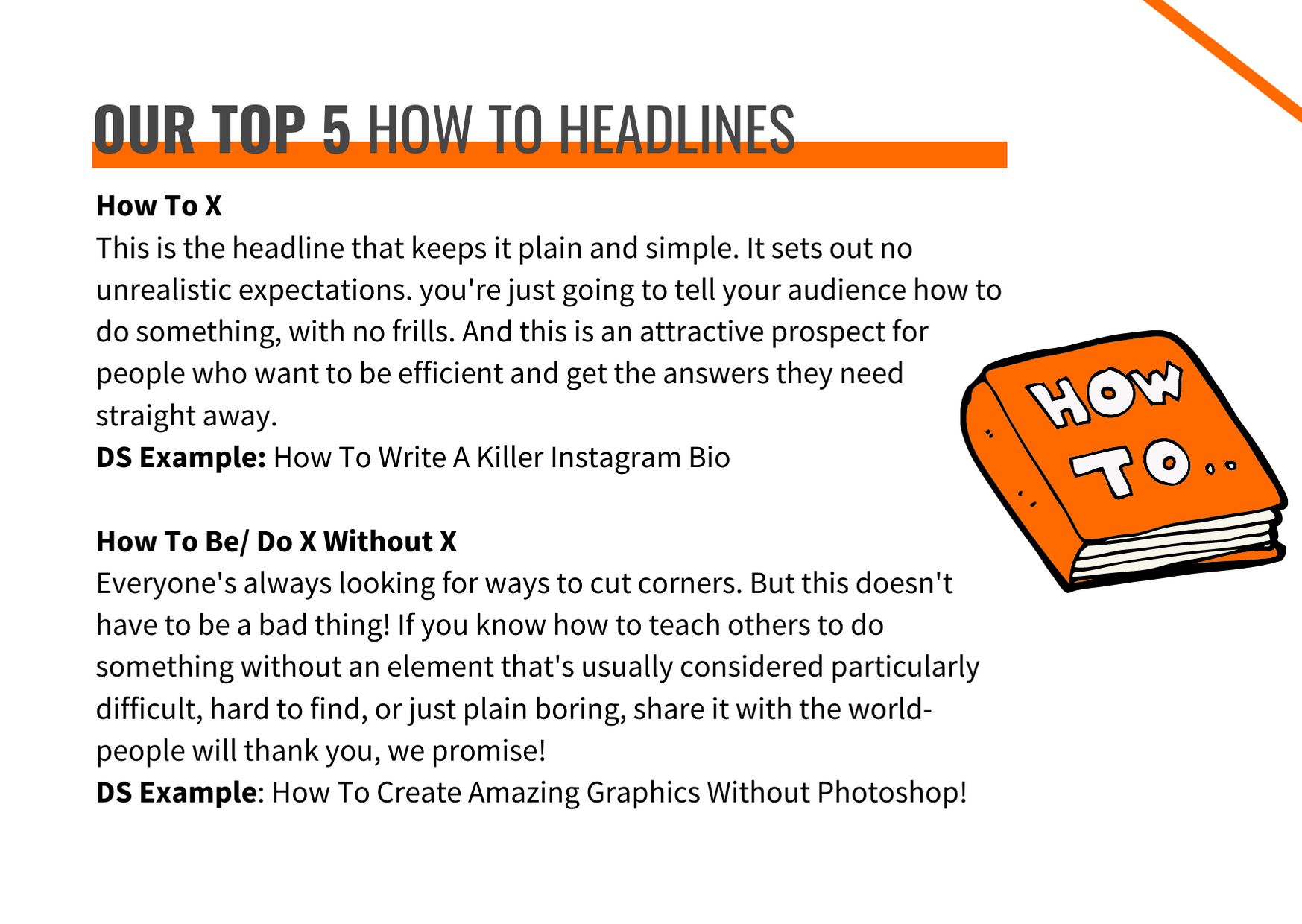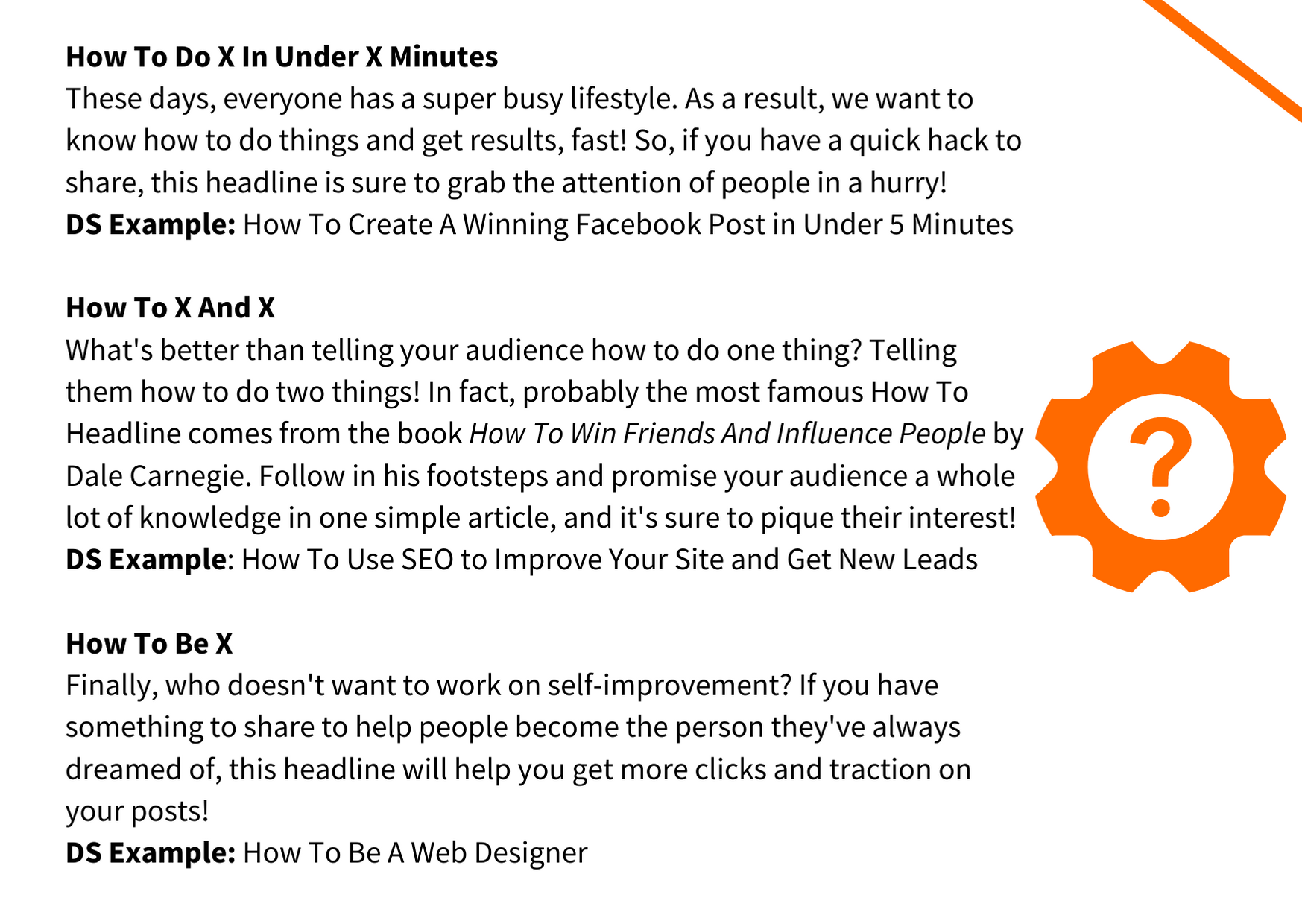 Hack Three: Miscellaneous headline hacks!
While it would be great for every headline idea to neatly fit into a category, this just isn't the case. There are so many great headline ideas out there that we didn't want you to miss out on, so we've introduced a third category, for those that can't be categorised!
When you're coming up with the headlines that work best for you and your blog, don't be afraid to try something new every once in a while. What works for one person and their writing won't work for the next- it truly can be a case of trial and error, so have some fun with it and you may be surprised by the results!
So, here are five 'random' headline hacks that don't necessarily fit into a category, but we think that you should try to help your blogs get traction!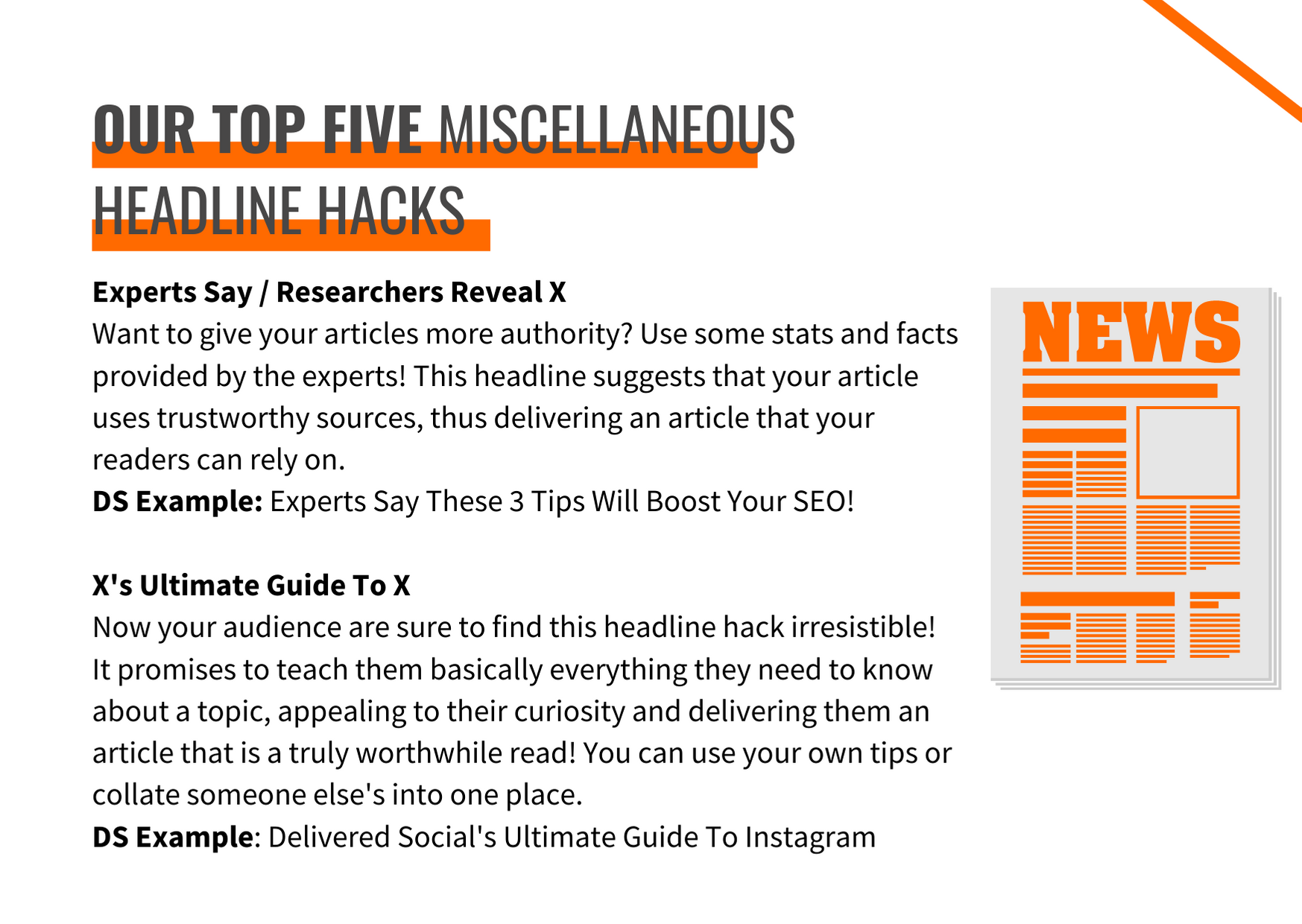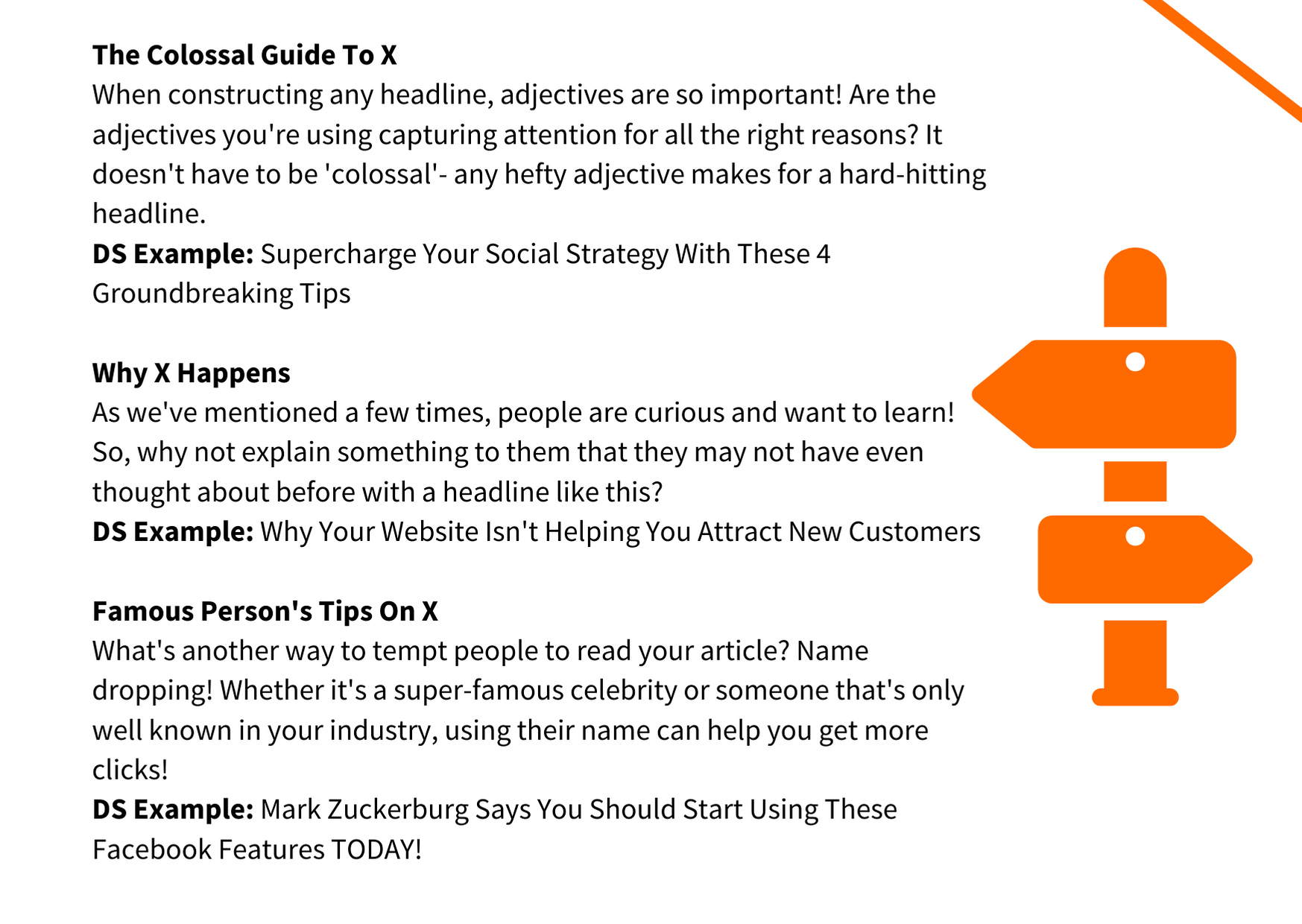 So there we have it, plenty of quick and simple hacks for you to use when writing your next blog posts! Making this small change can really make a big difference when it comes to blogging and getting your posts attention. In fact, we're so passionate about the work a great headline or title can do, we've made our handy headline hacks into a downloadable booklet for you to refer back to! If you'd like to download your FREE booklet, just click here now!