How to deal with spam WordPress comments and improve your site's health!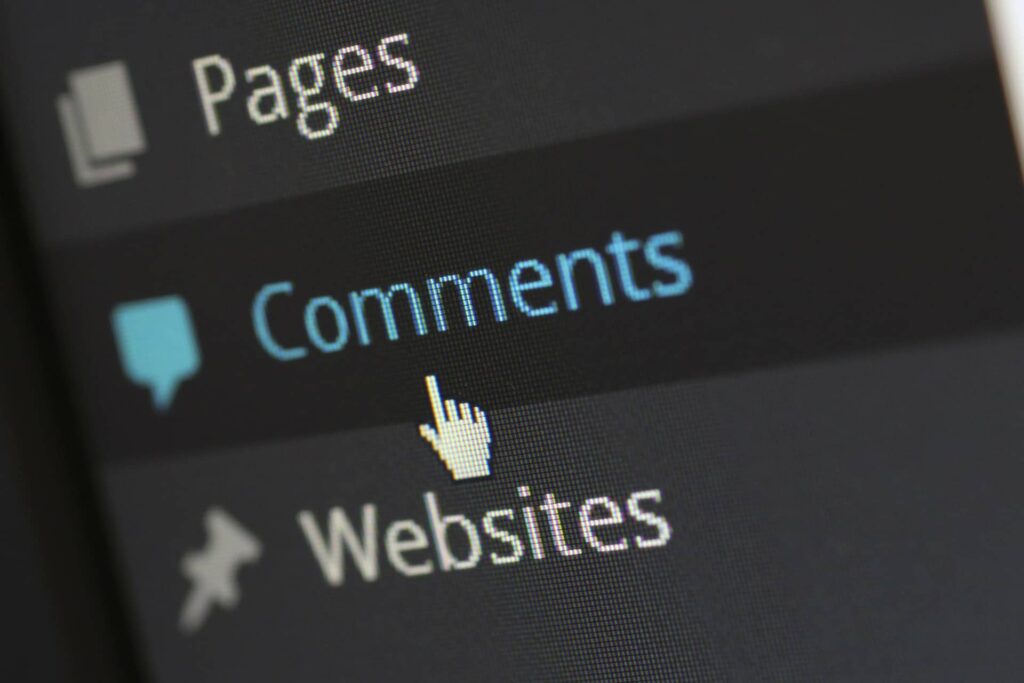 WordPress is an amazing platform to build your website with for a huge number of reasons. It's versatile, so you can build a unique site with great functionality for your business. It's also relatively simple to use so you can often make easy updates to your site without your web developer's help. And, it's designed with blogging in mind. If you have a blog, it's the perfect platform to use. In fact, it started as a blogging platform that's expanded into more areas of web development. There are loads of WordPress tools and plugins that you can use to make your blog amazing, no matter what topics you're writing about.
However, despite all of WordPress's positives, many users find that they unfortunately get a large number of spam comments on their posts. Is this something that you're struggling with at the moment? Luckily, there are plenty of things that you can do to minimise the number of spam comments you're getting! In this blog post and video, we'll take you through some of our top tips and tricks for identifying and dealing with spam WordPress comments, including some of the best plugins to use for this purpose. So, if you want to find out about some surprisingly simple solutions to this common problem, keep on reading!
Want to jump straight to the best plugins to use to combat spam? Click here!
Improve your site's health by identifying spam WordPress comments and learning what to do with them
Often, when a blog starts getting spam comments, people panic. Can they be removed? How can you stop them from happening in the first place? Will you have to delete the site and start all over again? While it can be frustrating to get spam comments, especially if you've not experienced them before, there's really no need to panic! If they're managed properly, you can get rid of them before they damage your site's health. Here are some simple tips to help you solve this problem on your own website:
How do I know what's a spam comment and what's genuine?
If you're experiencing a sudden influx of comments on your site, whether it's on just one blog post or multiple, it's likely that some of them at least are going to be spam. There are some simple things to look out for that are telltale signs of a spam comment. Firstly, is the comment genuinely relevant to the post? Secondly, does the comment actually make sense? Thirdly, is it a comment promoting another site or product? Another thing to look out for is multiple comments that are structured in a similar way and meet the criteria above.  For some comments, it may be difficult to determine whether they are spam or not. We would always advise that it's better to be safe than sorry with spam comments and get rid of anything that might be spam, even if you aren't sure. This ensures that it's only truly genuine and relevant comments that reach your blog posts to add value to your site and community. And, you won't miss any comments from genuine people who are trying to get in touch with you!
Get your
Free

Social Media Plan
Why are spam comments on WordPress posted?
Now, you may be wondering why exactly you're getting comments like this. Why would anyone want to spam your site? These comments may look harmless, but they can actually wreak havoc on your SEO (search engine optimisation) efforts, as well as your site's health! This is because the number one aim of most spam comments is to get backlinks on your site back to their own website. Getting backlinks on other trusted sites is a great way to build up your SEO efforts, but only if it is done legitimately. Some people try to get around this hard work by posting spam comments that have links hidden in them. If they succeed, your site will have lots of links pointing to someone else's site, so your authority and reliability as a website will go down. Real site visitors may see all of the spam comments and write your site off as unreliable, earning you a bad reputation for something that can be easily managed! This is just another reason why you should keep on top of them as much as you can.
It's also important to stay on top of spam comments as they can affect the speed and health of your website too! Now, this doesn't happen often so there's no need to panic, but it is possible for hackers to break into the backend of WordPress websites using malicious code placed in spam comments. While there's only a small chance of this taking place, it's still important to manage your comments correctly so it doesn't happen to you!
How can I find my spam comments? What do I do with them now?
Once you've logged into the back end of your WordPress site, it's relatively simple and easy to find where the comments are located so that you can deal with them efficiently. Take a look at this video where we go through exactly where to find them and how to get rid of them in just a few clicks:
More simple tips for dealing with spam comments on WordPress
Now you know how to identify your spam comments and where you can find them, what can you do to ensure that you don't get as many in the future? Here are just a few tips that you can follow to help keep your site healthy and spam comment free:
Make sure comment moderation in WordPress is turned on
Possible the best way to stop spam comments from affecting your site's health is to prevent them from being published without your explicit approval first! You can do this by turning on comment moderation. Then, you will have to approve (or not!) every single comment before it's published on your posts. So, you can catch spam before it has a chance to have any ill effects. But how can you do this? In the back end of your site, click "Settings". Then go to "Discussion". Scroll to the section titled "Before a comment appears" and check the "Comments must be manually approved" button before saving your changes. It's really that simple! Then, you'll be able to approve or bin every comment you receive, just like in the video above.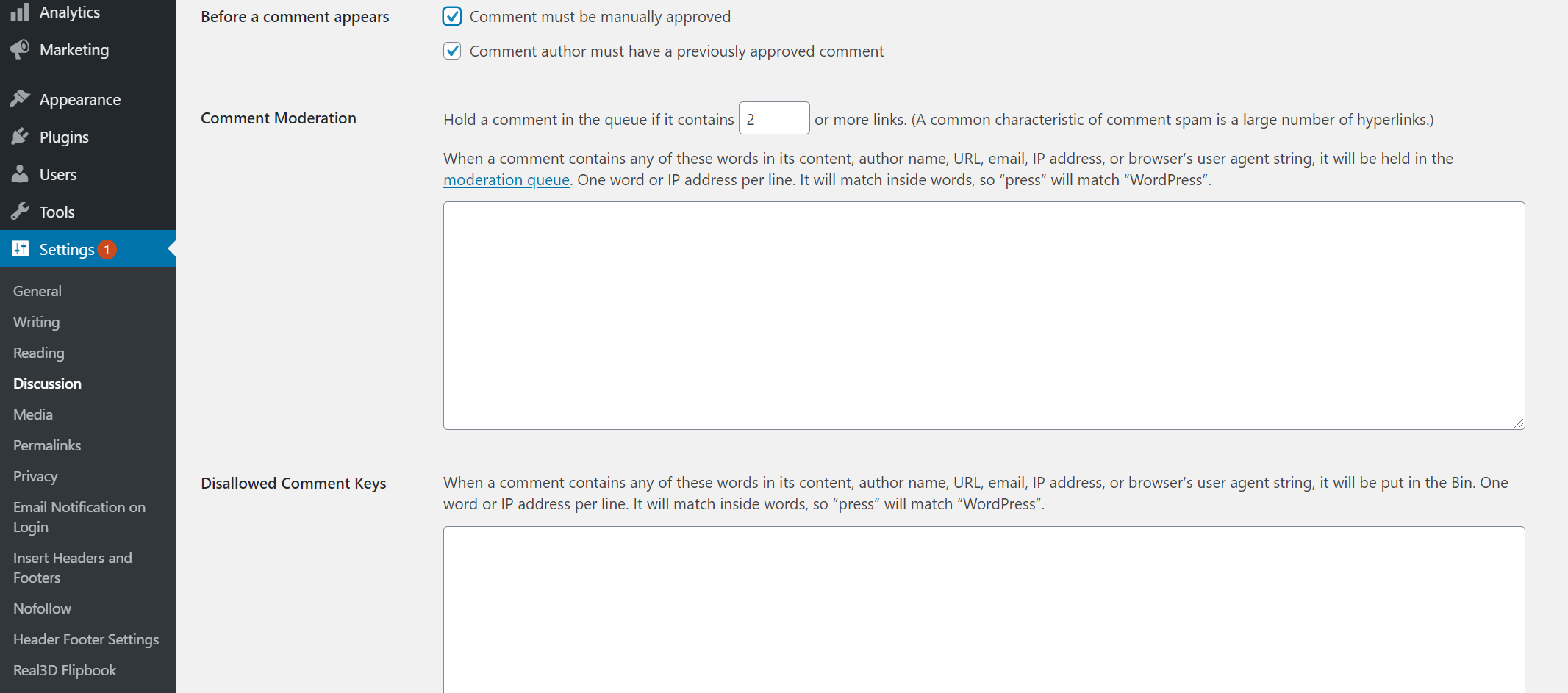 Consider using an anti-spam plugin
WordPress is a great platform to use because of the sheer number of plugins available. Anything you want your site to do, there is probably a plugin available to help you do it! And managing spam comments is no different. There are a few anti-spam plugins out there that can help you maintain your WordPress website's health. Here are a few that we can recommend:
| Plugin Name | More about it |
| --- | --- |
| Akismet | This is possibly the most popular anti-spam plugin available for WordPress websites with over 5 million installations! It works by filtering all of your comments and blocking any that look suspiciously like spam and sending them to the spam section of your site's admin comments page. If you're going to download one plugin, make it this one! |
| NoSpamNX | This clever plugin works to eliminate spam comments left by bots. It does it by adding in a comment field that only bots can see. Once they fill it out, the comment is prevented from being published so it never reaches your posts! |
| Stop Spammers | This plugin is useful because it's great at multitasking! It blocks spam comments, spam registrations, email spam, and spambots. It also monitors login attempts to your site to help security. |
| Antispam Bee | Antispam Bee is another highly popular anti-spam plugin for WordPress. It effectively stops spam comments and also schedules spam to be regularly deleted. If that wasn't enough, it also provides stats on the spam that it's blocked. |
Add Google ReCAPTCHA to verify that commenters aren't bots
Most spam comments are the result of bots. They're not a real person commenting, but software that's built to get as many comments (and their associated links or malicious code) out there as possible. While this is really annoying, the one good thing about bots is that they can be stopped with Google ReCAPTCHA verification. All this requires is installing a plugin like this one. This will then add the ReCAPTCHA software to your site so that everyone who leaves a comment has to fill it out. When the software identifies that it's a bot trying to comment, they will prevent many of them from doing so by giving them a trickier form to fill out that the vast majority of bots are not capable of doing. It shouldn't deter genuine commenters from leaving their comments, but it will stop spam from bots from littering your comment sections.
Still struggling with spam comments on WordPress? Consider disabling them
While comments are great for fostering a sense of community on your website, if you're really struggling with spam then you might want to consider turning comments off as a last resort. You can turn comments off on old posts only. Many spam comments will target older posts because they're less likely to get noticed. However, they can still have bad effects on your site's health! So, it's important that you're making sure ALL of your posts are regularly monitored. Under "Settings > Discussion", there is an option to "Automatically close comments on articles older than". You can choose a limit of days in which new comments can be left on the post before the comments section closes (any comments left there in the time frame will still be visible). This means that only comments on fresh new articles will be published, helping to reduce the amount of spam on your site and keep the discussion relevant.

Alternatively, you can prevent any comments from being left on your posts at all. This means both spam comments and genuine ones, so it should only be the final option if you're finding spam comments too difficult to deal with. It's really easy to do! All you need to do is go to "Settings > Discussion" and uncheck the box next to "Allow people to post comments on new articles". This will remove the problem of spam comments completely, but remember that it will also prevent genuine discussion or people trying to reach you in your comments, so don't do it unless you're happy to do that!
We hope that this article has helped you to identify and deal with spam WordPress comments in order to improve your websites' health! To find out more tips and tricks from us, don't forget to visit our blog page and subscribe to our YouTube channel to keep up with what we're up to!
Share this Post