Introducing Active Prospects: Delivered Social Green

We're pleased to introduce Active Prospects, who are one of our new Delivered Social Green members! This Reigate-based charity enables people with learning disabilities and autism, physical and mental health needs to live full and aspiring lives. They do so through delivering innovative, flexible and responsive care that achieves excellent outcomes for our people and communities.
They offer a variety of different services, including residential services, short breaks, skills for work and life, and mental health services. The work that they do in the community is vital, and we are so proud to be able to support them in their mission. Discover more about them on their website here.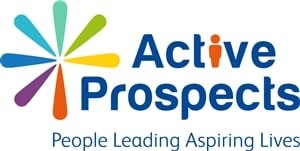 What are we doing with Active Prospects?
We're pleased to say that we're working with this organisation on a new website, social media management, and even a video! Having a great website is the number one way for organisations to have a great online presence, and reach more people as a result. Likewise, social media is a great way to spread their message in the local community and beyond.
Get your
Free

Social Media Plan
We're really happy that the charity has chosen to do a video with us. Video marketing is a great way to show off what you can do! Plus, it tends to be really well received amongst viewers, so is sure to bring success for any kind of organisation. As usual, we are providing all of our Green services completely free of charge.
More on Delivered Social Green
Are you involved in a non-profit or social enterprise like Active Prospects? Looking for marketing support? Delivered Social Green is the initiative to help you! We set it up so we could help more organisations just like yours.  So, we offer a complete range of marketing services, including social media, websites, videos, design, and more. Plus, we do all of our Green work on a completely pro-bono basis. That's right- we do it FOR FREE! We think that non-profit organisations shouldn't have to pay for the best marketing support available. This money is more useful elsewhere! We've already helped so many local and national non-profits. It would be great for yours to be the next one!
You can find out more about us on the Delivered Social Green site here!
Finally, even if you're not a non-profit like Active Prospects, we still offer a full range of marketing services! Find out more about us here.
Share this Post