Social Media and the Beautiful Basics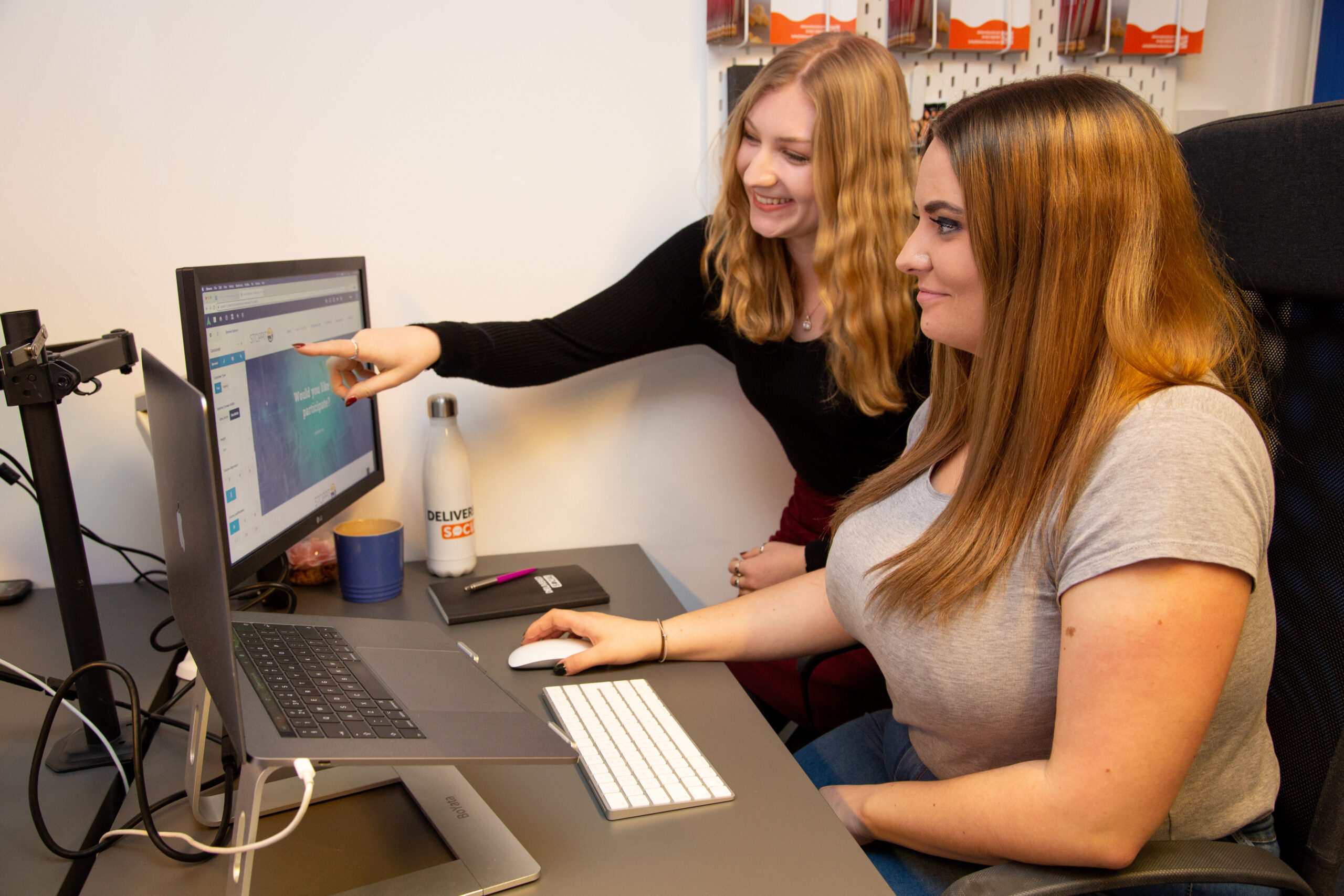 Last week, we hosted a webinar focusing on the beautiful basics of social media – really focusing on aligning strategies, understanding audiences and looking at content 'hacks' for those that are time poor or wearing a lot of hats in their role.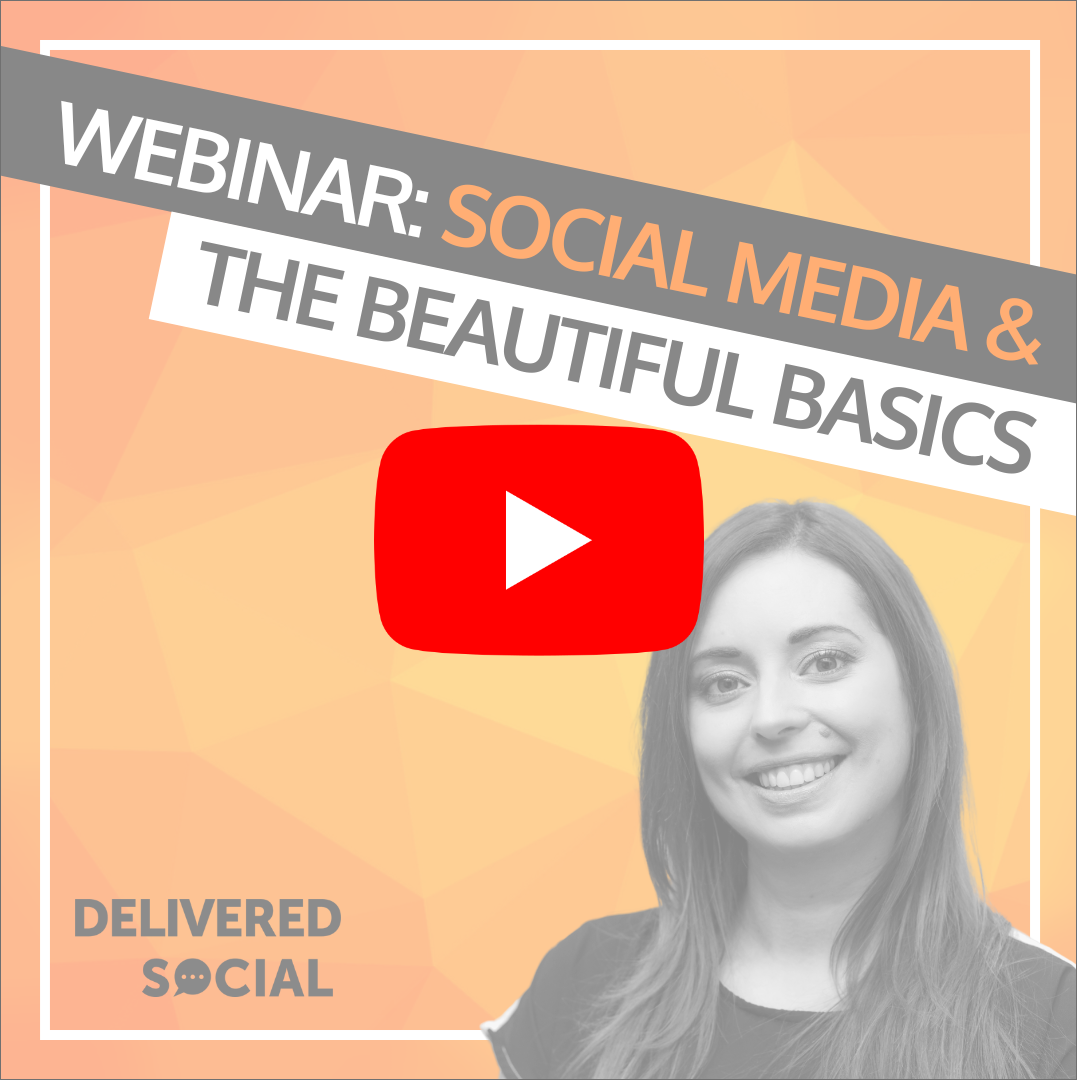 If you've been running social media channels for a couple of years now you might not think that this blog post is for you. But let me tell you why that isn't quite right. 
Social media is a fast-changing space. That's why it's exciting. That's what keeps us motivated and that's what keeps us creative (i.e not getting bored with our day job). But because of this very reason, it's very easy to get lost in keeping up with the latest trends and the latest format launches.
Think of it as a yoga class. It's good every now and then to take a beginners class to check your postures and forms, it can be very helpful to take a step back from the daily rollercoaster of social media and reflect on what you're doing and where you want to go. 
So welcome to that reflection: the beautiful basics of social media. 
Firstly, to understand your success on social media, you need to understand what it is you're trying to achieve and where you want to go. That's why we're firm believers in understanding what your strategy is, as this is your point of focus. 
When we talk strategy, we're not talking about a big, long document that takes weeks to put together and then is never read again. What we actually mean is asking the simple questions: what, who, where and how?
Your social media strategy will define your audience and the relationship that you want to have with them. It also sets out a plan to harness this audience in order to achieve a particular goal. And remember, this strategy is not set in stone! It's a circular process meaning you learn from what you do and make improvements as you go. 
The beauty of social media is that you get real-time data from the very people you're trying to influence so by listening to them and how they interact with your content you can give them more of what they really want.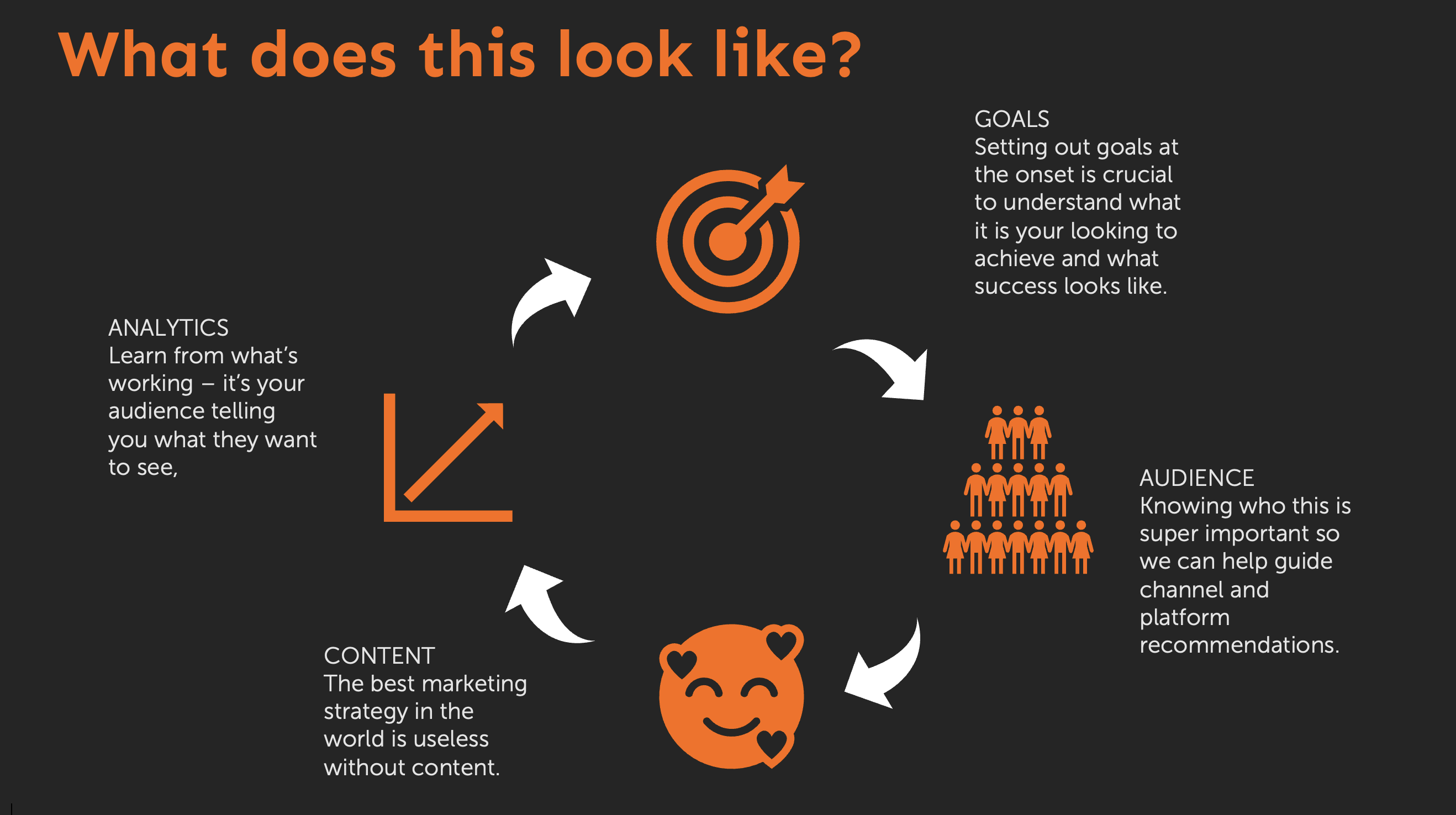 So if we break this down step by step:
What? 
This is your goal. What are you actually trying to do on social media?
Ask yourself these questions:
What are your business goals?

What can social media do to help you achieve these?

What does success look like for your business on social media?
Examples of your goals could be: newsletter sign-ups, product sales, community growth and/or engagement or webinar signups.
Understanding what it is you want to do helps you to tailor your approach to achieve this. 
Next up – who? 
This is your audience.
Social media success really does start and end with your community. Understanding who you want to talk to will essentially define the content that you will go on to create. 
Get into the mindset of your audience. Ask yourself these questions:
Who am I trying to reach?

Why would they want to follow my business?

How can our social channels add value to them?

What are their hopes and fears and how can we support?

What are my assumptions about my desired audience?

What social channels do they use?
Sometimes, putting specific personas together for your audience helps you to picture who it is you're talking to when you create the content. 
So, give your audience a name, a job title, real hopes, real fears, desires and social media patterns. Get in a room with your team and describe the persona – you can have discussions and debate different elements of their persona to really get this right! 
Where? 
This is where you are going to post your content.
The simple answer is: go where your audience already is! Don't try to make your audience come to you (as in don't just create a Facebook Page because that's the channel you're on and the one you prefer.)
That approach won't work. 
If you know your audience is on TikTok – create content on TikTok. If you know they like gaming, get on Twitch. With 4.62 billion people on social media as of the start of 2022, your audience is on social media. It's really just about getting them on the right platform.
And it's not just about being on the right platforms either. It's about using the platforms in the right way. Different audiences use the different platforms in different ways and for different reasons. Your audience personas will help you to flesh this out. 
Some very topline assumptions are:
Facebook 
Catching up with friends, joining groups of interest, and following brands that adhere to their values. 
Twitter
Less about posting, more about searching for new information. Twitter users are mostly in the discovery mindset – looking at the latest news and real-time information.
Instagram
This is where people go to explore, discover and consume content. They'll follow influencers that align with their interests. It's a very visual platform.
TikTok
TikTok is all about being happy! It's a place for entertainment, but equally a place for learning. However, all information is delivered in a video format and usually through sound and/or dancing!
LinkedIn
This is where people go for their career – either to network with their peers or to follow those of influence in their sector.
Get your
Free

Social Media Plan
How? 
This is the content you are going to create and how you will interact with your audience. 
You already know what it is your audience want to see from you because of the persona work you've done, so our tip to you is to identify some very clear content pillars to start organising your content plans. 
These content pillars, or evergreen content as we like to call it, will help you to focus your weekly content calendars. This makes sure you're giving your current and new audiences what they want to see from you while freeing up time to create content for reactive moments – such as reaching a new milestone in your business, launching a new product or capturing a real-time event. 
Our top tips for content creation are:
1. You don't need to spend £1000s on content production.
If you think about attention spans on social which are 10 seconds at best and 3 seconds at worst, you don't have very long to grab attention and get your message across quickly and effectively. It's less about high production and more about standing out and being creative with your content and story telling. 
2. Remember social media is all about authenticity
Be you. Be your brand. Capture content on your phone. You don't have to be refined, particularly on ephemeral formats like Instagram stories
3. Create themed and non-time-sensitive content pillars to help you focus your production.
This is what we refer to as evergreen content. It's content that essentially can last 'forever' and really helps you to focus your content and answer the questions you set yourself when you built your audience personas.
4. Utilise your community
Peer to peer recommendations are so so important, so ask for and use your customer feedback. Consider creating a campaign encouraging user-generated content – this is where your customers create content for you and you can simply reshare on your channels. Not only does this help your volume of content, but it also sees your product or service sitting on your customers' social channels. Therefore, increasing your organic reach. 
5. Use the wide breadth of formats on the different platforms
There are so many that you can use. Play around with them. See what works for you and your audience. It's a great way to keep your content varied. You'll also find that the different platforms tend to favour their new formats and so more people may actually see your content organically when you experiment with the new format launches.
6. Post with a purpose and have clear calls to action.
You know what you want from your audience, so make sure it's clear to them. Pick one and be succinct with your request. Are you asking for engagement on your content? Are you directing them to your website? Which page, in particular, should they visit? Don't just post for the sake of it, make sure you're sticking to your strategy!
7. Engage, engage, engage!
Don't just be a broadcaster. Social media is social – a two-way conversation! Respond and reply to your audience. Acknowledge their engagement. Ask them questions. Proactively engage in relevant conversations – be useful to new people who weren't necessarily seeking you out. 
The Beautiful Basics Of Social Media
If you follow these top tips you'll start to see your engagement and relationship with your audience increase and improve. Now, remember, social media is part of the puzzle when it comes to digital marketing, but if you get the building blocks right you'll fly!
If you'd like to chat specifically about your brand and your challenges, do book in for a FREE (yes completely free) social clinic. We'd love to have you at our offices in Guildford, you'll leave with new ideas, a renewed focus and most importantly a full belly of popcorn.
We'll be releasing our webinar schedule very soon so watch this space.
If you'd like to book a social clinic to discuss any of the above, or specific challenges or goals, please do so here.
Wanna read more? Sure check out our Telltale signs that your website is looking a bit cheap.
Share this Post