The Ultimate LinkedIn Guide: Your LinkedIn Questions Answered
It's easy to visit LinkedIn and feel a little lost. In a sea of over 700 million users, it can seem a little daunting to navigate the social platform dedicated to business – somewhere you may find it difficult to interact authentically. But as the largest networking site for professionals, it can enable you to discover new prospects and build long-lasting industry relationships. So, we're here to tackle all your questions about LinkedIn from if it is really worth your time, to who you should follow and how to effectively use its advertising…
Click on the links below to skip to a specific question:
How to create a business page on LinkedIn
Why is LinkedIn important for business?
How many LinkedIn users are there?
Where are the most LinkedIn users located?
Who viewed my profile on LinkedIn?
Can LinkedIn searches be private?
Are the jobs on LinkedIn real?
How many LinkedIn connections can I have?
Are LinkedIn messages private?
Can you delete LinkedIn messages?
How many LinkedIn groups can I join?
What are the top LinkedIn groups?
What's the difference between LinkedIn basic and premium?
When was LinkedIn Learning launched?
Are LinkedIn courses worth it?
How often should I post on LinkedIn?
How much do LinkedIn ads cost?
How the LinkedIn algorithm works
 What is LinkedIn used for?
Let's start at the beginning – what is LinkedIn really all about? When we think of the social site we think of one word: networking. LinkedIn was built for connecting, with the primary aim to bring employers and potential employees together. Whilst this is still at the heart of the platform, it's time to stop thinking of LinkedIn purely for recruitment and take advantage of the additional features commonly overlooked by users! In 2020, the site saw a 60% increase in content creation – and as a business this is an ideal opportunity to promote your product or services on an alternative site to your competitors, especially for those in the B2B industry.
How does LinkedIn work?
Good question! A lot of users struggle with understanding how the app can be such a useful tool, instead referring to it as a 'waste of time' when sat alongside more popular social media sites. Members can create a profile to showcase their skills and experience, sending out invites to 'connect' with other members which often represent connections in the real world too. Don't let that limit you though! Linkedin is also an excellent resource for reaching out to others in your industry and forming new business relationships or growing your credibility.
How to create a business page on LinkedIn
There are over 55 million businesses on LinkedIn; having a page acts as the voice of your organization, enabling you to build trust and share expertise. It's relatively easy to get started and create your own business page, just click the Work icon on the top-right corner of the homepage and click Create a Company Page (note this currently this can only be done on a desktop). You'll be asked to provide details about the business and verify that you have the right to act on the companies behalf. Once created, it's just a simple case of adding additional information to ensure your page is fully complete as this can lead to up to 5x more views!
Why is LinkedIn important for business?
Having a business page adds credibility and reassures potential clients of your position in the industry. It's an essential part of building up your reputation not only with customers but also with suppliers and other experts in the field. You may, of course, also find your next employee on LinkedIn! Recruitment is the speciality of the site, and by advertising your role on this platform you can see high-level, passionate jobseekers.
Get your
Free

Social Media Plan
How many LinkedIn users are there?
The app has grown remarkably in the past year and now in 2021 has over 740 million members in more than 200 countries and territories worldwide. To put this number into context, Instagram currently has 1 billion and Facebook 2.74 billion. Whilst LinkedIn may not be the largest platform out there, it does offer a strong, specific business-focus making the audience one worth noticing.
Where are the most LinkedIn users located?
The majority of users are located in America, with over 174 million members. However, over 76% of users are located outside the US, with 196 million users in Asia Pacific, 163 million in Europe and 107 million in Latin America!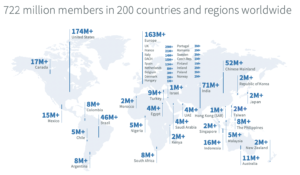 When was LinkedIn launched?
LinkedIn is one of the oldest social platforms still actively used today having launched in 2003 by founder Reid Hoffman, a year prior to Facebook! Since its initial release however the app has developed a variety of additional features to compete alongside new services such as Indeed and Glassdoor. You can read more about the history of LinkedIn here on its Wiki page.
Who owns LinkedIn?
In 2016 LinkedIn was bought by Microsoft for $26 billion (their biggest acquisition to date!) – $196 per share, five years after it became publicly owned in 2011. The current CEO of the company is Ryan Roslanky who took over in June 2020.
Will LinkedIn survive?
LinkedIn has suffered criticism in the past, specifically spamming the emails of unregistered users after they had been sent an address-book connection request from a newly-joined member. Yet surviving for over fifteen years shows the social media platform has some resistance yet!
With the pandemic forcing networking to shift entirely online, remote working becoming the 'new normal', and thousands facing unemployment, LinkedIn has grown in its usability. In the fourth quarter of 2020, it saw a 3.8% rise in new member sign-ups! For the moment at least, LinkedIn remains a pillar of social media for businesses and professionals but in an ever-changing industry, it may yet lose its competitive edge.
Who viewed my profile on LinkedIn?
What sets LinkedIn apart from other recruitment sites and social media apps is the ability to see who has recently viewed your profile, article, or even how many times you appeared in a search term. As a basic member, you'll be able to see the five most recent viewers in the last 90 days, whilst premium members will have access to all views alongside further analytics. These are generally very accurate and can be used to discover new potential connections or understand how far your content is reaching.
Can LinkedIn searches be private?
Whilst being able to see who has viewed your profile is a useful tool, some recruiters and professionals may prefer to browse privately when searching for a new lead. Private mode on LinkedIn prevents your name and other information from appearing, hidden from the owner of the profile and instead only showing A LinkedIn Member Viewed Your Profile. If you are a basic member however and choose this visibility setting you will not be able to see who has visited your profile either.
To turn on private mode visit the Me icon and select Settings & Privacy, this will then provide you access to your visibility. You can choose Private Mode, or show just your profile characteristics (job title and industry).
Are the jobs on LinkedIn real?
Unfortunately, there are some online job scams out there, and it is important to know how to spot these when on the hunt for a new role. As a few key points ensure you research the company prior, read the job description fully and never provide banking details, PayPal or other credit card information to an employer. For the majority, you should however feel comfortable using LinkedIn as a platform for both posting a job advert and when applying.
How many LinkedIn connections can I have?
You can have a whopping 30,000 first-hand connections on LinkedIn, but this should not be seen as a target to reach! So, how many LinkedIn connections should you have? This is an online social network after all so don't be afraid to send an invite to someone you don't know personally, these can often open the door to a variety of new leads! However, ensure you focus on maintaining relationships with people you know and trust as these will provide you with the most value in return – be selective with new, unknown connections outside of your industry. It's all about quality, not quantity especially when it comes to networking!
Are LinkedIn messages private?
All LinkedIn messages are private between the sender and recipient, however, it is important to remain professional throughout the site. You can also create multi-recipient or message a 'group' which will notify all included in the chat.
There are four main types of messages, which are:
DM, or Direct: sent between connections in the same network
Open Profile: users can send a message to a Premium member with this feature enabled
InMails: allow for messages to be sent between users that are not connected, available to Premium members only (receive a certain number of credits monthly)
Sponsored: a paid-advertising option that usually features a call to action button
Can you delete LinkedIn messages?
Oops! We've all been there, the dreaded accidental message you weren't quite ready to sent. Worry not, LinkedIn allows users to edit or delete messages sent in a thread. Simply select the message you want to delete, press the three buttons that appear, select the Delete icon before confirming, and hey presto!
Who to follow on LinkedIn
Following someone on LinkedIn enables you to see and engage with any content they share on the site, and there is no limit to how many people you follow – or how many followers you have yourself! Here are a few of our top picks for you to get started, no matter what your industry:
| | |
| --- | --- |
| Liz Ryan | CEO and founder of Workplace |
| Jeff Weiner | The most recent CEO of LinkedIn (2008-2020) |
| Mickey Mikitani | CEO of Rakuten |
| Gretchen Rubin | Author of The Happiness Project |
| Carson Tate | Founder of Working Simply |
| Joe Pulizzi | Founder of Content Marketing Institute |
| Ryan Holmes | CEO of Hootsuite |
| Adam Grant | Author of Give and Take |
| Dorie Clark | Author of Reinventing You and Stand Out |
| Andreas von der Heydt | Head of Amazon's Kindle Content and now the Director of Talent Acquisition |
How many LinkedIn groups can I join?
Groups are a great way to bring people from an industry together in a collaborative, creative space – often a gateway for building new connections from active, engaged members interested in the same topic.  All members are able to join up to 100 different groups, and each group is able to have 2 million members – so it's unlikely you won't be able to join the one that interests you!
Or why not consider creating your own? You are able to manage up to 30 different groups at one time and can assign ten other users to assist in managing these.
What are the top LinkedIn groups?
So, what groups should you be joining? There is an overwhelming number of groups out there, one for nearly every business topic and industry you can think of! To find the best group for you, we recommend you focus on your search using keywords such as 'marketing' – this can be a sensible place to start.
Try to ensure you vary the groups you are in – what groups might your customers be involved in, join an alumni college group, or even one for a hobby you enjoy.
What's the difference between LinkedIn basic and premium?
There are two versions of LinkedIn available: basic and premium. There are a few major differences between them:
You get more profile searches, free gives you 100 while the first level of paid gives you 300.
Ability to see who's viewed your profile across the last 90 days, as compared to the free version that shows only 5 days.
More saved searches, which is beneficial to a sales pipeline.
Access to LinkedIn Learning, professionally produced online videos created by industry experts on a wide range of subjects.
Better advanced searches into things like company size and seniority level. There are up to 8 filters that can be applied for targeted searches.
LinkedIn Premium also offers 4 features only available on this level – Multi-featured InMail, keyword suggestions, applicant/salary insights, and open profile.
If you choose to go premium there are four different tier-levels, each catering to a different requirement. But which of these subscription memberships would suit you best and how much do they cost?
Job Search
For those seeking employment opportunities. This jobseeker membership allows for
direct messaging to recruiters, applicant insights, advanced ability to see who viewed your profile and featured applicant status opportunities.
$29.99pm or $239.88 annually
Talent Recruiter
Specific features of Recruiter include InMail messages and templates, advanced search, candidate tracking, design capabilities, unlimited profile searches alongside the standard premium features.
$59.99pm or $575.88 annually
Sales Navigator
The Navigator profile offers InMail messages, advanced search with Lead Builder, lead recommendations and saved leads, real-time sales intelligence, and unlimited profile searches.
$79.99pm or $779.88 annually
Premium Professional
Premium Professional includes InMail messaging, advanced search capabilities, extended who's viewed your profile and unlimited searches.
$119.95pm or $1,199.40 annually
When was LinkedIn Learning launched?
LinkedIn Learning is a subsidiary of LinkedIn's social site. They offer professionally curated videos from industry experts with the aim of furthering your skills and knowledge, each falls into one of three categories: business, creative and technology. It was founded in 1995 and formerly known as Lynda.com before being acquired by LinkedIn in 2015. To find out more, click here to visit the LinkedIn Learning wiki pages.
Are LinkedIn courses worth it?
If you have 2-3 hours a week and want to acquire a new professional skill, or perhaps enhance your existing knowledge, then yes LinkedIn Learning may be for you. However, this does come with a monthly fee of $29.99 (included in all premium packages, this is the cheapest of the four membership subscriptions), but this is a small price to pay when you have access to over 16,000 videos covering 170 topics!
How often should I post on LinkedIn?
There really is no given rule when it comes to posting on LinkedIn. The majority of people choose to only update their profile when they land a new job, but in the last year, we have seen LinkedIn transition from just another recruitment site. Check out our top 5 tips for writing your LinkedIn content here. If as a business, or individual, you have valuable content to share you could be updating your newsfeed between 2-5 times a week. It's important however to ensure this isn't just white, background noise! Share your industry expertise and start conversations, this is what will expand your reach and make a connection with you a worthy endeavor.
A few tips for making the most out of your posts are:
The best time to post on LinkedIn is 7:45 a.m., 10:45 a.m., 12:45 p.m., and 5:45 p.m. EST.
The best day for B2B brands to post on LinkedIn is Wednesday.
The best days for B2C brands to post on LinkedIn are Monday and Wednesday.
How LinkedIn ads work
Much like Facebook, LinkedIn has its own campaign manager where you can monitor and optimise all your advertising in one place. The campaign manager allows you to set a budget, select goals, and have complete control over the timeline of your ad.
When building your advert you will need to consider what the aim is, who you are targeting (there are several filters available for you to hit the right audience), and then look at which format will work best.
Sponsored Content
Sponsored Content appears directly in the feeds of the LinkedIn professionals you want to reach and comes in three formats: single-image, video, and carousel.
Message Ads
Where more and more professionals spend their time on the platform, message ads let you communicate effectively with potential prospects and start a conversation.
Dynamic Ads
Utilising LinkedIn profile data, a dynamic ad will be personalised dependent on the user viewing. Choose from the three formats: follower, spotlight, or job.
Text Ads
Simply but compelling, PPC (pay-per-click) means you pay only for the ad that works and can tailor your professional message to your audience.
To see the step-by-step for each format, check on LinkedIn's help page here.
How much do LinkedIn ads cost?
When you start your campaign, you will be placing a bid. Ads are sold via LinkedIn's ad auction, where you will compete against other advertisers trying to reach the same target audience – the cost required to win the auction depends on the desirability of this selection. But, you will only be charged this calculated cost when a billable event occurs. For example, if you have selected the goal as 'website clicks' you will pay only when someone clicks the link to visit your website via the ad.
On average, though, the cost of LinkedIn ads is $5.26 per click, $6.59 per 1000 impressions, and $0.80 per send.
Are LinkedIn ads effective?
LinkedIn Ads are usually not the first thought for marketers when considering PPC (pay-per-click) advertising options, with Google or Facebook being favored. However, for certain brands focusing on a specific audience, LinkedIn can offer a beneficial advantage over traditional routes. It is important you consider your own marketing strategy and where your potential customers are browsing online, but LinkedIn can put your advert where it will receive a higher call to action.
How does LinkedIn make money?
The social platform focuses on three profitable services: talent solutions, marketing solutions, and premium subscriptions – or, in other words: recruitment, advertising, and memberships.
Recruitment makes up the biggest part of LinkedIn's income, generating around 65% of total revenue – of which this is over $6 billion yearly.
How the LinkedIn algorithm works
The more valuable the conversation, the higher a piece of information will appear – through connections, hashtags, pages liked, companies previously worked at, LinkedIn creates a personalised feed for its users.
The Ultimate LinkedIn Guide: Conclusion
We hope this guide has provided a little more insight into LinkedIn! Whilst it can seem overwhelming at first glance, the business-orientated app can have a significant impact on both your business and personal career. Even though 2020 may have lead to fewer in-person opportunities, LinkedIn is the ideal solution to networking and building professional relationships worldwide. Like all social media platforms there are aspects that may not be for everyone, but considering the app when creating your marketing strategy is key! So, if you haven't registered as a user or built your business page yet, why not sign up and give it a try?
Got any more questions about LinkedIn that we haven't answered in this article? Drop us an email at hello@deliveredsocial.com and we will try and help!
Share this Post