Google Maps marketing is a marketing strategy that helps businesses find potential customers. With social media only continuing to grow, more and more people are using mobile searches and often phones use their location when entering websites and apps. If you can get your business to show up in the top of the maps area you will generate a significant amount of new customer calls & website visits to your business. It is used for business marketing, and competitors will be on the maps already, so you best hurry up and get your business on the map as soon as possible. I will be using Google Maps Guildford as my location example in this blog post. There are currently over one billion active users searching for directions and addresses. The best part about it is that 97% of consumers search for local businesses online and more often than not, review them. Google Maps is a great business weapon for small and medium-sized businesses as it helps people locate your business and matches people with the business that suits best what they are asking for. For example, if you were looking for a new printer for your office in Guildford, it would locate you to the nearest printer shop in the local area.
So, how exactly can your business use Google Maps Guildford to grow your business?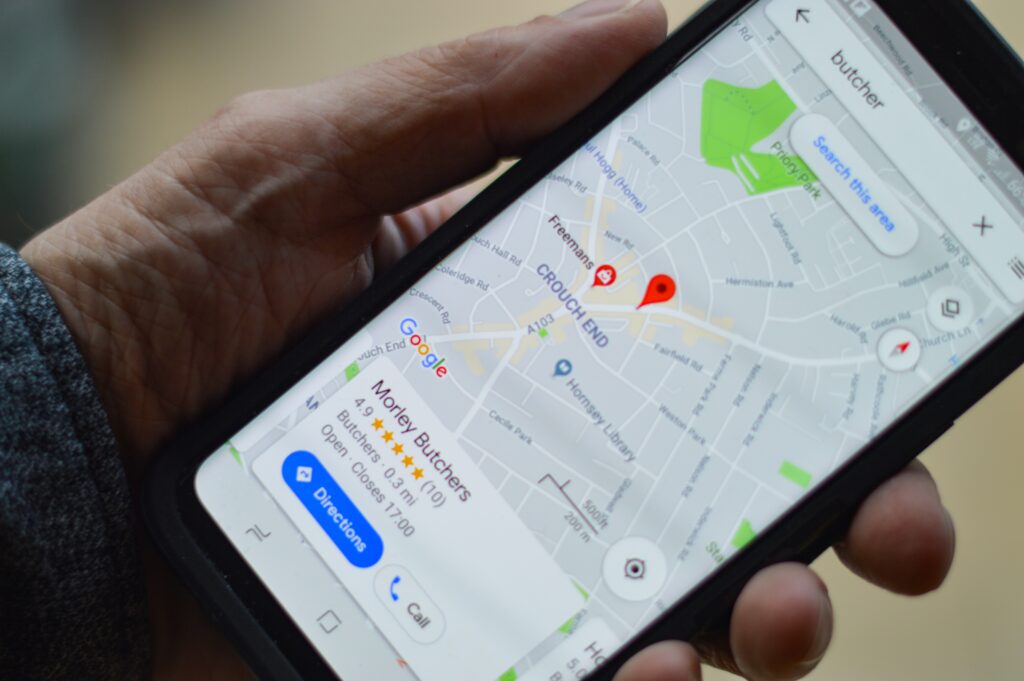 1. Have a Google My Business listing for your business
Google My Business listings help businesses to reach greater heights. This is the place where you need to feed all the relevant information about your business so that your local customers in Guildford for example can find you and contact you. Businesses will need to get started on 'Google My Business' to get all of these benefits and more. The best part is that Google Maps can help you get first-page ranking on search results, this will only benefit you as a business. All you need in order to set this up is a Gmail id and your physical mailing address. When optimizing your business you should consider the following things: selecting the right business category, giving the correct address and phone number, add relevant photos and chose the keywords for your description that suit your business best. The aim is to get your business ranked as high as possible!
2. Google Maps advertising strategies
This allows businesses to promote their deals in the Google local listing and it's a great way to get more people to visit your store or website. Businesses can build more loyal long term customers by initially engaging them this way. Google Maps includes features that allow you to explore options that offer all points of interest within that certain region on the map. Businesses in Guildford should consider the approach of local advertising in a 20-mile radius to show their ads. Research has been done to see when is best to show your ads based on when your potential customers are most likely to search for your products and schedule them in for that time of the day. When advertising your business on mobile, use data insights to target people with very specific preferences and behaviours. Google looks at people's interests to help personalize your searches.
3. Invest in SEO structured data for organic ranking
Implementing a local SEO and Google Maps marketing strategy is a reliable and effective way to improve not only the number and quality of visits to your website, but also your lead generation efforts, the number of incoming phone calls and the percentage of people arriving at your physical location. Being able to have 'ranked' Google Map results means your business has to have google location data activated on your devices. AdWords is another advertising site that allows users to have on-the-go access to your location data. Implementing schema on your site can make your products and services stand out, this is good for SEO because it allows prospective users to visit their websites directly from google. Local business schema is one form of structured data mark-up that is available to implement your businesses website. It breaks down into sections what type of organisation you are, your name, addresses, phone and what you do.
4. Google geolocation mapping
So why is this a good strategy? Well, it is a cost-effective mobile marketing strategy as this ad type points local traffic in the direction of business owners store locations. This type of Google Maps ad was crafted to help businesses increase their visibility at on-the-go moments. When a small business is up against brand giants when seeking new customers, it's helpful to be able to accomplish things without high costs or any costing at all. Also, it boosts local search engine optimization, research says that 79% of smartphone users use mobiles as a means to compare prices, research a product and even locate stores nearby. It is important to have your business listed so that when someone goes to make a purchase decision, it will be your name that they see. Google provides geolocation because it illustrates someone using google maps and people are able to have this experience from anywhere and on any device.
5. Acquire Google reviews
Whether it be from a business or from the customers, every business needs reviews. Research says that 91% of consumers are more likely to select a business after reading positive reviews from customers and without reviews, it is impossible to rank highly on Google Maps. If you are just getting started then you could ask customers to leave reviews, monitor and reply to reviews or share google review forms to customers. If as a business you are getting negative reviews, try to respond as professionally as you can and if it is your place to do so, then maybe apologise so people looking at the reviews can see what you're doing to resolve customer issues. Also, Google will only show your star ratings in Google Maps if your business has three or more google reviews. You are able to check how many reviews the top-ranked business in Google Maps has, this may give your business an idea of the standard and volume of reviews necessary to rank more highly.
6. Add your business to popular directories
Having your business on 'Google My Business' is important. But, your business also needs to make sure that they register on other local listings to further improve its reputation and visibility. A couple of examples of local listings is Facebook and Yelp. You may also want your business to show up in your city/state local listings and professional business directories such as Avvo and Zillow, depending on your location in the world.
7. Relevance and distance
Relevance means 'How well does a local listing match what a user is searching for'  by adding completely detailed information to your business accounts. Google is enabled to rank your listing to more relevant searches. For example, if a business has filled out information such as reviews, directions and contact numbers, they are more likely to draw in customers then businesses with less information are. In terms of distance, Google will automatically show listings based on their known location if they don't include a location term. If your business fully completes the list with their address, your business will appear at the top of searches.
8. Uploading relevant photos
Uploading a photo is always good when it comes to advertising and showing off your business on Google maps. You as a business want to make sure that you upload photos to help boost your ranking. These can be things such as product photos if you are selling certain products, pictures of menus if you are a restaurant or just photos of your office or services that you are selling to help draw customers in. Normally it is better if the user is able to see where they are planning on coming to or what they are buying. It always helps to have the photos on Google Maps as it means the user doesn't have to open up the relevant websites to see pictures, they can just access it through google maps. Also, by adding photos it gives your business a more professional and crisp look.
9. Inbound links
Inbound links and consistency of citations are important ranking factors for Google. If you have high-quality links directing to your business website, it will improve your chances of topping the search list on Google Maps Guildford. Google views inbound links as an indicator that your site has high-quality content, making these links one of the most important elements in search engine optimization. Today, Google values the quality of inbound links over quantity. Links that come from reputable, relevant websites are much better for your SEO than links that come from lower-quality sites.
10. Expand brand visibility
You are able to promote your business events on Google Maps. This approach of marketing gives your business the chance to increase brand visibility through graphs, news and maps that mobile users consume most often. Another idea is adding your logo or including your social media platforms and website URL's to further promote your business. If you include these things it gives users the chance to have a look and decide for themselves if they like what they see. When users search for businesses on google maps, search results may display a prominent knowledge graph card with details about a business that matched the query.
Keeping up with your marketing through Google Maps Guildford is important as it is an effective way of interacting with potential new customers. There are many things to consider when using google maps as you can see from the article above!