As you may be aware, about a month ago now the team was lucky enough to win The UK Agency Award for COVID-19 Outstanding Response. It was an incredible achievement after the year or so everybody went through. During that time, we supported over 100 charities for FREE with social media campaigns and websites. We put together the Guildford App that helped generate sales of over £300k during the toughest times. We created jobs with the Guildford Kitchen, and so much more. The team pulled together amazingly to support the local community and do whatever they could to help.
Well, this month we have found out that we are a finalist in the running for the SME National Business Awards 2021! We fall into the Positive Impact Award category and are really looking forward to attending their awards ceremony in December. Hopefully, then we can report back with some exciting news for you… We'll be sure to keep the live updates going on Twitter as we did for the UK Agency Awards. It's always a brilliant experience and last time we got to meet some other businesses who are going above and beyond in their industry. There is certainly some tough competition but even getting the privilege to be finalists is something we are truly proud of!
It's official. We WON!

The full announcement over at https://t.co/kP0vDiEPsv

…and possibly some more embarrassing pics of the team! #UKAgencyAwards pic.twitter.com/m4aWJ7q7qO

— Delivered Social (@DelSocialUK) September 10, 2021
What Are The SME National Business Awards?
Small and medium enterprises (SMEs) are companies made up of 250 employees or less. They are often the ones driving innovation in their respective industries and offer a lot of exciting, new possibilities. These awards are made up of 18 categories and judged by up to 4 national judges. It gives businesses like us a chance to show everyone what impact we have made recently and what we are doing to push the boundaries of different economic sectors. A lot of people's efforts go unnoticed because they aren't displayed in the media as often as large enterprises. It's easy to miss the amazing work being done behind closed doors – so the awards are a way to demonstrate that!
Business owners and employees alike can get caught up in the day-to-day office life and fall into the trap of dwelling on things that don't go quite right. Whereas, we should all be celebrating the little wins, no matter how small. When an opportunity like this comes around for a team like Delivered Social it's a huge morale booster and reminds us of the impact we are making every day. Businesses should always take the time to appreciate how far they have come and what their work does for other people. That's why being a finalist for the Positive Impact Award is so special to us here. Helping people is first in line for the work we do and we're so lucky that we can and have offered services to amazing charities and other SMEs.
The Positive Impact Award
"It's always been my dream to create an agency that makes an impact. I'm very proud of the work we all do." – Jon Bird, Head Honcho
Not only in the current climate, but in the past – businesses have come across major challenges that require them to adapt and change for the wider good. 2020 certainly saw a lot of these changes being made by everyone. Big or small, companies had to think of their employees, local community and the wider community to then dictate what direction they were going to take. At Delivered Social, we are really hot on internal development, support and growth. But this was a time we also had to think hugely about those outside of the team and all the amazing clients and businesses we work closely with. What could we do to support them in this time of great need?
Being based in Guildford means we have the luxury of being surrounded by tonnes of family-run companies, charities and other SMEs like us. We knew that without new opportunities and a bit of help – we could lose a lot of them throughout the pandemic. That's where this National Business Awards category is shining a light on what people have done to help their community. It's clear to see that over the last couple of years some companies have gone beyond the call of duty and stepped outside their daily routine.
We knew that our usual services weren't going to be enough to make a true impact during COVID. That is when we began to think of what wasn't already available in the community that might just help the local people. Whether it be working on mental health, assisting with the rising unemployment or just being there for people who needed a chat, we wanted to make sure the team were available to help.
Here are just a few of the ways we believe Delivered Social have made an impact.
Mental Health First Aiders
Members of our team embarked on a mental health first aid course that allowed us to put phone call appointments in place for anyone at all that needed to talk over the lockdown. A lot of people struggle to talk to family members about how they are really feeling – or may not have anyone they feel they can contact. We wanted to tackle this loneliness and ensure every single person that wanted it, had a chance to talk. After making an appointment on the website, they could have a friendly chat with their chosen team member. We offered advice, a listening ear or even just a chat with a mate. Whatever it was they needed, we were there to make it happen. We still have a big focus on this today – making sure we have mental health first aiders in the office and supporting each other along the way.
Guildford App
We built the Guildford App, allowing local businesses to generate sales of over £300k during the awful trading period. We wanted companies to be able to keep trading and locals to keep buying their everyday purchases or favourite products. Not only this, we wanted to build a sense of community while people couldn't physically get together. It became a place to chat, shop and experience everything Guildford has to offer – from home.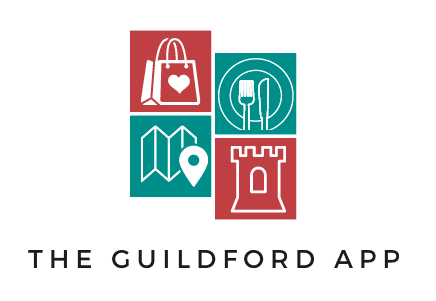 Delivered Social Green
Charities were hit hard over the lockdown because people found themselves out of jobs and having to save money for themselves. This meant we were struggling to support the charities we love as we normally would. Something Delivered Social still do to this day is offer our usual web design and social media services completely free of charge to charities. Over the lockdown, we worked with over 100 amazing charities – providing them with shiny new websites and marketing material that allowed them to keep their crucial messages circulating. We didn't want people to forget about them, and one way we could help is by using our digital marketing skills to generate awareness and collect donations.
90-day plans
It was crucial businesses knew what steps they had to take during and after the lockdowns to ensure they could stay afloat. After taking such a big hit, it was never going to be an easy feat for anyone. But we worked with other SMEs to implement a realistic and actionable 90-day plan that would give them the boost and direction they needed to survive after such unprecedented events. It's all well and good having the money to pay rent and keep your offices open. But when it comes to products, services and business as a whole – Delivered Social wanted to see that bustling high street we know and love, back on its feet.
See You At The SME National Business Awards 2021!
Once again, we are beyond proud of making it to the final. And in such an amazing category too. We will continue to work on making the best impact we can and giving back to the local community. It's not just our web or SEO expertise that matters – it's what we can do outside of that. We can't wait to meet all of the other finalists and find out more about what amazing things they have been up to! It is always humbling to talk to other people that may have a different outlook on crisis situations like COVID-19 and discuss how we all approached it in different ways.
There are some truly fantastic people out there going above and beyond, so the room will be full of deserving winners. We will be sure to keep you up to date on the night with how our team are getting on. So why not head over to our Twitter and other social media pages to make sure you don't miss any pictures of our suited and booted team!
Thank you so much for all of your support and love over our socials and for all of our amazing clients that allow us to do more every day! We will continue to work with the local community and make as much of an impact as we can. Hopefully, we'll see you all soon with some more fantastic news!