Teaching web safety at Slindon College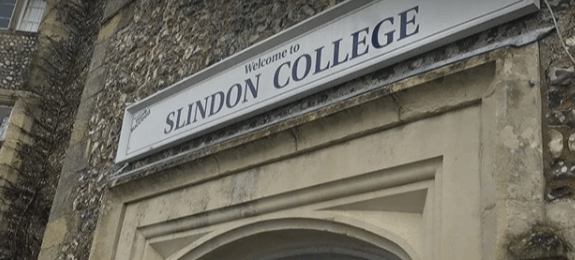 Here at Delivered Social, we believe that the internet should be a safe space for everyone that uses it. Social media should be a life-affirming platform where users can interact positively with their friends, family and favourite brands. Sadly, though, for a lot of young people, this simply isn't the case. As we've blogged about before, the matter of safeguarding youngsters from the darker corners of the web is growing as a concern.
With this in mind, I was very pleased to be invited by our clients at Slindon College to give a net safety seminar to their pupils. Slindon is a day and boarding school in Arundel that provides specialist learning support for boys aged 8 to 18. In this day and age, we can assume that all of these children have easy access to the internet.
I have given talks at schools before. But the combination of helping our clients and enlightening a large group of young people made this doubly rewarding. I set off with my presentation planned, enjoying the journey from Guildford to Arundel. Slindon is situated in a gorgeous part of the country. It couldn't be a more idyllic location for an educational institution.
Get your
Free

Social Media Plan
However, thanks to the all-encompassing reach of the internet, even an area as picturesque as this must protect itself from dark online dealings. After arriving on-site and giving the staff some web training of their own, I was taken through to the classroom. The assembled young people didn't know what they were in for!
As I expected, a huge number of these students have been surfing the web without fully protecting themselves from predators. Through the interactive element of my workshop, I learned that some of Slindon's pupils had been openly sharing their Xbox Live usernames with complete strangers. This meant they were leaving themselves open to cyber-bullying or even worse sorts of abuse.
The aim of my talk wasn't to frighten these children. After pointing out that their lax attitude to online security could come back to haunt them, I made sure that Slindon's pupils received some reassuring and easy-to-implement advice to get their online habits back in check. Simple things, like only accepting requests from people you know, can make a big difference.
Since I was a pupil at school, the way that young people interact with the world has changed immensely. The dawn of the digital realm has caused a lot of concerns and some genuine problems. I am very proud to be a part of the solution. And, I hope that Slindon's pupils left my talk knowing how to be more careful online. I certainly enjoyed meeting them, and spending a day at their wonderful school- I even had a school dinner!
Finally, if you have any questions about web safety, or if you would like to book a meeting with Jon, please don't hesitate to get in touch…
Share this Post