Your brand is your business identity – and it's one of the most valuable assets you have as a company. It's no longer just about offering a product or service, there should also be meaning behind your business. Now, developing a recognisable brand certainly doesn't happen overnight! It takes time and continuous effort, but the benefits of a strong brand include attracting your ideal client, standing our from your competitors and building your business' reputation. In this blog post, we'll be looking at the 8 intriguing advantages a strong business identity can provide and how you can ensure your company messaging doesn't get lost in the crowd.
What Makes Up a Brand Identity?
The first thing that probably springs to mind is probably your company logo, and whilst this is definitely a key component in terms of first impressions, a strong identity:
Creates trust and loyalty from customers
Differentiates you from your competitors
Communicates the personality of the business, and shapes outside perceptions
Outlines the promises and sets expectations in terms of service, reliability and quality
Influences purchasing decisions
Your brand should extend across your social media, website and even on to your emails to provide a fully-rounded projection of who you are as a business. Utilise fonts, colours or expression to build up an association and familiarity.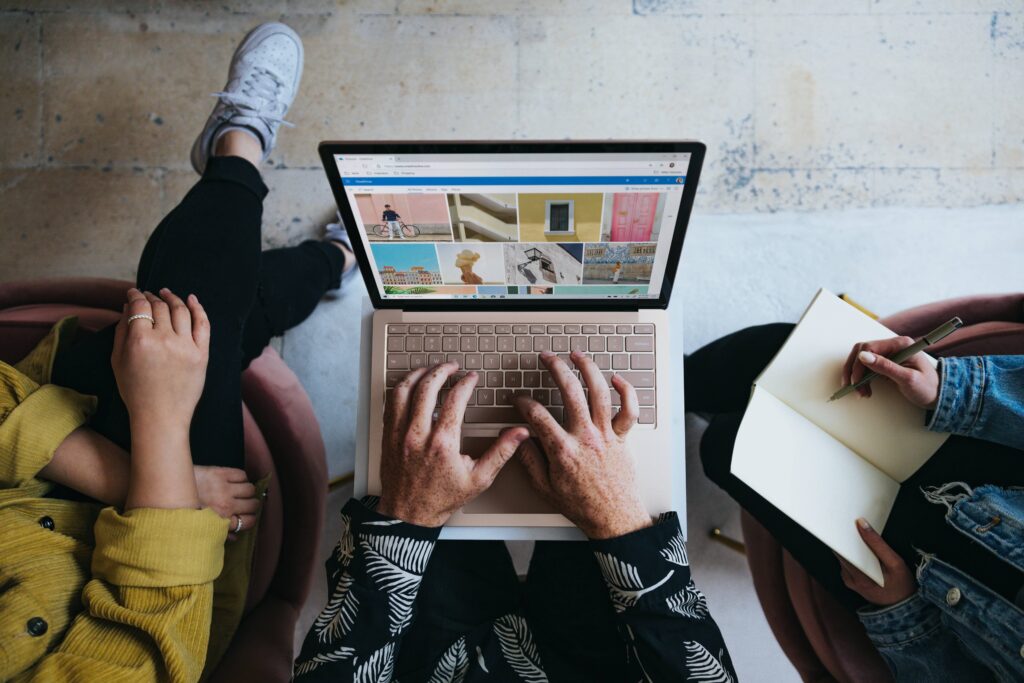 The Benefits of a Strong Brand
1# Customer Recognition
Customers are not ones to enter into what they consider dangerous territory! They value reliability and trustworthiness, so when a customer is shopping for a product or service you offer, one of the benefits of a strong brand is that you will be in the running. Not only will you be a potential choice, but you are far more likely to be selected if you are a familiar name – even if the customer has not heard a great deal about your business, a recognisable identity acts as a beacon of light amongst a sea of endless searches.
Consider the number of times you've said 'Oh, I've heard of them' when shopping online, it may even be an unconscious thought but provides a blanket of reassurance to you as a customer.
2# Customer Loyalty
With consistent positive experiences, you'll naturally have customers coming back to you time and again. But with a solid business identity that shares the values of its audience, you'll have the opportunity to build an unbreakable connection with customers.
Brand loyalty often lasts a lifetime, and can even transfer to future generations. Football teams, for example, are a type of brand – their supporters become a loyal family unit, and often parents will influence their children's choice too.
3# Easier Introduction to New Products
What other benefits of a strong brand are there? When you have begun to build up a loyal customer following and have enhanced your reputation, it is often easier and less expensive to launch new products. You could even ask your customers to assist in a development test before you invest further, allowing you to ensure your target audience would be interested in any new products released.
If you have loyal brand support, your customers will be engaged – staying updated with what you have in the works, and may even actively anticipate an awaited launch. Apple superfans have been known to queue for up to 18 hours through freezing conditions, just to have the latest iPhone first!
4# Word-of-mouth Advertising
'Have you tried this?' The power of communication is not one to be overlooked lightly, and when your customers are passionate about your company they'll want to share it with everyone and anyone who will listen. Think of this loyal following as your brand ambassadors, providing you with unlimited free advertising.
This word-of-mouth style of marketing increases your brand awareness, but it also improves your credibility as a business. Did you know, 64% of marketers agree word-of-mouth is actually the most effective strategy? Referrals are vital to expanding your reach within your audience demographic, and by building a stable identity you will naturally see an increase.
5# Employee Satisfaction
It's not just about customers! Another benefit of a strong brand is that your employees will feel motivated in the workplace. When our personal values align with the company we work for, work seems less like work. Your employees will be proud of what they do, and in turn, this projects a sense of dedication out to your customers.
Furthermore, if you showcase the message and work environment behind your brand, should you need to hire you may find that you receive more applications. People want to have a strong, recognisable business on their CV and to work somewhere they feel valued, doing work that will make an impact.
6# Illusion of Size
For small start-up businesses in particular, creating a clear identity can suggest a long-established company or one that you can trust. This may have an impact when trying to secure new prospects, as it reassures the client you have the resources in place to deliver a high-quality service.
A definitive business identity, whether it be on social media or business cards, adds an additional level of professionalism – this could be the difference between obtaining a new customer and missing out so it's worthwhile investing the time into your brand.
7# Decreased Price Sensitivity
You're great at what you do, but people need to know it to fuel your business' growth. When it comes to selling, great is always better than good. But, the power you hold over your audience when you have an emotional connection, as well as a great product/service, will mean you hold their interest, no matter the cost.
Therefore, a strong brand gives you the ability to raise prices. Having built up a loyal following and become a reputable name in the marketplace, you remain in-demand even with an increase in price.
8# Edge in the Market
Your brand is what differentiates you from your competitors. Put two similar businesses side-by-side, if one has a strong business identity they'll edge ahead and more than likely secure a higher percentage of sales in the market. The more recognition you receive and the more time you consistently invest into building your brand, the more you will find your business elevated within the industry. Gradually over time, you may find yourself competing against industry-leaders, but with a strong brand, you'll be able to maintain your presence and assert your business.
Get your
Free

Social Media Plan
Our Top Tips
We hope this blog post has provided insight into the benefits of a strong brand identity, and why you need to spend the time and effort to compete. There are thousands of different companies offering similar services, but when you provide meaning and build your credibility you'll be in a comfortable position to edge ahead. Our top tips for your brand are:
Spend time creating a visual identity that aligns with your mission and values, and with your target audiences
Monitor your online presence to understand where you can improve customer satisfaction and loyalty, ensure happy customers provide a review of feedback sites such as Google
Deliver on your promises and live up to the expectations you set with every interaction your client has – from your website, customer service, phone conversations and emails.
Network and enhance your visibility in your community – be this online or off. Building relationships not only expands your reach via referrals but also suggest you are a company that knows the value of the people around you, making you more desirable
Are you looking to rebrand? Or need some advice on how to enhance your brand presence through digital marketing? Our dedicated team at Delivered Social are ready to help you reach your full potential, just email us at hello@deliveredsocial.com and we'll be in touch.