The little blue-bird has become an instantly recognisable symbol of Twitter – home to 500 million posts per day. In 2021 the social media platform will celebrate its 15th year but is its popularity gradually coming to an end, with the likes of Facebook and Tik Tok hugely surpassing the site with active users. In this ultimate guide, we'll be answering all of your burning questions about Twitter to find out if it's still the social media site for you. From how many characters you are allowed per tweet, to the most popular emojis of 2020 find out the answers below…
Click on the links below to skip to a specific question:
How many Twitter characters per tweet?
How many Twitter accounts are there?
How many Twitter accounts can you have?
Which Twitter account has the most followers?
Are Twitter handles case sensitive?
What's the most popular emoji on Twitter?
Can Twitter accounts be private?
What should you tweet about on Twitter?
Can Twitter ban the President?
Are Twitter followers in order?
How often does Twitter refresh?
How the Twitter algorithm works
Which hashtags should you use on Twitter?
How many followers on Twitter should you have?
How do you become verified on Twitter?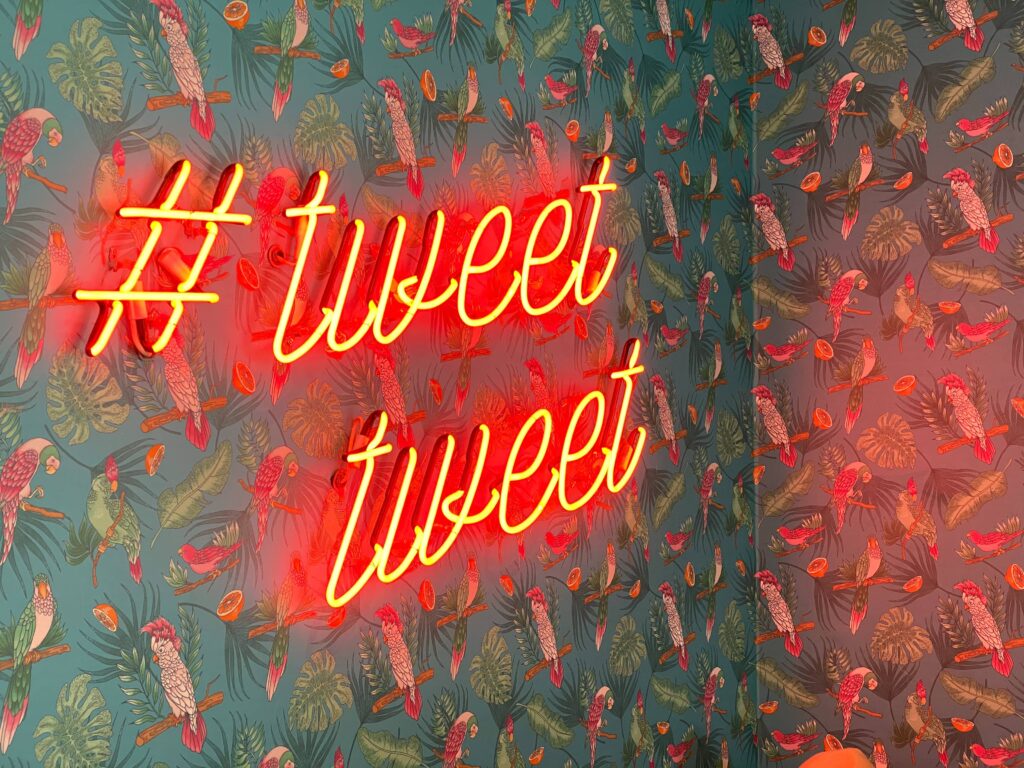 What is Twitter?
Twitter has been dubbed a 'microblogging' social networking system, that allows you to send and receive short posts called tweets which can include resources such as photos, videos, surveys, or website links. Users can then also like and retweet another account's posts. Twitter can be personalised to suit your own interests by choosing who you follow, this could be industry experts, celebrities, friends, or colleagues and hence can be both used professionally or personally.
How many Twitter characters per tweet?
Some users may find Twitter limiting as it forces you to be concise with what you post, allowing only 280 characters per tweet. This is actually an increase, the original site allowed for only 140 characters much like an SMS text-message but this was adjusted due to popular demand back in 2017. You can also not edit a tweet once sent meaning any mistakes will be permanently on your profile; of course, you can always delete this too but will lose any engagement received.
What does Twitter mean?
Jack Dorsey, the co-founder of the site, explained where the inspiration for the site's name originally came from:
"…we came across the word 'twitter', and it was just perfect. The definition was 'a short burst of inconsequential information,' and 'chirps from birds'. And that's exactly what the product was."
How much is Twitter worth?
Twitter's current net worth is just shy of $54 billion dollars, this may have been down to the turbulent year of news experienced in 2020 with users flocking to the site for both support and updates.
Get your
Free

Social Media Plan
How many Twitter accounts are there?
According to Twitter's latest figures published in the fourth quarter of 2020, the site has over 330 million monthly users. These are members that actively use the service, but the total number of accounts on the social media platform is a whopping 1.3 billion. It begs the question why are so few profiles active? Keep on reading to find out if Twitter is dying as a site.
How many Twitter accounts can you have?
Twitter allows you to add and manage up to five accounts on your device but there is no actual restriction on how many profiles you can create as long as each has a unique email address. In fact, some marketing strategies utilise bots to promote their events – Twitter even estimates that 48 million of the monthly active users on the site are bots! Unlike most social media platforms, you can also have the same phone number associated with more than one profile allowing users to find all accounts connected to the number.
Which Twitter account has the most followers?
Barack Obama, the 44th Presdient of the United States, has the most followers on the social network site with 129.9 million. He previously also had the most liked tweet following the events in Charlottesville but in 2020 this was overtaken by a fitting tribute to Chad Boseman.
| Who? | Followers |
| --- | --- |
| Barack Obama | 129.9m |
| Justin Bieber | 113.7m |
| Katy Perry | 109.2m |
| Rihanna | 100.4m |
| Cristiano Ronaldo | 90.3m |
| Taylor Swift | 88m |
| Lady Gaga | 83.2m |
| Ariana Grande | 80.8m |
| Ellen DeGeneres | 79.4m |
| YouTube | 72.8m |
Are Twitter handles case sensitive?
So you've decided to take the plunge and sign-up to the site! You'll be asked to create a unique handle, more commonly known as a username. These are not case-sensitive but it can help to add a few capitals to make it more readable, for example, @DelSocialUK is easier to understand than @delsocialuk. Hyphens and underscores can be useful if you find the handle you're after has already been taken, however, bear in mind that people may forget these when searching for you and end up on the wrong profile.
When was Twitter started?
Emerging from the ashes of another start-up (Odeo), Twitter first came to light in 2006 quickly gaining popularity due to its simplistic nature. However, it took until 2011 for the site to reach one million users and seems to have struggled to keep up with the top social media platforms boasting a much larger audience.
Who created Twitter?
The platform was created by co-founders Jack Dorsey, Noah Glass, Biz Stone, and Evan Williams originally under the parent company Odeo. Dorsey has been the companies CEO since 2015 after previously holding the position for two years back when the app originally launched in 2006. If you want to read more about the timeline and history of Twitter check out the Wiki pages here. 
What's the most popular emoji on Twitter?
When engaging with your followers on Twitter, using emojis is a great way to humanise your content and express feeling into what may otherwise fall flat. It may come as no surprise that the face with tears of joy takes the trophy, but what other emojis are popular for users too?
| | |
| --- | --- |
| 😂 | Face with tears of joy |
| 😭 | Loudly crying face |
| 🥺 | Pleading face |
| ❤️ | Red heart |
| 🤣 | Rolling on the floor laughing |
| ✨ | Sparkles |
| 😍 | Smiling face with heart-eyes |
| 🙏 | Folded hands |
| 🥰 | Smiling face with hearts |
| 😊 | Smiling face with smiling eyes |
Can Twitter accounts be private?
You can change your privacy settings so that only users you accept are able to view your profile. If you choose to have a public account, however, anyone will be able to see your tweets – even if they don't have an account! This has caught several people out in the past when searching for a new job role, so it's advisable to think twice about what you are sharing especially surrounding controversial subjects.
What should you tweet about on Twitter?
Deciding what you tweet about will be down to the purpose of your Twitter, is it personal or for your business? As a personal account, you might share articles you've found interesting, snippets of your life, your take on a news update, or a general observation. As a brand, this will usually be more focused but can still be fun! After all, followers want businesses with a personality and tweets that spark conversation; perhaps you create a poll to dictate the next colour of a product you release or link to a blog post you've recently written. And what's the most liked tweet of all-time? This fitting tribute to Chad Boseman.
— Chadwick Boseman (@chadwickboseman) August 29, 2020
How does Twitter help us?
Ultimately, Twitter allows for information to spread fast on a global scale. A large majority of the time tweets are not serious, perhaps a discussion on Taylor Swift's latest album. But when important news stories such as the 2020 Presidential election break, Twitter is often a go-to – up to 59% of users actually use the platform for their news updates! The app also enables you to see what is 'trending' in your country which can provide further insight on what is happening in a particular location, or worldwide.
Can Twitter ban the President?
Twitter can permanently or temporarily suspend profiles that they feel violate the site's terms of service, although some have criticised this as an overreach of power in the past. The platform did, therefore, ban Donald Trump after the violent attacks on the Capitol witnessed in early 2021 for fear this may be replicated if he continued to influence the public. If you want to read more about Trump's ban you can read Twitter's assessment of the situation here.
Where are Twitter drafts?
If you've written out a tweet but are not quite ready to press send, you can save this as a draft and come back to either send, edit or delete it later on. To save a draft, act as though you were writing a tweet, then press cancel and you'll be given the option to discard or save the tweet for later. You can access these tweet at any time by tapping and holding the new tweet icon, and from here either select a tweet to carry on editing or delete it. Simple!
Are Twitter followers in order?
Your Twitter followers will be listed in reverse chronological order, essentially meaning that the most recent profiles to follow you will be listed at the top and this is the same for people you choose to follow.
How do Twitter ads work?
When using Twitter you may have noticed a tweet, account, or trend with the words 'Promoted' next to them. The platform aims to provide you with ads that are interest-based and you'll be able to interact with these as you would a normal tweet. You can adjust your settings if you find the adverts seem to know you a little too well, many criticise the site for personalising what you see as an invasion of privacy. Eligible business accounts are able to launch a campaign here.
If you choose to utilise the ads on Twitter, it is recommended that you promote tweets without a # or @mention as these have been found to generate 23% more clicks. If you use one of these tools in your tweet you are giving users alternative click paths, rather than them focusing solely on the call-to-action. Instead, add a photo or video to catch the eye of potential customers.
How much do Twitter ads cost?
There is no minimum spend required on Twitter ads so you can choose a budget that suits you. The platform uses an auction-based model, which means the price you pay per billable action can change throughout the course of your campaign. On average you may be looking at the following costs:
| Promoted | Cost per billable action |
| --- | --- |
| Tweet | $0.5 - $2.00 (engagement) |
| Account | $2 - $4 (follow) |
| Trend | $200,000 (day) |
Are Twitter polls anonymous?
When you enter a poll neither the creator nor other participants will be able to see who/how someone has voted. They are completely private and can be an excellent way to boost engagement with your audience, perhaps gaining valuable feedback or sparking a fun conversation just like Dunkin' Donuts:
How often does Twitter refresh?
Twitter offers endless scrolling, whenever there are new tweets your newsfeed will refresh and show the latest. Tweets are always in chronological order although you may see '3 days ago' crop up in between, this is most likely a retweet from someone you follow. Viral posts can circle around the site for days, whereas the lifespan of most tweets is just a few hours.
How the Twitter algorithm works
Unlike the majority of social media apps, Twitter allows users to have a choice: Twitter's algorithm or none – or put simply, top tweets or latest. Although, there are still other features such as In Case You Missed It and For You which are unavoidably based on the site's algorithm, meaning it is still vital for businesses to optimise their content to reach the right audience. Currently, the factors to consider are:
Recency
When was the tweet posted?
Relevancy
What are the keywords in the tweet, and has the user interacted with a similar post in the past?
Engagement
How many clicks, retweets, likes, and impressions does the tweet have? How is this relative to previous tweets from the author?
Rich Media
Does the tweet include a GIF, image, or video? What kind of media does the user interact with most?
Other Factors
How many followers does the account posting the tweet have? Is the location of the author relative to the user?
Will Twitter die?
Twitter has certainly faced its fair share of near-death experiences, with trends such as #RIPTwitter attempting to jeopardise the future of the site after unwanted algorithm updates in both 2016 and 2020. It may seem then that Twitter's little bird is struggling to catch-up to the soaring eagles of social media such as Facebook and Instagram, but that doesn't mean we should discount the app quite yet. CEO Dorsey considers the app to be his baby and we can be assured he won't let it go down without a fight, with new features such as fleets and voice-tweets recently released. Whilst an important tool in your digital marketing strategy to engage with your followers and world-wide conversations, focus your attention on where your audience is most likely to be active.
Which hashtags should you use on Twitter?
The use of hashtags first began on Twitter and has spread to the majority of other popular social media platforms. Hashtags are another tool for growing your discoverability, immediately expanding your reach from your pool of followers to all those searching the hashtag; studies have found that engagement is doubled when using one or two carefully selected # on each tweet.
Monitoring the 'trending topics' section on Twitter can allow you to be a part of the biggest conversations happening at a particular moment, and is a great way to select the right # to use. For example, #GBBO (Great British Bake Off) held the number 1 spot in the UK every Tuesday throughout the course of the show – you can take advantage of this even as a business, humanising your brand and giving your customers a giggle!
It may come as no surprise then that in 2020, #Covid19 took the top spot for the most used hashtag closely followed by #BlackLivesMatter. Whilst Twitter is a social site, it can also be used to share advice and build a powerful voice around important matters.
How many followers on Twitter should you have?
On average, users will have 707 accounts following them but of course, there is no limit to how many followers you can have. If you are hoping to grow your profile and expand your audience, try to tweet engaging content on a regular basis – inactive accounts are quick to lose followers. And don't forget those hashtags!
How do you become verified on Twitter?
It's not as hard as you might think! Getting verified on Twitter may make you feel like a social media celeb but you certainly don't have to have a long list of followers to be accepted. The blue checkmark is awarded to those the company considers to be of 'public interest' – this may be a little subjective but if you are a company you should be able to verify your account and add a touch of authenticity to your profile. Before requesting verification ensure you follow these steps:
Fill out your profile completely with a profile picture, cover photo, name, website, and bio
Add a verified phone number and confirm your email address
Add your birthday
Set your tweets as "public"
The Ultimate Twitter Guide: Conclusion
The ultimate Delivered Social Twitter guide over and out #DropsMic. We hope we've helped answer all your questions about this curious little bird app, and maybe even inspired you to have a go and sharing your own 280-character snippets. Whilst Twitter may not be the giant of social media, it can be a great way to engage with your audience in a unique especially if you take advantage of its poll and hashtag features. Are you a fan of Twitter? Why not have a go at tweeting for yourself, you could be the next viral hit!
Got any more questions about Twitter that we haven't answered in this article? Drop us an email at hello@deliveredsocial.com and we'll be happy to help!