Using An Offshore Web Development Company, The Pitfalls And The Benefits For Your Business?
When estimating your resource potential for the next project realization you might stumble upon quite an uneasy revelation: the project asks for more development potential than your current team can provide. Also, there might be no team at all for a specific product to be developed in quite strictly defined time frames. 
Next comes the decision-making process, since there are several ways to tackle the problem with the lack of specialists to engage in helping the product to hit the demands of the target audience. There are, of course, freelance services that let one find various specialists, be it a freelance backend developer, QA engineer, designer, or the whole team of tech talents. 
Usually, they come with quite legit portfolios, sincere reviews, and references. Estimating how sensitive your requirements are and how big the project is, you might find that the freelance resource is not enough.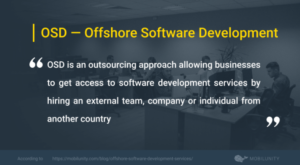 Source: Mobilunity
Then you may cast a glance forward towards an offshore web development company that will assist in accommodating project needs within the development team. The team, provided by the company, is meant to be exactly fitting the requirements you express upon the project. Let's dig deeper into details upon this one since this one might be the answer to your call.
Offshore Web Development Company Services
Well, the mission of the company is quite decoded from the name itself. It does offer staffing services, be it outsourcing, outstaffing, or team augmentation model the gist will be the same: you delegate work to a third-party service provider.
Mostly, customers turn to these services in order to avoid quite pressuring moments concerning employment, HR processes, payroll matters, etc. Third-party vendors help to avoid those procedures yet get to yield the team of talents working on the terms that the customer requests. 
Such project development methods are widely practised due to them being quite cost-effective. When dealing with developing countries in terms of staffing aspects, businesses find this sort of experience to be quite positive, finance-wise.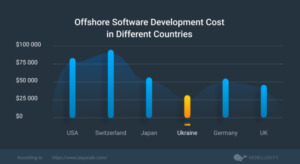 Source: Mobilunity
There is quite an impressive salary gap between money being paid to a US backend developer and a Ukrainian backend developer, or a Czech one. Payroll differences do not imply poor quality of tech performance. For example, according to the IT Ukraine Association, Ukraine takes up 4th place in the world in the number of certified IT specialists. 
Offshore Services Pitfalls
Offshore services present a win-win situation: the product is being successfully developed while no employment burden is hanging upon. This one is certainly non-negotiable. Yet, all the options must be checked through with a clear vision.
First of all, you are promised a team of technologically talented backend web developers, UI/UX designers, project managers ( if outsourcing is chosen), etc.,  and impeccable credentials alongside the skills seamlessly fitting every tech requirement there is. Dream-come-true, however, there is a small chance to get reassured with that. 
You simply trust and let the development process start. That is in the process, when the customer may see some inconsistencies, but too late to change specialists if there is a deadline.
Next, there are socio-cultural difficulties. Language, mentality, approaches to problem-solving, etc. It just seems to be insignificant in the context of project development still impacts the smooth experience of doing business. 
Outsourcing may require almost no communication at all, though all the participants of the workflow must be on the same page, which is achieved through mutual understanding of all the project visions and concepts.
Outstaffing requires a lot of communication since the customers get to work with the dedicated team directly alongside managing the project on their own. Such close interaction requires a lot of understanding from a socio-cultural perspective, and sometimes that gets to be overlooked.
Get your
Free

Social Media Plan
Offshore Web Development Benefits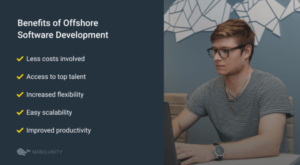 Source: Mobilunity
It's been already mentioned that by deciding to opt for offshore web development services the business has a chance to prevent the budget from exhaustion: backend developer salary differs in Western Europe and its Eastern part. Less money for equally great skills is impossible to ignore.
Delegating practical aspect of the great idea, you spare yourself of learning about the facilities that the in-house team would need, what software and hardware are required to stay on top of the project development business, conquering the cloud environment, and figuring the job description of every employee by asking Google "what does a backend developer do", or " why does the company need a DevOps" etc. 
You simply get to focus on the rest of the important components of successful business running, or… simply having a nice time enjoying life while the tech magic is being done.
Conclusion
Hiring a dedicated team of IT professionals is a smart move in a present-day business environment. The IT aspect has become a built-in part of every enterprise, company, or startup there is. 
Sometimes,  it is not financially reasonable to have an in-house team of tech specialists. In this case, it is hardly possible to imagine a better cure to product development pains than addressing offshore web development services with a solid guarantee for the success of the project. 
Fancy some more light reading? Check these out:
Why Facebook Follower Campaigns Are A Waste Of Money
Differences Between The TikTok App And Other Social Media Platforms
Share this Post