In the U.S alone, 117.8 million people listen to podcasts each year. The number of listeners has grown consistently since 2006 and is expected to continue increasing well into the future.  The graph below shows the percentage of consumers who have ever listened to audio podcasts in the United States from 2006 to 2021 and as you can see, the trend continues to rise. 
A vast majority of those podcast listeners say they consider buying advertised items, and this is enough to prove that podcasts can potentially play a significant role in a business's digital marketing strategy. 
However, that's not to say that podcasts will prove to be a positive addition for every brand. 
If you are not sure whether or not you should include podcasts in your digital marketing strategy, read the rest of this article. 
In it, you'll discover the different circumstances under which podcasts can provide your business with opportunities for strengthening your marketing strategy. 
We'll also look at several points of research you should undertake in order to determine the potential effectiveness of creating and distributing a podcast for your business.
Finally, we will discuss whether or not your existing marketing channels are satisfactory for competitively promoting a podcast in your niche. 
If you're ready, let's get started!
Why Are Podcasts Effective for Marketing?
Podcasts are powerful (yet often underutilized) tools for marketing because they allow brands to reach niche targeted audiences. 
When you can hyper-target your audience, you'll get a very good return on investment (ROI) from your marketing activities. 
Another reason podcasts are so effective as part of your content strategy is that they create value for listeners. 
They are informative and educational and work effectively to keep your audience engaged – something that is crucial for brands in today's super competitive information age.
Here's a quick summary of the reasons why podcasts are so great for marketing:
Podcasts Help You Increase Reach:

More than mere marketing tools, podcasts are also informational and engaging, which is great for reaching new audiences.

Podcasts Help You Cultivate Community:

By serving as an avenue for meaningful dialogue, podcasts make it easier for you to create an audience around your content.

Podcast Help You Boost Loyalty:

According to a recent study, podcast audiences are more loyal. They are

20% more likely

to connect with your brand on social media.

Podcasts Have Low Competition:

In today's fiercely competitive content marketplace, podcasts can provide brands with a low-competition, high-engagement content type.

Podcasts Are Easy to Consume:

A lot of people who lead busy lifestyles appreciate podcasts since they require very little effort from the listener when engaging with the content.
These are just a few of the many reasons why podcasts are effective for marketing and the different ways they can provide your business with opportunities to strengthen your digital marketing strategy.
And the best part is that podcasts have a very low barrier to entry. 
You can make them from anywhere, whether at home or in the studio. Some people even create their podcasts from the streets! 
They require very little money to invest, and you can do it on virtually any topic or theme. 
Having said that, podcasts may not be ideal for all types of businesses and brands. 
Let's take a look at what you can do to determine whether or not creating and distributing a podcast will be effective for your business.
Get your
Free

Social Media Plan
Is a Podcast Right for Your Brand?
When done right, a podcast can be an extremely powerful marketing tool. If it has a clearly defined purpose and is aligned with the company's core values, a podcast can help take your marketing efforts to the next level. 
However, podcasting may not be right for every business.
Before you can know if a podcast is right for your brand, there are several things to consider:
1. What Is Your Niche?
Remember, for a podcast to be successful, it has to have a defined purpose. You must have a unique angle and engaging/educational/entertaining information that you bring to the marketplace. 
If you can answer these questions for your business, you'll be able to answer them for your podcast:
What is your topic?

What is your style?

What is your expertise?

What will inspire people to listen to you?
2. Do You Have the Enthusiasm to See it Through?
Do you have the enthusiasm, drive, energy, passion, motivation, or determination to keep going and see your project through to its success? 
Thousands of podcasts are created each year, but not all of them can stand the test of time. 
Many podcasters start out with passion and enthusiasm but never stay the course. They end up with a stagnant marketing channel which not only doesn't help them but can also hurt them. 
After all, when it comes to visibility online, there's nothing worse than a social media page that has no posts, a blog that was last updated two years ago – or a podcast that has gone dark.
Be honest with yourself from the start. I know there are many things I want to do, but I know that once I start I'll get bored and be off to something else. That might work for some things, but a podcast needs to be a long-term project. 
There will be times when it seems like traffic just won't go up or your following seems to be stagnant — or worse, falling. But you have to have the enthusiasm to stick through the tough times. 
The best podcasters aren't in it for fame or money; they're doing it because they love what they're talking about. So you have to ask yourself: do you love the topic enough to put it hours of work without significant ROI?
If you don't think you'll be able to stick it through when the going gets tough, that's ok. There are many other ways to make money online. If you have a little extra money, you can even buy some PLR courses or pay for professional podcast services.
3. Can You Publish Regular Episodes?
In order to build a strong listener audience, you must publish new podcast episodes regularly. Listeners need to know what to expect from you and when they'll hear from you. You need to post regularly in order to maintain their interest and engagement levels. 
You might choose to publish daily, a few times a week, once a week, once a fortnight, or once a month. 
But whichever frequency you choose, make sure you stick with it so your audience knows when they'll hear from you.
4. Do You Have the Required Resources?
Creating a podcast (a successful one, at least) requires the right equipment and expertise. 
For instance, in addition to making sure you have chosen one of the best podcast hosting services, you may need a highly qualified sound engineer with experience to help you create high quality audio for your podcast.
You also need to record in the right environment, which means either creating or renting a studio. 
You'll have to purchase or rent equipment for your workplace, and you may even consider having a designated person whose job is to coordinate the podcast.
With so many podcasts popping up all over the show, it's starting to feel as if everyone has a podcast. 
But, there's a very clear distinction between the successful podcasts and the ones that don't stand a chance, and by making sure you have the resources and equipment you need before jumping in, you'll start your podcast on a firm footing.
By now, you should have a pretty good idea of whether or not a podcast is right for your brand.
If you decide to proceed, your next step is to determine how you will build your audience.
Promoting Your Podcast
There are a ton of different ways you can use to promote your podcast.  There are even professional podcasting services that will build, promote, and distribute your blog — probably for more money than you're looking to spend. 
Fortunately, you don't have to break the bank to build your podcast following. In order to reduce variable expenses, especially those that come from professional services, you can do most of the promotion yourself for free. 
Some methods of promotion are simple and don't require much effort. Others take a bit more time for you to see real results. 
It's always best if you can leverage your existing marketing channels, and below we're going to discuss how you can use the marketing channels you already have in place to competitively promote a podcast in your niche.
1. Embed the Podcast on Your Website
A lot of podcasts often feature their own platforms, social media pages, etc. as a way to drive audience exposure to new episodes. 
In addition to those places, it's a good idea to share podcast information everywhere else you can, and your website is a great place to start. 
You can embed your podcast on your homepage using a tool like Smart Podcast Player. This will help lower the barrier to entry for potential listeners while also helping you with shareability and SEO.
2. Promote Your Podcast on Social Media
If your business is already using social media, this is a great channel for promoting your podcast. 
The best part about the different social platforms is that they allow you to promote with variety. You can post everything from photos, quotes, and graphics to links, videos, live streams, even make a GIF, and much more. 
You'll be able to promote your podcast in a lot of other places too, including:
Your cover images

Twitter bio

LinkedIn company description, etc.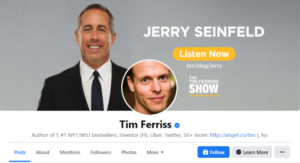 You'll find tons of real-time engagement on Instagram stories, Facebook Live, Snapchat, etc., and sites like LinkedIn, Facebook, and Instagram images are perfect for promoting evergreen content. 
You can also create audiograms to share short clips from your podcast show.
3. Create Blog Posts for Each Episode
Yet another simple yet extremely effective way to promote your podcast is by creating separate posts for every episode you publish. In each post, embed the audio/video and include episode show notes. 
You can also repurpose an episode by turning it into a long-form blog post with the episode audio embedded at the end of the post. 
Either way, this is a great way to leverage an existing marketing channel for effective podcast promotion.
4. Use Email to Promote Your Podcast
If you already have a strong email game, you'll have an easy time promoting your new podcast to your list. 
However, if you're just starting out, now is a great time to start building an email list by asking people to subscribe so you can let them know about new episodes. 
You can also do giveaways or offer exclusive content to entice more sign-ups on your business website or social media. 
You can also bake your podcast promotion into your email marketing automation sequence assuming you have the right email marketing software. 
From welcome emails to monthly newsletters, every email you send is a perfect opportunity to promote your podcast while simultaneously adding value. 
There are a lot of ways you can weave your podcasting into your email marketing strategy including:
Episode links

Photos from episodes

Teaser videos

Click to Tweets

Quotes from the show

Email signature, etc.
Here's an example of someone from SweetFish Media advertising their podcast in the email signature: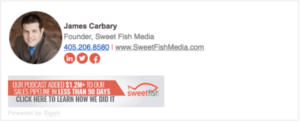 Lastly, no matter which strategy you use to weave your podcast into your emails, make sure you spend enough time to create a catchy subject line. 
Having a catchy email subject line makes you stand out of the crowd, and helps you increase your open rate.
5. Promote the Podcast to Your Targeted Webinar Audience
If you use webinars as part of your digital marketing strategy, you already have a targeted audience to whom you can promote your webinar. 
It will be a lot easier to market to this crowd because they've already shown how engaged they are by taking time from their busy schedules to participate in your webinar. 
This gives you the perfect opportunity to share your podcast in a variety of ways. For instance:
By mentioning it in your webinar intro.

You can also reference episodes with related information.

Ask your webinar audience to subscribe so they can stay connected with your brand.
Another great way to promote your podcast is by featuring webinar co-hosts on your show and vice versa. 
Your podcast can also help inspire webinar topics, and for episodes that perform well, you can expand on those topics in future webinars.
6. Paid Advertising and Retargeting
Paid ads, whether on search or social media, are a great way to promote your podcast. On Facebook, you can even target ads by the mobile device used, which means you can send people on Android to Google Podcasts and those on iOS directly to Apple Podcasts. 
Furthermore, you can use Google ads to help you target listeners searching for specific types of podcast shows. 
Paid advertising via social media is an extremely effective way to boost your marketing efforts. Facebook, in particular, allows you to create hyper-targeted ads for exact personas that will get the most value from your podcast. 
And the best thing about paid advertising is retargeting. 
This way, you'll be able to target people who click on your sponsored Facebook posts promoting your podcast episode (as an example) and retarget them using other ads designed to nudge them further down your marketing or sales funnel. 
Conclusion
As you've seen, a podcast is a massive commitment that needs tons of hands-on attention. In order to build a committed audience, you have to ensure that all your ducks are in a row before you even create your first podcast episode. 
But, if you've read to the end of this article, answered all the questions, and are still feeling enthusiastic about starting your own podcast, then you can be sure that it's a great idea to include it in your digital marketing strategy.
Are you ready to include a podcast in your digital marketing strategy? Share your thoughts in the comments below!
_____________________________________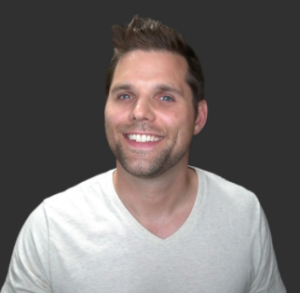 Professor Ron Stefanski is the owner of OneHourProfessor.com, a website with 100,000+ readers monthly that helps people create and market their own online business.  In addition to this, he runs his own website portfolio that accounts for millions of visitors every year. 
You can also connect with him on YouTube or Linkedin.
If  you liked reading this, try a few more of our blogs: