High quality big brands always have high quality logos. A logo will majorly impact the way a customer sees your brand. This being said you will want any logo design you create to stand out. Upon doing research you may have searched terms such as "logo design Surrey" and quickly found yourself lost amongst all the information provided online. If so do not worry, this guide will guide you through everything you need to know in order to create an outstanding logo design. 
Understanding the Why 
The goal of any business is to attract the right customers and get them to identify with and love your brand. Choosing the right brand logo is a great first step in achieving this goal. Your brand logo will help get your target audience to take interest in you and want to find out more about your service and so you should want it to look the best it can be.
Your logo will impact the first impression of your company. It will give your customer information about your brand and help them to decide whether it is the right fit for them. 
Your branding materials will often have your logo printed all over them, so you will want to ensure you are happy with the design. Your logo will often be present on your website as well as any packaging or business cards you provide so do not overlook the importance of your design choices! Additionally, a good design will help you stand out from your competition which is essential. 
Defining Brand Identity 
A good logo design will communicate the personality of your brand. When coming up with a logo design you will need to keep this in mind and consider what your brand's personality actually is. After some consideration you will have a clear idea of the unique selling points of your brand and what it is all about. From here it will be much easier to make design choices in line with these traits. 
As part of this process, you may wish to ask yourself; Why did I start this business? What beliefs and values are important to this company? What makes our company unique? 
Step 1 – Find Inspiration 
The hardest part of the design process is often the search for logo inspiration. Searching generic terms such as logo design surrey can easily leave your head in a spin. Here are a few tips to make the process a little bit simpler. 
If you are a conceptual person you may wish to collect ideas verbally through brainstorming sessions with your team. These sessions can be immensely useful in characterising what you are trying to achieve with your design. When undergoing brainstorming sessions such as these, you should make sure every idea presented is written down.You could start with a certain keyword or idea such as logo design Surrey and go from there.  Even if you are not sure of a particular idea, you should write it down anyway as an even better idea might blossom from this same idea that you would have otherwise forgotten about. 
You should think from the perspective of your audience. Make a list of words that best describe your brand and the way that you would want it to be perceived. Always consider what is essential and important to your target audience. 
You should ensure to bring in as many people into these brainstorming sessions as possible. Diversity in opinion will help provide perspectives that you alone may not have seen and will help generate ideas much faster.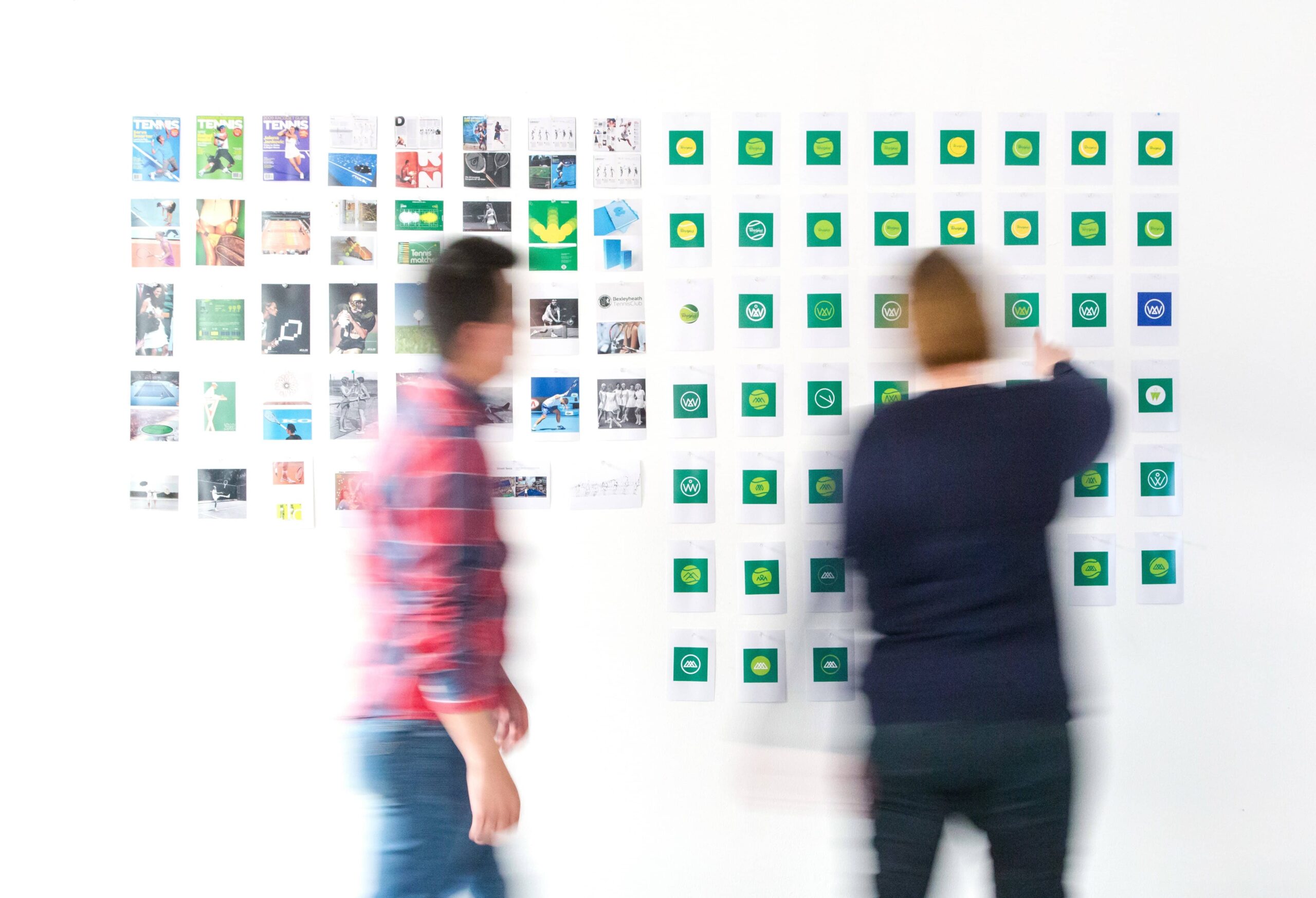 Step 2 – Make a Mood Board – Logo Design Surrey
For the more visually minded amongst us, a mood board can act as a great catalyst of inspiration. This can be done several ways. One way is to use an actual board by cutting out and placing printed images on it. Alternatively, you can also create these digitally on shared work spaces such as Google Drive and Word Documents. When creating a mood board, collect all the images that speak to you whether it be other logos, colour combinations, illustrations or graphics. Get creative! You will quickly see how the mood board will show you what design features you are identifying with. 
You should also consider how your business can be visualised through your logo. For example, for  a local, down to earth type service you may wish to consider more minimalist and vintage aesthetics with hand made illustrations. Alternatively, if you are presenting a brand that is luxury and sophisticated, your choice of colour can be really effective in getting this across. Simplistic colours with hints of more vibrant colours such as black and gold can help present these characteristics well. 
Step 3 – Consider Your Competitors
When trying to find tried and true options for your logo design, there is no shame in taking inspiration from a few of your competitors. In doing so, you can also further identify how your business differs from your competitors. These differences can then be emphasised as part of your design. You should not copy your competition's logo designs too far if you wish to stand out. For example, if your competition uses very minimal colour in their logos, a little colour can be the difference that will make you stand out from your competitors and attract further attention. 
Step 4 – Choosing a Design Style That Fits
After you have identified a clear idea of your brand's identity, you can start coming up with designs. Some of the different elements you will need to consider will include shape, colours, graphics and typography. By identifying each of these and the role they will serve for your logo will help you get closer to a more calculated and complete design. But what is the right aesthetic for my brand? It is important to understand that the answer to this question will depend wholly on the unique features of your brand. Hence why google search for the best logo design Surrey will not provide you with much support. 
Classic Designs 
A classic logo design can be great if you are trying to target broad audiences. These designs are often more simplistic, opting not to use a vast colour palette or font. A classic design will represent your brand as reliable yet to the point and down to earth. 
Retro Designs
The reason that vintage designs are so effective is because they evoke feelings of nostalgia and remind you of times past. By opting for a more vintage logo, your customer will see your brand as one that values history. A great way to achieve this look is by using hand illustrated logos and by including colours such as brown and beige. 
Minimalist Designs 
Many brands will often choose a more minimalist style of logo design. The reason being is that these kinds of designs often reflect a brand to be modern and fresh. These designs may often include features such as white spaces, minimalist details as well as simple lines. This style will help present your brand as up to date and straight to the point. 
A word about Colour 
Colours can have a great emotional impact on your target audience. People often associate specific colours with different emotions and ideas. For example, people may associate the colour blue with a clear sky in the summer. 
Here is some more guidance to colours and their meanings: 
Red – Red often evokes emotions of excitement as well as passion and anger. If you brand is loud and youthful, red can help you stand out and emphasise your pride in being bold. 
Orange – Although not as often used as red, orange still represents an energetic nature. The colour is very playful and vibrant so if you want you brand to stand out, orange can be a great choice.
Yellow is a much less aggressive colour than red as a logo design choice. It is accessible and friendly, giving off a cheerful energy. 
Blue – Blue is great as a more classic and common option for your logo design surrey. The colour is calming, symbolising trustworthiness and reliability.
Pink – Stereotypically thinking, if you are going for something girly, pink works. However, the colour has more usage when taking into consideration colours such as pastel rose and neon magenta. The colour can help provide a cool yet youthful and feminine aesthetic.
Summary
A great logo design will communicate with your audience everything your brand represents. Your choice of colour and font among other factors will leave a subconscious imprint on the minds of your audience about the character of your company as well. This being said you should not rush the process of creating your logo design. A team brainstorming session can help generate ideas that you otherwise would not alone. Additionally, mood boards are a great way of visualising your ideas before proceeding with the creation of any final design. 
Did you enjoy this blog on Logo Design Surrey? Check out a few more. 
4 Tips to Improve Employee Satisfaction and Motivation: Retain Top Talent
The Ultimate Guide To Images On The Internet
How To Track Blog Traffic In Google Analytics 
The Ultimate Guide To Website Costs