Delivered Social's Complete Instagram Marketing Guide Part One
The Basics
Welcome to the Delivered Social Instagram course! We will take you through everything you need to know about Instagram and how to grow your accounts like never before. In this post, we will cover all the basics. Interested? Keep reading!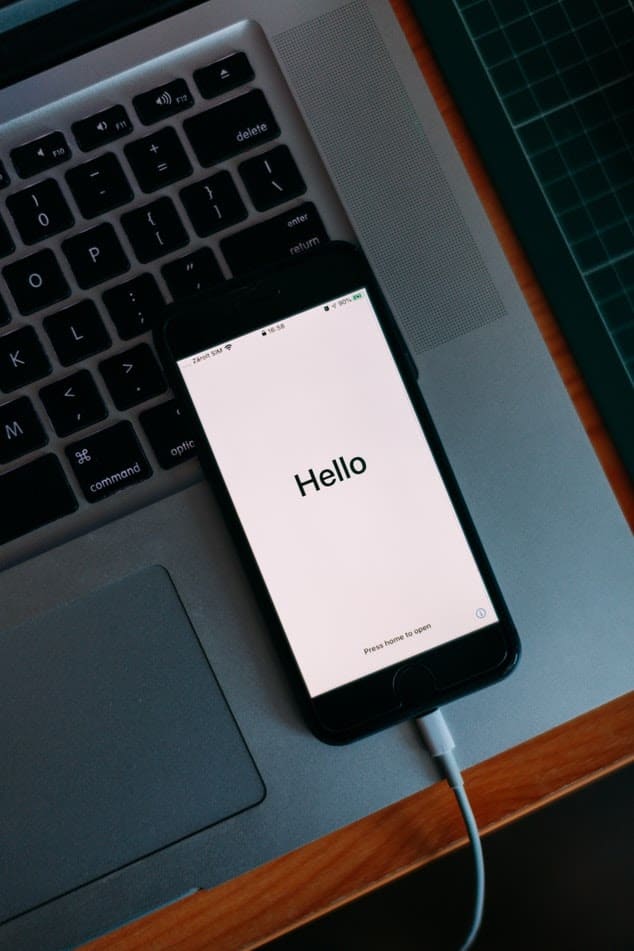 In this course we will talk about how to create an Instagram account, choosing your username to the most advanced aspects of Instagram marketing – Hold on tight! 
In this chapter we will get to know and discuss the following:
Feel free to skip ahead if you want to learn about any section in particular!
Once you finish this course, you will be equipped with all the knowledge you need to kick-start your Instagram account that will gain those followers and really get them to engage with you, as well as helping you understand the complex matters of the Instagram world.
Setting up your account
If you already have an Instagram account and know how to set one up, feel free to skip this lesson. But, you might just pick up some tips you've not heard before!
Get your phone and let's get started. Instagram recently allowed people to create their accounts online in a web browser, but it is much easier to do on your phone. Please be aware that you will need a phone with one of the following: IOS phone, Android or Windows 9 or later.
The first step is to open the App Store and search for Instagram and click install.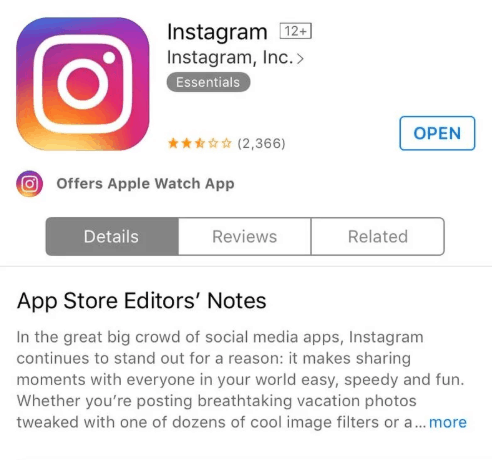 Once the app is installed, open it up and click "create account''. When you create an account you have two options:
Create an account using your email.

Create an account using your Facebook account.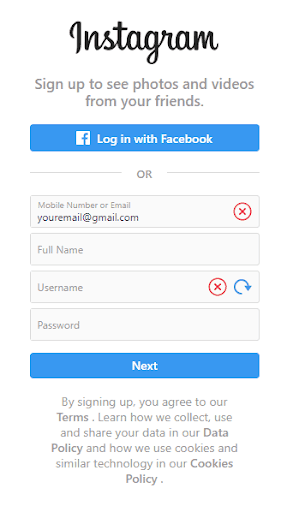 It's best to create your Instagram account using your email, as we will connect the Instagram account to your Facebook later on.
It's important that you use your main email address so you get all the notifications relating to Instagram sent there for easy access. Go ahead and click ''sign up with email or phone number'' and choose ''email'', and then enter your email address in the provided field and click next. 
When that is done, you will need to enter your name, which will also act as your username for the time being, and your password.
Don't worry too much about your username and full name, as they can be changed at any time. Just add your name and make sure you pick a hard to crack password as people are looking to steal Instagram accounts. A generic password like Password123 will be easier to hack into. But, it also needs to be a password you will remember. 
Click "next'' and your Instagram is now ready! Congratulations! 
Now shall we see how to tweak your account to make it look perfect?
Choosing the right username
Choosing the perfect username is one of the most important things to do! If you want to know why then keep on reading!
First things first, think about what kind of account you're going to create and maintain, so you can decide a username that best fits your profile. 
What do I mean by what kind of account, because aren't all accounts the same? Think of it this way, yes all accounts are created the same way, but they're different in terms of what you post, which can make a huge difference to the type of audience they attract. So, why not write down all your ideas of what you're going to post on your Instagram feed.
Here are 4 kinds of accounts on Instagram that you might want to create:
Branded or business accounts – They belong to a brand and they only post about their business. For example, Nike or Adidas. 

Personal branded accounts – This account is still a brand, but is only about one person. For example Justin Bieber, Lewis Capaldi or any other artist, movie star etc. 

Fanpages – This account only posts about a niche or a certain topic of interest. For example, an account created to support a football team, an artist or a model. 

Personal account – This is your own and private account. You decide what is posted and it's kept to your personal interests- not usually a business.
It makes sense NOT to create a personal one if you're setting your account up for your business. So, pick one of the others that best suit your business.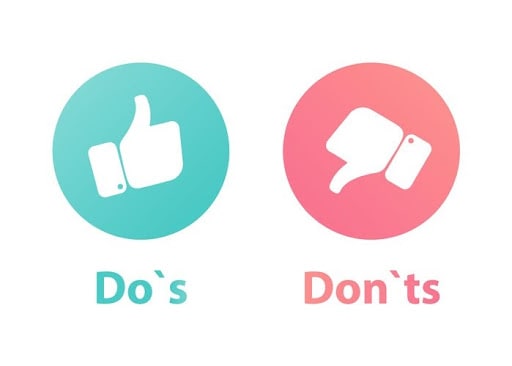 Dos when picking a username
Make it as unique as possible. Stand out from the crowd.

Pick something easy to remember. 

It needs to be easy to spell so everyone can spell it, even your 10-year-old niece. 

Keep it short and simple. The longer it gets, the harder it is to remember.

Keep it relevant to your business. Choose your exact business name if it's available to keep things as easy for your followers as possible.
Don'ts when picking a username
Don't even consider using underscores – They're hard to find on the keyboard and they just don't look good.

You shouldn't EVER copy someone else's username – It will just create confusion and make you look bad in the long run. 

Don't put random numbers at the end or front of the username. 

Using repeating numbers, letters or symbols is not a good idea.

Don't choose rude or offensive words.

Using trends is not ideal either, because trends change fast and all the time- you don't want to get left behind!
With all this new knowledge of how to choose the perfect username, go ahead and pick one that fits your account. It can be quite a challenge to find just the right username, it takes time but with some great imagination you will find it! An important thing to remember when choosing the perfect username for your Instagram account is to use the same username across all your social media platforms if you can. This will make your brand consistent and easily recognisable, which can only be a good thing!
Picking the perfect profile picture
Your profile picture is the first thing that people see when they visit your account – So it's important to make a good first impression. 
Keep in mind, when you AREN'T promoting a brand with a logo always use your face for your profile. But why? We remember faces because we recognize faces better than anything else. Plus, you want it to be recognisably you! So, here's what to do:
If you have a logo for your business, use it and make it fit in a perfectly round shape as Instagram automatically removes the corners. If you don't have a logo just use your face! 


Let's look at some quick tips to make your profile picture stand out and be just like you want it:
Show your face and don't hide it. If you show it, show it properly- don't hide. It makes your profile much more reliable and personal.




Choose a nice outfit. Personalise your picture with a nice outfit that matches your profession or the vibe you want to give out.




Go for a good background! Your background should never be a distraction from your face. Keep it simple and natural for the best effect.




Good lighting! Always think about the lighting. Don't go too light or too dark. Take a couple of pictures in different lights and see what looks best.




If you want to and can afford it, why not seek help from a professional photographer? When hiring a professional, you know it's going to be perfect with the right lighting and angles.




Show us that smile! Be comfortable and do your best smile. Make sure it doesn't look fake or forced if possible.




The angles! Try different angles to see what works best for you, just make sure not to hide your face.




Crop your picture. The Instagram profile picture is very small so crop your picture so it looks good and your face is in focus in the frame.




Props! Using props is a great way to make sure the picture fits your profession or business. Perhaps stand next to it or make it visible in your picture but don't let it steal your focus.
Make sure to tick off all the ones above and your profile picture will be perfect. This will leave a positive first impression on anyone who sees it.
How to write an attractive bio
The bio is one of the first things people see when they visit your profile which will either make them stay or leave your profile quite quickly. Let's take a look at how to create an attractive bio. 
Let's start off with the name field. No this isn't your username, but your actual name. Simply just type in your name, and don't use any nicknames. The name field can hold up to 30 characters, so either go with your name or use your businesses name. It's also very important that you include 1-2 keywords that best describe your business and what you do. 
It is so important because the name and username are the only fields that Instagram considers in search queries – So be wise about your keywords. Basically choose keywords you want to be found by. 
There are no rules as to what to write in your name field, you can be spontaneous and go with a funny name if that best reflects your business. However, just always keep in mind that you want to stand out. 
Let's look at some examples: 

You may think that this profile is not ideal or is the complete opposite of what we've just told you to do – BUT just focus on the name. The username tells what the Instagram profile is about and Phoebe is the name of the cat, as simple as that. 
Now a little recap for your Instagram name:
Use the full 30 characters if you can

Be creative and try to stand out- but stay relevant to what you do

Use 1-2 keywords if you have room 
On to the actual description. The description allows you to write up to 150 characters. 
So what do I write in my bio?
These are just a few tips on what to include in your bio:
1-2 targeted keywords (what you want to be found by)

What your account is about

A call to action

Hashtags (about your business, what your profile is about etc)

If your profile is about selling yourself, include your skills (though only for personal branded profiles)

Contact information (phone number, email or address)
What do all those things mean?
What your account is about: This is basically you explaining what your business is and what you do. Make it short and simple, don't leave the visitor hanging with lots of questions about what your profile is really about.
A great tip is to include anything that makes you different from any other business out there. Maybe you sell something extraordinary or you have a unique set of skills or experiences. Share as much and as many facts about your business as possible within those 150 characters. 
When people visit your profile they should immediately know and understand who you are and what you do. 
A great example of a bio: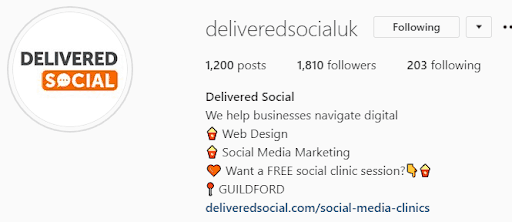 You know who Delivered Social are, what we do, where we are located and we've got a call to action link! 
A call to action
If you want your visitors to do something special, tell them to do it! You can't expect your visitors to magically visit your website if you don't tell them to. 
When you add a call to action you make sure that you're taking the full advantage of your traffic and make your profile as perfect as possible. 
What you choose as your CTA (call to action) is completely up to you. You can ask them to visit your website by telling them to click the link in your bio, increase engagements on your posts by asking them to follow or post with a branded hashtag or ask them to sign up to your newsletter. There are lots of ideas on how to create a CTA. 
What you need to ask yourself is what would be most effective for your marketing?
A great tip is to combine your CTA with a free present. This could be a free product or a free ebook – Only do this is it's suitable for your business and your business goals. 
Take another look at our bio- you can see that we offer FREE social clinic sessions straight away!
Targeted keywords in your bio
Using targeted keywords will help your followers connect with you more easily. And, it will make it clear what your business is about.
Don't go too wild with the keywords because no one wants to read a long list of just keywords. The ideal bio includes 1-2 keywords, and there are two ways of how to do it:
Choose keywords that describe your businesses values 

Choose keywords that describe your audience. 
We suggest you go with the second one but make sure you create a profile of your ideal audience before you pick your keywords. Do your research!
A piece of great advice is to put yourself in their shoes and see what they're looking for, what are their interests, what do they do and what would they want to see, and lastly, how do you make them take action and respond? 
Again, look at the Delivered Social bio for an example of this. Our keywords would be web design, social media marketing and Guildford.
Using branded hashtags
This is a great way to engage with your audience on your account. Branded hashtags are a way to inspire other people to tag their posts about your brand with your branded hashtag. 
The hashtags you put in your bio are clickable on the web version but NOT on the phone. 
If you have more than one account that is relevant to your business, a great tip would be to put your other handle in your bio. If people like your profile, they will be more likely to see what else you're doing on your other account, which then means you can grow not only one but both of your accounts. Since the handle is clickable, you can link to any other account – though the people behind that Instagram account need to accept the invitation otherwise the handle won't be clickable. So you can't necessarily link to just any old account.

Products and skills for branded accounts
Are you trying to sell? Make your products stand out and tell people why they should buy your products and not your competitors. 
Everyone wants to be known for a particular service, hobby, profession, or some cool skills, so make sure to include these details about you in your Instagram bio.

Contact information
You might have a link so people can contact you, but it's super important to also include your other contact details in the bio. This makes things very simple for anyone wanting to get in touch. Here are a few examples of what you can include:
Your email address

Location 

Hours of operation
How to put everything together
Creating the perfect bio can be very difficult, but once you've put all the information above in, you will be good to go! If you can't fit everything in it, make sure to add as much as possible while still making sure it looks good. 
These are some ideas on how to make your bio look good:
Bullet points: It's quicker and easier to understand and read your bio with these. This can only be done correctly on the web version. So, f you do it on your phone you need to write the whole text in a text editor and copy-paste it. Even the notes app on your phone will work!

Use emojis: It makes your bio easier to read. You can use them combined with the bullet points or just simply add them in between the text.